A three-year 'baccalaureate' should be introduced to replace A-levels, BTECs, T-Levels and apprenticeships, a think tank has said.
A new report from EDSK, released today, claims the dominance of A-levels has had a detrimental impact on the prestige of other options, while limiting the breadth of curriculum.
It is the second instalment in a two-part series looking at the future of education. The first part previously called for GCSEs to be scrapped in favour of computer-based assessments.
Tom Richmond, EDSK director and former adviser to Michael Gove and Nicky Morgan, said it was "ironic" that A-levels were originally introduced to "prevent students from specialising too early and only studying a narrow range of subjects".
"If the current government is serious about boosting technical education, it must end the political obsession with A-levels by introducing a 'baccalaureate' that creates a level playing field for a broad range of rigorous academic, applied and technical courses."
These are the report's key recommendations:
Time for a three-year 'baccalaureate'
The think tank states all 15 to 18 year olds in upper secondary education should undertake a 'baccalaureate' which provides a "rigorous and flexible" framework.
It will consist of three levels; foundation (equivalent to GCSEs), standard (equivalent to AS-levels) and higher (equivalent to A-Levels).
Students will progress through the levels from 15 but don't have to complete each level at the same speed.
They will be required to begin with a broader range of subjects at foundation level before gradually specialising in their preferred subjects as they progress.
Maths and English compulsory until 18
The new system would require all pupils to study two compulsory subjects – core maths and core English.
EDSK states that "students must continue studying these subjects until they achieve at least a pass grade in either exam at the 'higher' level of the 'baccalaureate'.
It found England is an "international outlier in failing to ensure that English and maths are continued past age 16 ".
Mix and match academic and technical courses
Under EDSK's proposals, the 'baccalaureate' will include three pathways which each have a "distinctive purpose", but pupils would be able to mix and match throughout.
The academic pathway will include courses on academic subjects such as maths. The technical pathway covers courses related to broad areas of employment, for example business studies.
Finally the technical pathway will provide courses on specific trades and occupation, such as training to become a plumbing technician.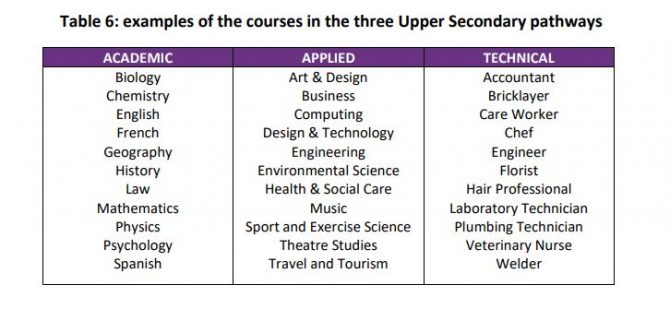 How will it be graded?
EDSK says the model will be based upon a credit system, with a minimum of 60 credits required to complete each level.
At foundation level an academic subject will count for 10 credits, applied would be 15 and technical would be 20.
The report states "as a minimum" a student must take six academic subjects, four applied or three technical subjects, along with maths and English.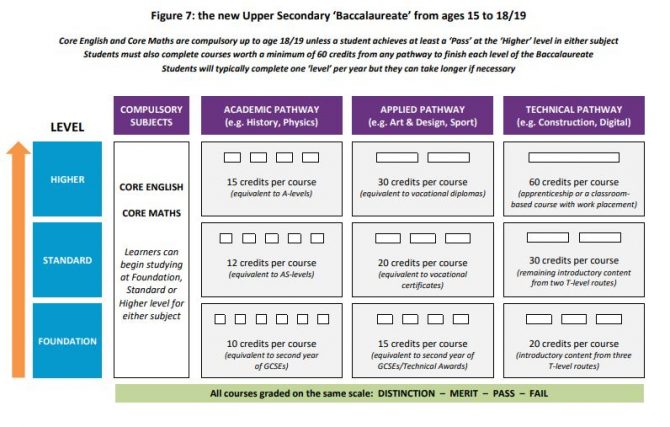 Academic subjects increase to 12 and then 15 credits over the next two levels respectively while applied subjects increase to 20 and then 30 credits.
Technical subjects increase to 30 at standard level then 60 at higher.
All levels will use the same grading scale: Distinction, Merit, Pass and Fail.
When a student finishes school or college they will receive their Record of Educational Achievement (REA) which documents the grades achieved at foundation, standard and higher level.
'An important step forward in creating a level playing field'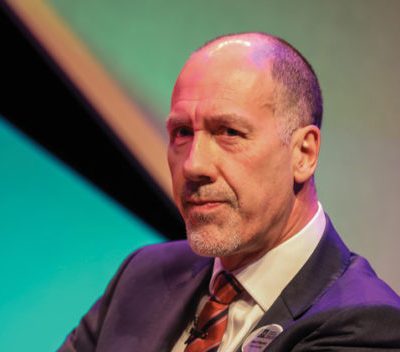 Geoff Barton, general secretary of the Association of School and College Leaders, told Schools Week there was an "undoubted need to address the narrowness and snobbery" of the current system, and that "for far too long vocational subjects and qualifications have been perceived as having less worth than academic subjects".
"Bringing vocational and academic subjects under the same qualifications banner would be an important step forward in creating a level playing field", he said.
The Department for Education said it wants young people to have a diverse range of options and is reviewing its post-16 qualification at level 3 and below, with final plans set to be published later this spring.