Providing teachers with a formal entitlement to 35 hours of high-quality continuing professional development (CPD) would cost the government the equivalent of less than 1 per cent of its total schools budget, a think tank has said.
A new report from the Education Policy Institute (EPI) found it would cost the government an extra £210 million each year to fund a policy on entitlement.
The report, commissioned by Wellcome, comes after an EPI report in April found introducing a right to high-quality CPD could boost pupil attainment by two-thirds at GCSE and encourage 12,000 extra teachers to stay in the profession.
James Zuccollo, the report author, said the new research "tells us that the cost is very much achievable and does not have to be expensive for the government and for schools".
"This means that rather than spending big on additional CPD for teachers, the government could meet this commitment by largely improving on the quality of the existing CPD training that teachers participate in. With relatively low costs and large potential returns, the government should continue to look at how it can drive up the quality of its CPD offer for teachers."
EPI found that once teachers' time is taken into account, the "vast majority" of schools spend just under 3 per cent of their budgets on CPD, higher than previous estimates, averaging £3,000 per teacher per year.
To boost their current offer with a full CPD entitlement schools would need to commit on average £500 more, the report found.
Differences in current CPD spending
The report states CPD spending was "very similar" between academies and maintained schools with both spending between £2,000 and £4,000 in both schools.
However academies spend slightly more on average – £3,036 compared with £2,856.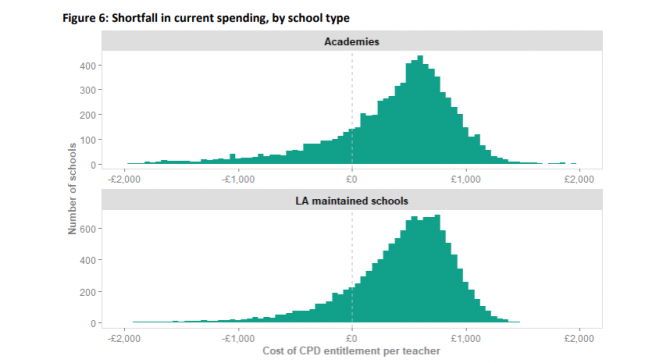 When broken down by school phase secondary CPD spend is slightly higher at £3,016 than the £2,893 spent on average at primary level.
According to the report, this implies that, "on average, secondary schools would need to increase expenditure by only £456 per teacher to cover the cost of the entitlement, while primary schools would need to find an additional £526 per teacher".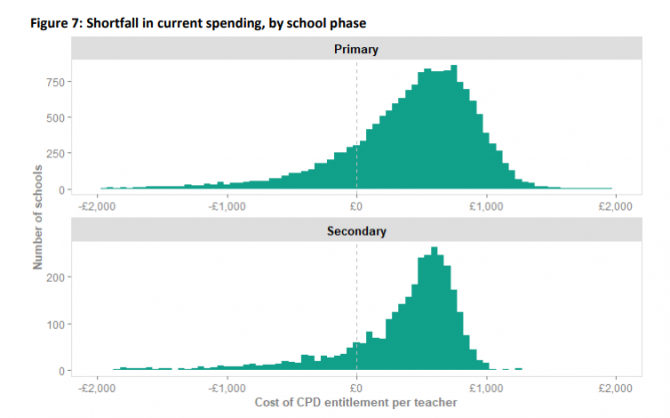 Cost of the entitlement
EPI states that the present level of spending on CPD means "83 per cent of schools would need to increase their expenditure to cover the cost of the entitlement".
This would create a nominal total cost of around £210 million for the government, EPI estimates.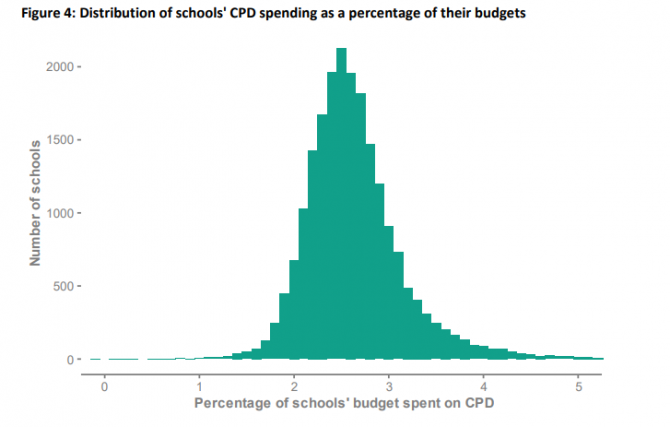 However, the report admits the cost per pupil may be higher for small schools with fewer pupils to spread costs over.
"If this policy were to be implemented, policy makers should focus their attention not only on increasing CPD spending to fund the entitlement but also on improving the quality of CPD provided".
The Chartered College of Teaching (CCT) previously published a 'blueprint' calling for CPD to be quality assured under a national badge scheme to help schools and teachers choose the best provision.
Sara Ford, deputy director of policy at the Association of School and College Leaders (ASCL), said: "As we emerge from the significant disruption caused by the pandemic, the EPI report demonstrates that the government could invest in staff without breaking the bank and prompt significant benefits in terms of pupil attainment, whilst boosting earnings and encouraging more staff to stay in education."
She warned CPD "should not be seen an as additional cost but as an investment" in education staff.