England has committed the second highest amount of funding for pupil catch-up schemes out of the four nations in the UK, but its programmes are "poorly-targeted", the Education Policy Institute has said.
Analysis by the think tank found that funding for the catch-up premium and National Tutoring Programme in England worked out at £174 per pupil. The spend per pupil is second only to that of Scotland, which is investing £200 for each child.
Investment is lower in Wales at £88 per pupil and in Northern Ireland, at £82. But a larger share of the programme funding in those countries – about 50 per cent – is targeted at disadvantaged pupils. In England, it is less than 30 per cent and in Scotland it is 20 per cent.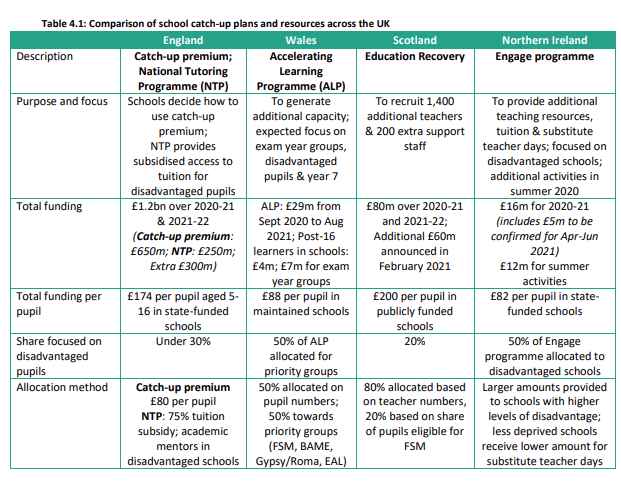 Ministers are under growing pressure to address concerns over education missed as a result of partial school closures, which have been in force since January.
A £1 billion catch-up package was announced last year, including a £650 million catch-up premium for schools and £350 million for the National Tutoring Programme. An additional £300 million was announced last month, but it is not yet known exactly how this will be spent.
The government has also appointed Sir Kevan Collins as its new education recovery commissioner, and are expected to say more about their plans next week.
As Schools Week previously reported, the DfE also appears to be planning to extend the National Tutoring Programme for two more years, aiming to nearly double the number of children who will receive tuition.
EPI research fellow Luke Sibieta said the Scottish and UK governments "have so far committed the most catch-up funding, however the programmes for both Scotland and England are poorly targeted".
"In comparison, we find that the programmes of Wales and Northern Ireland have lower funding in total, but focus more resources on the poorest pupils, who we know have been hardest hit."
He called for catch-up funding across the UK to be provided over multiple years with "far greater levels targeted at the most disadvantaged pupils".
The EPI also found that detailed guidance to schools and local authorities describing clearly how they are expected to deliver special education is "lacking" in all four nations.
Geoff Barton, general secretary at heads' union ASCL, hopes policy-makers "heed this crystal clear warning that more funding needs to be put into catch-up support".
"The investment so far announced is simply not enough to meet the scale of the challenge caused by a year of disruption to the education of millions of children.
"This is concerning given the risk that many children with SEND will have fallen behind their peers during the first lockdown and are likely to require more support to learn while at home than other pupils."
A DfE spokesperson said the government recognised that extended partial school closures "have had an impact on all students' education", and that a "long-term plan is required to make sure pupils have the chance to make up their lost education over the course of this parliament".