Pupils who live in children's homes are less likely to attend the best schools, Ofsted research has found.
They are also more likely to attend alternative provision and special schools than their peers.
The watchdog has published research and analysis on the range and quality of education of those living in children's homes.
The research was conducted across a sample of 2,600 children living in 815 children's homes between April 2018 and March 2019. This represents around 44 per cent of all homes and just under half of the 5,260 children living in the homes during the period.
Here are the key findings.
1. Children's home residents less likely to attend top-rated schools
Ofsted found 82 per cent of the children in the study attended institutions that were rated either 'good' or 'outstanding' – two percentage points lower than children nationally.
The gap is wider for children attending state-funded mainstreams schools, with just 76 per cent attending top-rated schools.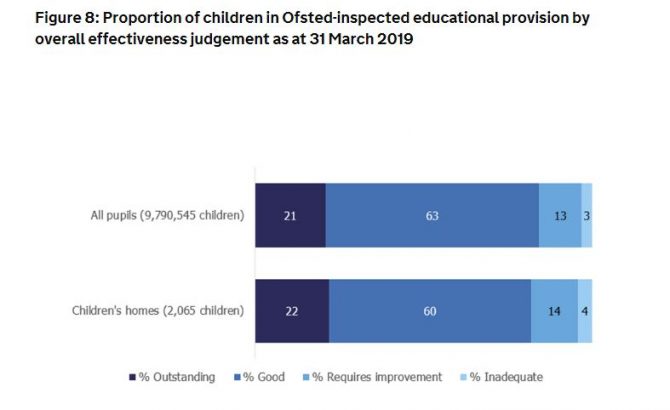 Pupils in children's homes were also between 3 and 5 per cent less likely to attend 'good' or 'outstanding' SEND provision.
But the gulf is greatest for children attending further education and skills (FES) provision – with children in care homes 17 per cent less likely to attend a top provider.
Yvette Stanley, Ofsted's national director for regulation and social care, said: "These are, of course, small numbers from a small sample. But it does raise the question: is enough being done to make sure that all of our most vulnerable children are getting a decent education alongside their care?"
2. One in ten attend unregulated provision
Ofsted found around 9 per cent of the children in its sample attended unregulated education provision.
Of these children, around 120 attended unregulated alternative provision schools, including online schools, while 95 received one-to-one or in-house tuition.
Unregulated providers are not required to register with any education body or undergo regulatory inspection.
However, the majority of children within the sample, 83 per cent, attended education provision eligible for inspection by Ofsted, while 2 per cent attended provision inspected by the Independent Schools Inspectorate (ISI). Six per cent were not in education, employment or training (NEET).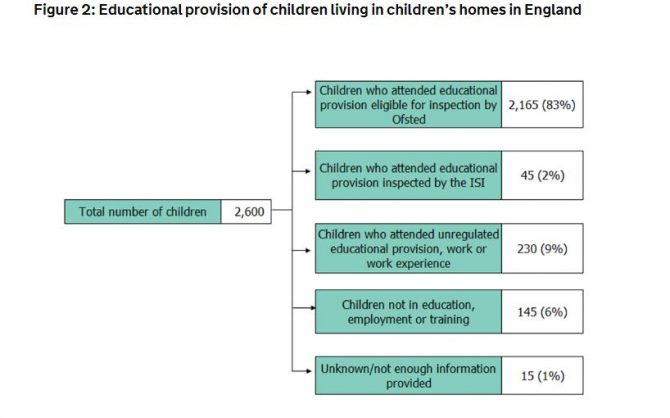 3. They are 18 times more likely to attend a PRU…
Ofsted found that children living in children's homes were 18 times more likely to be attending a pupil referral unit (PRU) than all pupils attending state-funded provision nationally.
Eighteen per cent of the children in the study attended PRUs, compared to 1 per cent of children nationally.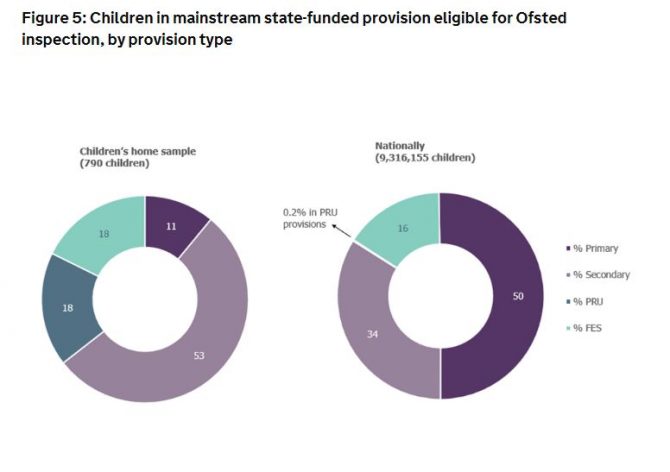 Although children in children's homes make up less than 0.1 per cent of the national state-funded school population, they represent more than 3 per cent of the PRU population.
The study also identified a "strong link" between children with social emotional mental health (SEMH) needs and those attending PRUs.
Nationally, 65 per cent of children in PRUs have a primary special educational need of SEMH – rising to 75 per cent within the sample.
"This likely reflects the traumatic life experiences of many children living in children's homes," Ofsted said.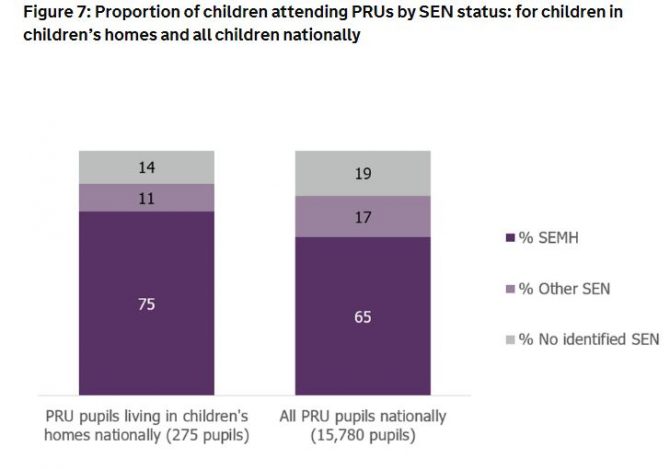 4. …and 20 times more likely to be in special schools
Children living in children's homes were 20 times more likely to attend special schools than all children nationally, reflecting the "complex needs of many children entering children's homes".
Of those within Ofsted's sample group, 1,240 children, 57 per cent, were in special provision.
Looking beyond the sample group at all children living in children's homes and attending state-funded education nationally, around 2,500 children, 47 per cent, had education, health and care plans, while a further 27 per cent received SEN support.
The proportion of pupils overall with an EHCP or receiving SEN support are just 2 per cent and 6 per cent respectively.