Emma Knights is a sharp operator who believes organisations are "collectively wiser than one individual".
And when you meet the chief executive of the National Governors' Association (NGA), it quickly becomes obvious that she chooses her words with great care.
So it's not surprising that the former secretary of state for education, Michael Gove, came under her fire last year.
His reference to "Kumbaya, hugging, sherry and cake" at the launch of the Inspiring Governors' Alliance did not impress the NGA. (It was a speech that was supposed to celebrate the contribution made by school governors.)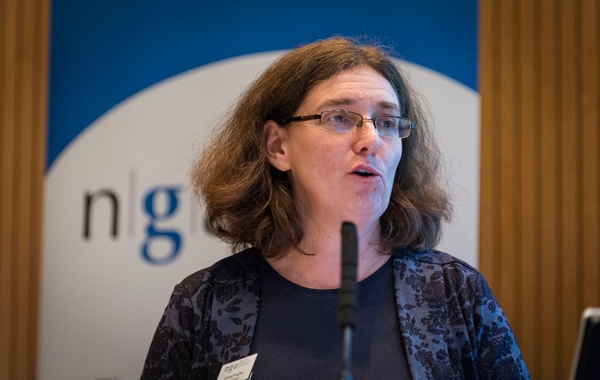 Her strongly worded letter to him acknowledged that those who heard the speech understood he was commenting on "what governance isn't". But she made clear that, as a former journalist, Gove knew the references "were bound to be picked up and reported by the press".
Born in Peterborough and the eldest of four children, her family moved to Bermuda when she was five for her father, Roy Haygarth, to take up his first headship.
The family moved to Liverpool next when she was almost 16 – as they didn't do A-levels in Bermuda. Her father had been offered the headship of Liverpool College, a public school at the time.
"Some people get governance and some don't"
Nobody could place her accent. "We talked about sidewalks and trash cans. At first I didn't feel English, so it's a really good experience to not always have been part of the majority scenario."
She describes getting out of the train at Runcorn. "It [England] had been built up by my mum as amazing – and there I was, cold, waiting in Runcorn station in the fog. There was a group of punks on the platform. In Bermuda we had a bit of reggae. But punks . . . I was like 'you cannot be serious . . . am I going to get of here alive'?"
Growing up in Bermuda "was absolutely fantastic, particularly in hindsight". The island – on its own in the middle of the Atlantic – is "very very small. It's a little bubble, but then often we grow up in little bubbles".
In Bermuda she opted to do the 11-plus and went to a co-educational grammar school, Warwick Academy. The school was "about three-quarters black Bermudians, so for me as a little English girl . . . I was quite an oddity; a small, little red-headed girl with an English accent. But I loved it."
In Bermuda pupils did international O-levels, "and so I had to get as many of them out of the way before we moved back". She got to England, with only three O-levels left to do.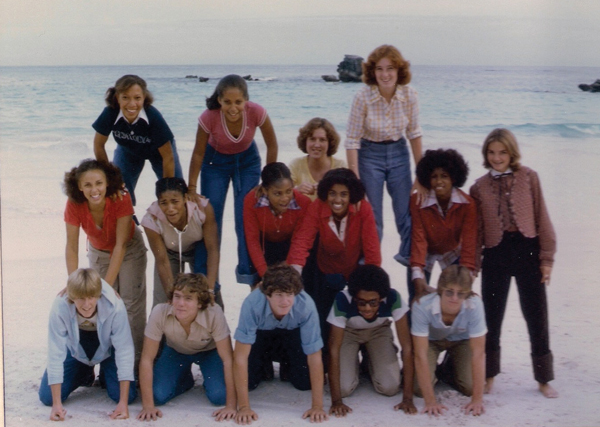 Once settled in St Hilda's in Liverpool, she "really liked it". Chemistry was her favourite subject. One of her inspirational teachers was her chemistry teacher, Mr Clegg, "who – bless him – was pretty much near retirement when he taught me, but he was a fabulous teacher".
Having come in from overseas, she had to take an "enforced" gap year at the end of sixth form to get a university grant. So she went to her father's school for a term and sat the Oxbridge exam from there.
Before going up to University College, Oxford, to do biochemistry, she spent the rest of the year working in a research lab for Shell UK – "and by the end of that year I knew I didn't want to be a biochemist".
She nevertheless continued studying biochemistry, and while there met her historian husband Mark, who now has a chair in early modern history at the University of Warwick.
At Oxford she "got enormously involved in college and university life" and was voted the first female junior common room president of her college.
Staying on in the city, she volunteered in an advice centre before securing a paid job as a community welfare rights worker.
The thread linking all Knights' jobs is tackling disadvantage.
"That's why I take a little of the current rhetoric about 'moral purpose' in the education sector with a pinch of salt. It is second nature in the third sector. We don't really feel the need to keep saying it, as it is so obvious that is why people are involved in the work.
"I would like to see a little more of the feistiness of the third sector and the legal advice sector come to the fore within schools."
She describes her role now as her "favourite job – I do have such a great team at that NGA that it should probably just take the top spot".
She says that the small but growing not-for-profit organisation is a representative one and that she is wary of overshadowing it. "When I say something it's not about Emma Knights saying something, it's about the NGA saying something."
She believes one of the association's key tasks is to make sure the school sector is clear on what governance is. "The [governing] board is there to make sure the school is sustainable and delivering its mission. It's a corporate, collective and team activity."
Before joining the NGA five years ago, Knights also had spells as a worker at the Child Poverty Action Group and as joint chief executive of the Daycare Trust.
She has two children, one at university and one in the sixth form, and has clear opinions on how the personal and professional relate, including the realm of parenting.
She worked part-time "for quite a long time. That was a decision I took because of wanting a family, and yet I did not want that to be seen as that I was any less committed to doing the job I was doing well."
Organisational politics do not always favour senior staff who work part time, she says. "You are not necessarily seen as such a serious candidate. But I also feel strongly that when one is doing something, then one wants to do it really well. I watched colleagues and friends try to do both at the same time and try to work at home with a small baby in the background. I've always been very careful to keep those two worlds separate."
Looking back now at the Gove "Kumbaya" incident, does she feel the current government and education secretary Nicky Morgan are more committed to taking care with their messages about governors? "I think they probably do take more care, but in terms of being really overt and pushing those messages, we would still like them to do more.
"For example, someone will make a comment in a press release talking about headteachers' budgets. Well they are not headteachers' budgets. They are the governing boards' budgets. In the NGA we have this phrase 'get it'. Well some people get governance and some people don't."
And if you don't, Knights is on a mission to make sure that you do.
IT'S A PERSONAL THING
What's the best advice your parents gave you?
My parents didn't bother with advice, whereas my poor children are deluged with the stuff. Though when I left for university, my father did say: "Don't drink spirits and don't join the Moonies"
Who's your favourite writer and why?
Just one writer is cruel – but if I have to, Barbara Kingsolver for her breadth, her depth, her wisdom and vibrant connections across centuries and continents
Which two items would you grab if your house was on fire?
Very sad to say, probably both my phones (one for home and one for NGA) but staying in contact with people is important – plus they are small and I usually know where they are
In a parallel universe, which job would you do?
Maths teacher. When I applied (almost a decade ago) I wasn't wanted because I didn't have a maths degree, but now I'm told they'd bite my hand off
Describe yourself in five words
That's for others to say. But if you need to fill up some space, I can give you five other favourite authors (as well as Austen, Dickens and Hardy of course): Margaret Atwood, Isabel Allende, Amitav Ghosh, Khaled Hosseini, and either Ian McEwan or William Boyd – but that hasn't even left room for Toni Morrison or David Mitchell, both of whom I have heard speak at the Hay festival and both of whom were fabulous in different ways