The European people must first wake up, shake themselves and stop playing the game of the Sleeping Beauty, said Frantz Fanon.
The dreaming sleep is Europe's colonial history, whose legacy continues to impact on our lives, assumptions and imaginations, whatever our racialised group. The context for sharing it here is its presence – articulated with raspy, magisterial precision by Lauryn Hill – in Concerning Violence, which opens this week.
Concerning Violence is an archive-driven documentary, scripted from the first chapter of Fanon's book The Wretched of the Earth. It captures moments from the struggle for liberation in Africa during the 1960s and 1970s, and explores decolonisation. Spoken by Hill, Fanon's words are woven through nine scenes, their titles providing the film's structure, anchoring each scene in its geographical location.
The voiceover acts both as soundscape and organisational device, framing a narrative of contemporary footage that includes voxpop interviews and fly-on-the-wall recordings that encompass brutality, pathos and moments of wry, satirical humour.
It is a film of many layers and levels. Watching it is an engrossing and challenging experience, both aurally and visually, and I am unapologetically partisan on its behalf.
If you already know about Frantz Fanon, any words of mine are probably superfluous. Be reassured: the film will not let you down. And if you don't know about Fanon, the film provides all that you need to know.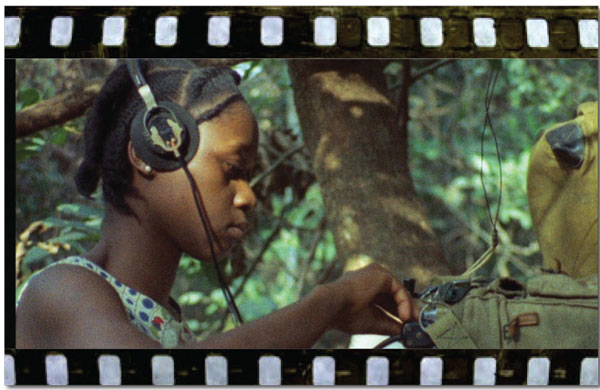 One possible answer is provided by a student in the short film, Why is my Curriculum White? (watch it on YouTube). The student describes feeling inferior in a London history lesson, uncomfortable with its tacit assumptions and limited viewpoints. It makes me ask whether I do enough in my English lessons to avoid this trap. I doubt it.
Fanon's challenge — we have decided not to overlook this any longer — inspired the young people in the screening I attended, although some challenged whether the film positions itself as too remote from the present. It's easy for white viewers to laugh at the extremes of unembarrassed Rhodesian racism and then distance themselves from the need for dialogue about contemporary attitudes.
But in a week in which a misguided Band Aid single evoking a 19th-century model of racial patronage has been released, the concerns of my fellow audience members are live and kicking, even if they don't realise it. Please, before you play the track in school, think long and hard about the messages you are conveying to our children, particularly those of African diaspora heritage.
This film made me understand for the first time calls for reparation in Africa. Reparation is not about handouts. It requires commitment to repair, including educational repair. The larger forces of global inequity are daunting as a target – where do you start? — but the individual process of rethinking and decolonising both the content and the viewpoint of what we teach is a step anyone can take, right here, right now. I really hope you will be inspired to see the film. It packs a punch.
Concerning Violence opens in cinemas today.