The Department for Education put off clarifying a mistake in its own Covid guidance because it would "bring greater attention to the error", despite acknowledging the wrong information was being shared widely and causing "discontent".
It comes as new analysis published today reveals headteachers were "inundated" with DfE guidance during the first lockdown that they struggled to decipher.
New emails released under the Freedom of Information (FOI) act also question whether the DfE put protecting its reputation before providing clarity on Covid rules.
On March 26 this year, DfE updated its 'actions for schools during the coronavirus outbreak' guidance document with new safety guidance.
However, an undocumented change included the line that face masks in secondary classrooms would be in place "after" Easter.
Right now, I think a Tweet might just bring greater attention to our error but we will keep this under review
A review on whether to maintain the use of masks in schools was due to take place over Easter, meaning the guidance was incorrect.
The document was quietly changed later that evening to state masks would remain in place "until" Easter – but it seems no email alert was issued to inform the sector of the change.
'We don't want to make a big thing of this error'
DfE emails released under FOI show one official raised concerns about the mistake, stating "journalists think this is the 'big' decision on facemasks going out under the radar".
An official said they had managed to "talk down" media outlets, "but we will also keep an eye on social media too".
"We don't want to make a big thing of this error but may need to intervene if the old version spreads," they added.
Another said: "fingers crossed it's [sic] dies down!".
However later than evening, one email stated there was "quite a lot of activity on Twitter about this tonight – largely circulating the incorrect screenshot of the guidance, which is very unhelpful, but that is now being countered by the updated version filtering through".
Radio presenter Julia Hartley-Brewer, who has more than 300,000 followers on Twitter, had tweeted the original guidance, asking: "What's going on?"
What's going on @GavinWilliamson @BorisJohnson? You promised pupils would only wear face masks in classrooms for this term before a review over Easter. So why does new guidance say masks will be reviewed AND that they "will continue to be in place AFTER Easter". Which is it? pic.twitter.com/SBgcaedlBP

— Julia Hartley-Brewer (@JuliaHB1) March 26, 2021
A DfE official said: "It's fair to say there is quite a lot of discontent from people who have seen this and some scepticism about the decision already being made e.g. if masks are to stay following the review we may face challenges from some saying it was pre-decided."
However, they added "I don't think we should tweet tonight" as "big influencers" have shared the new version.
"Right now, I think a Tweet might just bring greater attention to our error but we will keep this under review," they added.
The following morning, March 27, DfE did tweet about the guidance, with a link to a blog, but did not explicitly point out the error.
As an additional safety measure, secondary and college students should still wear face coverings in classrooms where social distancing cannot be maintained.

We remain committed to reviewing this guidance at Easter.https://t.co/Tkl9AqPtFp

— Department for Education (@educationgovuk) March 27, 2021
The DfE "remain committed" to reviewing face masks guidance at Easter, the tweet read.
'Attributing mistake would be damaging to process'
The FOI response stated: "We were working at pace and there was a mistake, which if we attribute it to one party, would be damaging to the guidance clearing and publication process, and the ongoing necessary collaboration in this ever-changing area."
Some details in the emails were redacted as they "risk" DfE's relationship with "the other government department" involved in guidance clearing.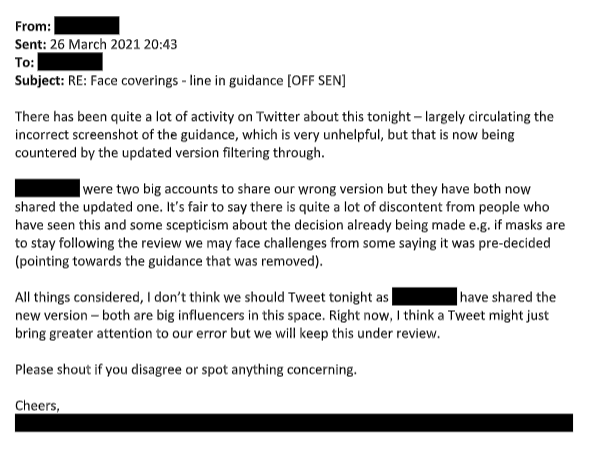 Geoff Barton, general secretary at the Association of School and College Leaders, said the DfE appears to have taken "rapid steps" to clarify its guidance and did "ultimately put out a tweet, albeit after some apparently initial hesitancy".
But Paul Whiteman, general secretary of school leaders' union NAHT, said school leaders want to see "an improved response" from DfE when term restarts in September.
Heads 'inundated' with 'difficult-to-follow' guidance
It comes as a new report by the University of Cambridge and University College London calculates between March 18 and June 18 last year, DfE released 201 policy updates for schools.
This included 12 cases in which five or more documents were published in a single day for immediate interpretation and implementation.
Researchers surveyed about 300 school leaders. Of them, 71 per cent of headteachers complained about "too many inputs and too much information". Others said they were "inundated".
The report highlight school policymakers experienced "specific difficulty" understanding which element of previously published guidance had changed.
"Revisions to policy guidance were difficult for school leaders to follow and required line-by-line cross-checking against previously published documents," the report said.
A Schools Week investigation last year found at least 25 of almost 100 updates were published after 5pm on a weekday or over the weekend.
DfE has pledged to only publish gov.uk updates for schools "during working hours" under a new "education staff wellbeing charter".
An explosive Institute for Government report published yesterday revealed the chaotic policymaking going on behind closed doors at the DfE during Covid.
A DfE spokesperson said the pandemic has led to "swift decisions" being taken to "respond to changes in our understanding of the virus and action has had to be taken in the national interest".
The department added that a "small" error had been made in the wording on March 26 which was "swiftly" corrected and the guidance was updated.