Covid-19 has left pressured councils scrambling to complete building projects on time, a Schools Week investigation has found.
The pandemic halted construction in most sectors, leaving some councils resorting to contingency plans and others with projects going to the wire.
Analysis by Schools Week of local authority school place scorecard data, published by the Department for Education earlier this month, found some councils having to increase their places by as much as 6 per cent next year.
For example, Southampton's scorecard shows it needs to add 780 secondary places to its May 2019 capacity of 12,768, an increase of 6.11 per cent.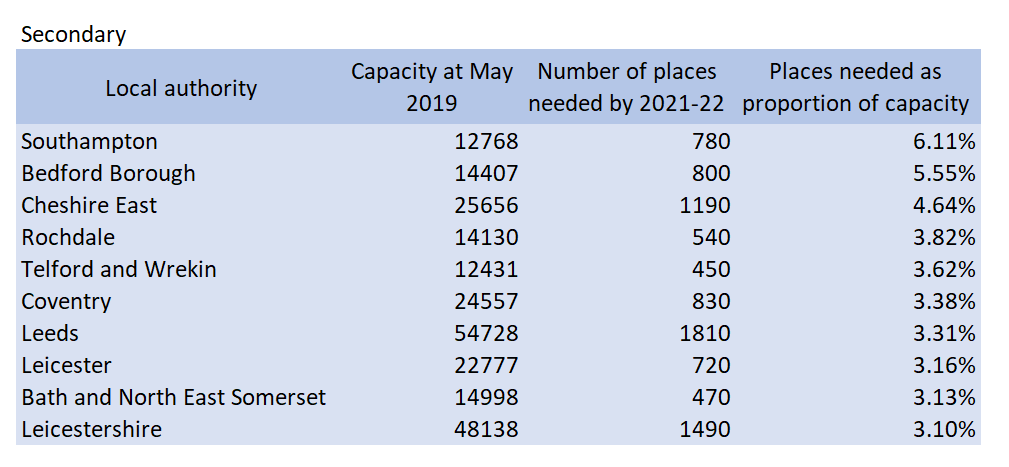 In Leicestershire, where council chiefs need to create 1,490 secondary places and 1,190 primary places by 2021, building delays will leave The Fusion Academy in Barwell sharing a site with an existing school.
The academy, a school for young people with communication and interaction needs, will temporarily be housed on the site of the nearby Dorothy Goodman School until late October while its new buildings are completed.
"The council's ability to provide additional places has been affected by the pandemic," a spokesperson said. No scheme had been stopped, but some had been delayed.
The news comes as pupil numbers continue to swell and as a population bulge caused by a baby boom in the early 2000s makes its way from primary to secondary level.
The latest school census data, published last month, shows the number of school pupils in England reached 8.89 million in January, up 71,100 on the previous year.
Cheshire East council, which must boost secondary places by 1,190, also faces delays.
Kathryn Flavell, its cabinet member for children and families, said the pandemic "has had some effect on the programming and sequencing of capital projects. This has caused some delays to build programmes."
She said the council was working closely with schools on interim plans to minimise the impact this September. "We will monitor the impact on programmes expected to create additional places for September 2021."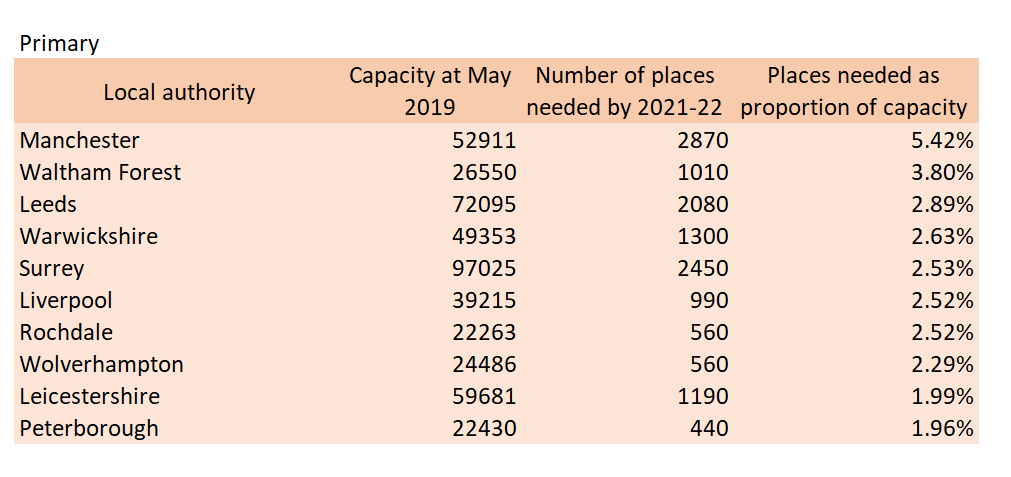 In Peterborough, most of the 440 additional places needed for 2021-22 should be met by Hampton Lakes Primary, which opened in September 2019 in temporary accommodation and is due to move to its permanent site this year.
But Covid-19 has delayed the building project, although a council spokesperson said it would be finished in late August.
"We are confident about this date at present, but do have a contingency plan in place for accommodating pupils should the building not be ready for a September opening."
Coronavirus isn't the only issue facing councils trying to create school places.
Jonathan Pryor, Leeds council's executive member for learning, skills and employment, said his "most significant issue" was a DfE-delivered free school that was running late. "which has impacted our ability to provide a local school place for children in Leeds".
The removal of council power to build and open schools meant school place delivery could take a lot longer than it "necessarily should".
"This is completely outside our control, yet the statutory duty to provide those places still rests with us – all the responsibility, but no authority."
Other councils were more optimistic. A spokesperson for Telford and Wrekin council said its plans were well advanced before the pandemic. Most projects were "on track for delivery in accordance with the original timescales".
Coventry council said its projects were "all on target to be able to meet demand from 2020 onwards", and a Surrey council spokesperson said plans were "already in place to ensure sufficient school places".
Darren Paffey, Southampton's cabinet member for children and learning, said he was "confident" it would have enough secondary places "even while we wait for the additional capacity that our new school build will bring".
Some councils also warned against drawing conclusions from the scorecard data.
For the scorecard analysis, local authorities are split up into different "planning areas", with the places needed in each area added together.
However, a Waltham Forest spokesperson said that because the DfE did not count planning areas with a surplus, any local authority "could be seen as having a need for additional places if just one planning area has a projected deficit".
Pryor said the data was "not all it appears to be", as the pandemic stopped its collection this year. "This means that the forecast has not been updated with any changes this year."
The DfE was approached for comment.