Hundreds of schools have been told by their council to reintroduce stricter Covid controls including bubbles, contact-tracing and scrapping assemblies as it is "time to be proactive" over rising cases.
Staffordshire County Council is believed to be the first local authority to recommend bringing back such wide-ranging measures across schools en masse. It covers more than 500 primaries and secondaries.
Current government guidance only sets out thresholds for reintroducing stricter measures in individual schools.
Staffordshire's infections surged 28.8 per cent last week, but Covid levels ranked 38th in the UK among councils. The county includes ex-education secretary Gavin Williamson's constituency.
Conservative-controlled Staffordshire said the DfE had been "briefed", but such decisions will test the government's willingness to tolerate backwards steps in easing restrictions.
When asked if they approve of the measures, the DfE would only say "guidance is clear that schools should only introduce additional measures if advised by local directors of public health in response to high case rates within the school".
Any such measures "should be temporary and carefully balance public health concerns with the need to prioritise face-to-face education", a spokesperson added.
A briefing to Staffordshire headteachers issued this week, seen by Schools Week, sets out "recommended controls" as "proactive to prevent outbreak and manage transmission".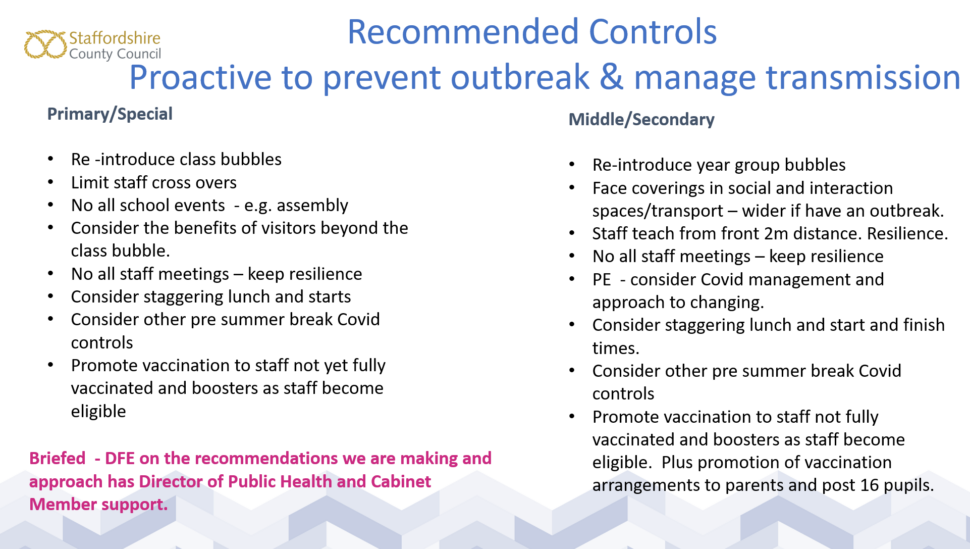 Local primaries are urged to reintroduce class bubbles, scrap all-school events such as assemblies and all-staff meetings, consider staggering lunch breaks and promote vaccination to staff.
Secondaries are advised to bring back year-group bubbles, face coverings in social spaces and consider Covid management for PE classes.
Public health director and cabinet 'support measures'
The document states the director of public health and cabinet members support the measures.
The council wants all schools to contact trace whole classes or years if they have mixed, rather than "wait for track and trace".
Meanwhile, pupils with confirmed household cases are advised to "stay at home pending PCR test result", even if schools "cannot legally require isolation".
The government had ended school contact-tracing responsibilities in July, and the requirement for contacts to self-isolate in August.
Jonathan Price, Staffordshire County Council's cabinet member, said rising cases locally were largely due to secondary and college outbreaks.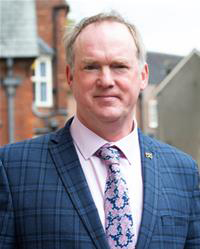 He said mobile testing units were being deployed, and bubbles were among measures schools "may potentially want to consider" – to limit contact, rather than for isolation purposes.
Julie McCulloch, policy director at school leaders' union ASCL, said councils were making area-wide decisions amid "confusion" over responsibility for stricter measures.
"This lack of clarity's not helpful to leaders trying to manage very difficult situations."
DfE guidance says measures are down to local officials to recommend "as part of their outbreak management responsibilities".
But they also say ministers will step in where there are "widespread issues across an area".
Wolverhampton council also asked secondary school staff and pupils this week to resume wearing face coverings in communal areas.
Leaders express concerns about Covid measures
Some Staffordshire leaders are thought to have concerns about reintroducing measures even when they do not have outbreaks. But it appears schools feel they have no choice but to follow the council's recommendations.
Debbie Bailey, head of Queens Croft High School in Staffordshire, told parents she "felt sad" to be announcing new measures.
In a letter seen by Schools Week, she highlights key stage "bubble boundaries", virtual school meetings and no off-site mixing with other schools. Single-class bubbles are being considered but the school is "reluctant" as it means a "limited curriculum".
The school was approached for comment.
Dr Mary Bousted, joint general secretary of the NEU, said: "I wonder what other compromises heads are making. The government doesn't dare order schools to do or not do anything – they know they can't do another Greenwich."
Ministers caused uproar last year by ordering Greenwich council to withdraw guidance urging schools to move learning online.
Paul Whiteman, general secretary of the NAHT, warned the government must "allow local teams to work closely with their schools", and backed councils moving "quickly and decisively" in hotspots.