The National Education Union has written to Boris Johnson demanding clarity on school and colleges reopening amid "unhelpful speculation" surrounding future plans. 
Joint general secretaries Dr Mary Bousted and Kevin Courtney are asking for the "modelling, evidence and plans" of the government's decisions as a full return would put teachers and pupils at greater risk of catching and spreading coronavirus. 
Schools across England have been closed since March 20 and all summer exams cancelled in a bid to contain the COVID-19 pandemic. 
You would be asking our members to take an increased risk
Last week Paul Whiteman and Geoff Barton, the general secretaries of the NAHT and ASCL unions, told Schools Week they had informed the Department for Education pupils would benefit if schools reopen before the summer, rather than waiting until September – but only if the scientific advice is that schools can return safely.
The Telegraph newspaper last week quoted an unnamed government source stating that officials are considering plans to lift lockdown "in reverse", with schools "the first to open potentially from the beginning of June".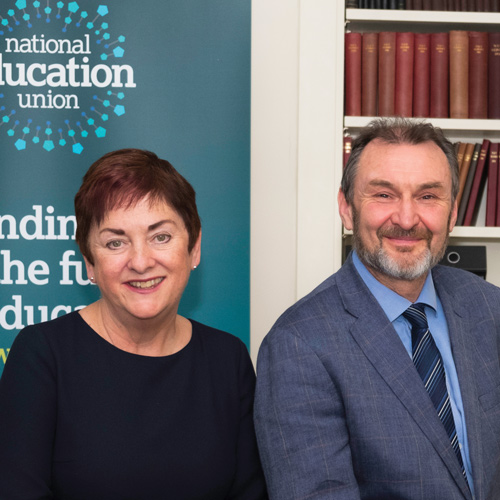 In a letter sent today to the prime minister, Bousted and Courtney say the NEU's members are "disturbed" by the increasing "media speculation".
The letter states: "We consider this speculation to be most unhelpful: it may undermine people's resolve to stick to social isolation. We are disturbed that it is seemingly being stimulated by unnamed Government ministers."
The joint general secretaries called on the government to share any plans to re-open schools with its members "well before" it is published .
Before any proposal of re-opening schools, the NEU also wants the government to publish its modelling of the increased cases and mortalities among children, their parents and teachers as a result of opening classrooms again.
They also ask whether plans would include social distancing being implemented in schools, testing of children and staff and the increased availability of PPE. 
A study had proposed that policy makers should consider social distancing measures in schools – such as people staying two-metres apart – as an alternative to full closure. But this was branded unworkable by many in the sector, with the NEU stating the ability to enact such plans is a "foolhardy assumption".
The NEU letter goes on to request indications of whether the government is " developing plans for extensive testing, contact tracing and quarantine in society as a whole" and how long it would take to put such plans in place.
"Given that in re-opening schools and colleges, you would be asking our members to take an increased risk, we believe they have a right to understand fully how any such proposal belongs within an overall government strategy to defeat the virus."