The government confirmed yesterday that schools can begin a phased approach to reopening schools on Monday.
Ministers have previously said schools would only reopen to more children if the government's five tests are met. Prime minister Boris Johnson it was "thanks to the caution we have shown so far that all five tests are being met".
But is that really the case? Schools Week takes a closer look at each test…
Test 1: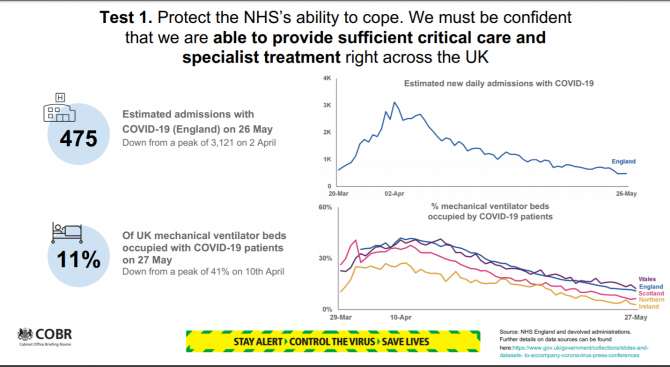 Earlier in May, the NHS Providers, which represents hospitals and other NHS trusts in England, said "the NHS has successfully created the extra capacity needed to treat COVID-19 patients to avoid the overwhelm of health services seen in other countries".
Hospital admissions have also been steadily declining since – government data shows that 11 per cent of mechanical ventilator beds in the UK were occupied with COVID-19 patients on Tuesday. This is down 14 per cent from the previous Tuesday and 41 per cent at the peak.
On Tuesday, there were 475 estimated coronavirus admissions, down from 637 on May 18. On Wednesday, 8,879 people were in hospital with the virus, down from 10,037 the same time last week.
Johnson said "this significant progress means we are meeting the first test".
But Saffron Cordery, deputy chief of NHS Providers, has urged people to keep social distancing as "we are still at a dangerous stage of the pandemic. The virus has not disappeared, as we saw over the weekend when a hospital had to close its doors to new admissions due to a local spike in cases."
The government's Scientific Advisory Group for Emergencies (SAGE) also recognised this. In documents published last week, they warned: "If relaxing school closures results in falling adherence to existing social distancing and other measures (for example, through increasing adult work contacts), then this will reduce the scope for its implementation."
Test 2: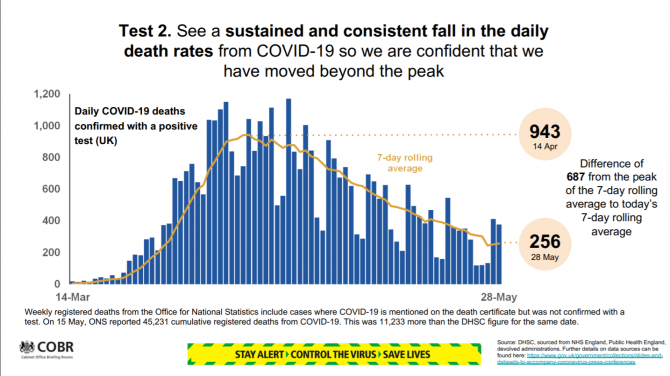 Johnson said on April 30 that the UK was "past the peak" of the virus outbreak. However he stressed the country must not "risk a second spike".
On May 15, The Office for National Statistics reported 45,231 cumulative registered deaths from coronavirus in the UK – with the percentage of deaths involving coronavirus continued to decrease across all English regions.
Of the deaths registered that week, 3,810 mentioned Covid-19, the lowest number of deaths involving the virus in the last six weeks – accounting for 26.1 per cent of all deaths and 120 deaths fewer than the previous week.
Johnson said: "While every death is one too many, it is now the case that there has been a sustained and consistent fall in the daily death rate, and so the second test is being met."
Although the daily death figures can sometimes be misleading (they include deaths that happened sometimes week before), the slight upturn in the 7-day rolling average over the past two days may be concerning – particularly if it continues further.
The true number of Covid-19 deaths is also likely to be higher than the reported number – with new figures suggesting the UK has the second-highest coronavirus death rate in the world.
There are also further problems with regional differences, with some areas harder hit than others. The North West, for instance, has had the highest number of deaths – 620 – for two weeks running. Mayors have called for the regional R rates to be published.
Test 3:
The most recent R rate – the reproduction number – was estimated at between 0.7 to 0.9.
Sir Patrick Vallance, the government's chief scientific adviser, said the R is "one of the most important things you can track to understand an epidemic" and if it rises above 1, it means the disease is growing "exponentially".
However, the Independent SAGE group, believes reopening schools risks pushing this above 1.
Johnson said that, "based on the various data available, the Government is satisfied that the third test is being met".
However, when presenting at yesterday's briefing after Johnson, chief scientific adviser Sir Patrick Vallance delivered a much more cautious verdict, warning of a "significant burden of infection" with "new infections every day at quite a significant rate".
He warned: "That means there is not a lot of room to do things, and things have to be done cautiously, step by step, and monitored" with a "test and trace system effective to monitor that".
Some local areas are also still seeing much higher rates of cases than the national average.
Gateshead, in the north east, has a rate of 493.3 per 100,000 of the population, compared to the England average of 269.9. It is one of the rebel councils that have backed heads to open later than June 1, but stopped short of advising them to do so.
Speaking of the variance in the area, Labour MP Ian Mearns warned this week "we are all being treated the same but with very, very different conditions pertaining around the country".
Vallance admitted during the briefing that the R rate "may be very close to 1 in some areas".
The independent SAGE group of scientists has called for the government to allow local decisions on reopening.
Test 4: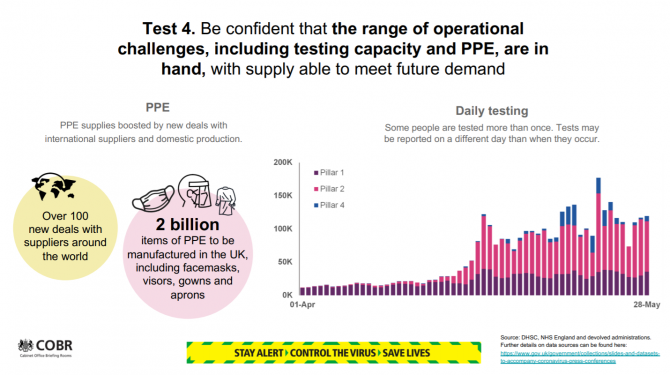 Johnson acknowledged yesterday the government had faced difficulties on both testing and PPE, but said he is now "satisfied that the fourth test is being met and we can start to rebuild stocks".
However he did "recognise there may be some settings that require urgent restocking on occasion".
But what about in schools?
Schools minister Nick Gibb admitted earlier this week PPE was a "scarce resource". While schools only need a "small quantity", he admitted two in five schools don't have enough. The Department for Education has been asked to provide further information on where these statistics were collected.
Government guidance states school staff don't need PPE for day-to-day activities. Instead it's only required for a handful of occasions, such as where social distancing cannot be maintained from someone displaying coronavirus symptoms.
Government guidance says schools should use their local supply chains to obtain PPE.
"Where this is not possible, and there is unmet urgent need for PPE in order to operate safely, they may approach their nearest local resilience forum."
Some schools have already been sourcing their own so they can get more staff safely back in the classroom.
Test 5: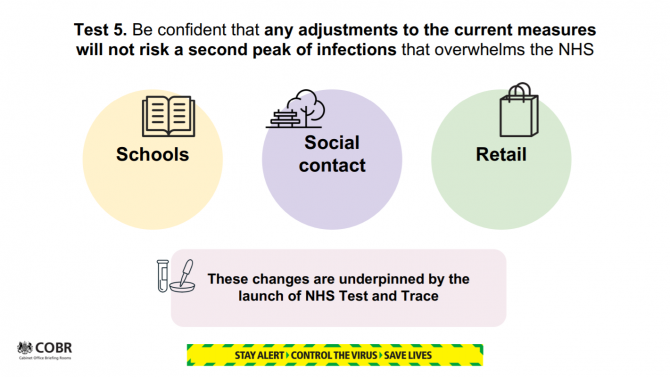 With the absence of a vaccine, this is difficult to judge. The government didn't present any evidence to accompany this test at the briefing yesterday (see image above).
Instead Johnson said he was "grateful" to the chief scientific and medical advisers for their "assessments of the measures" that has been "carefully designed so that we can ease the burdens of lockdown while expecting to keep that R below one".
He added: "I cannot and will not throw away all the gains we have made together, and so the changes we are making are limited and cautious."
Speaking later at the briefing, Vallance urged caution on the new measures – adding the "test and trace system needs to be effective in order to manage that".
The government launched it's test and trace system yesterday, with £300m being given to local authorities to help create local responses to outbreaks, including schools.
Plans include deploying testing facilities to particular locations if required and anyone or any ages with symptoms can now request a test.
However there have already been reports of technical problems and MPs were told the system "won't be fully operational until the end of June".
Johnson himself, appearing at the liaison committee on Wednesday, said while the scheme will be "useful", he said it will have to get "steadily better" to become a "world class test and trace system".
The roll out of the contact tracing application has been delayed too and is now expected in "the coming weeks".
The independent Sage group has warned that reopening schools could push the R value above 1 – particularly without a localised test and trace model.