The performance of regional schools commissioners will be judged by how many schools in their areas convert to academy status, despite education secretary Nicky Morgan's public stance that she has no preference for any particular school type.
Regional schools commissioners (RSCs) were introduced in September to strengthen accountability for academies, but it was not known that they would be judged on how many academies were created in their region.
A freedom of information request to the Department for Education (DfE), however, shows that one of the eight key performance indicators (KPI) for RSCs relates to the number of academies in their region – including among schools not normally targeted for academisation.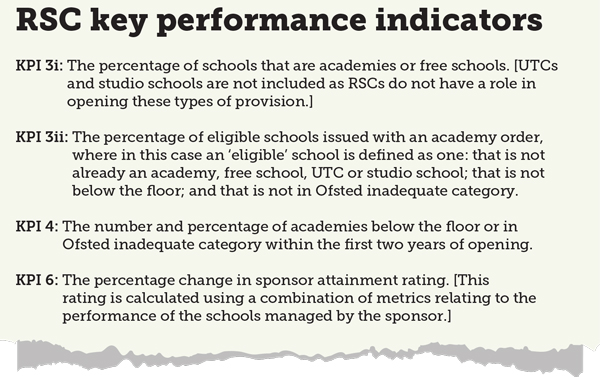 RSCs will be judged on the percentage of academies or free schools in their region, and "the percentage of eligible schools issued with an academy order". Eligible schools are defined as those not currently below the government's exam floor standards or with an Ofsted rating of inadequate. Maintained schools must apply for an academy order to move outside local authority control.
There is no suggestion that the KPIs mean that schools are being specifically targeted for academisation, though one union head described its inclusion as an RSC performance measure as "extremely worrying".
Among the eight KPIs, another relates to the number of academies falling below the government's exam floor standard, or being rated inadequate within their first two years of opening, giving an incentive for RSCs to ensure the quality of provision.
Others cover things such as changes in "sponsor attainment rating[s]" – believed to be an internal assessment of academy sponsors' performance, which the DfE has previously refused to make public.
Commenting on the release of the KPIs, Brian Lightman, general secretary of the Association of School and College Leaders, said: "It is extremely worrying to see that this is included as a performance indicator, even if it is only one of many indicators of the way commissioners are being held to account.
"It also contradicts Nicky Morgan's recent statement in which she said 'Academies are just one part of the picture, and their work is complemented by thousands of excellent schools in the maintained sector.'
"No school should be forced to become an academy to satisfy a government target. A school should only become an academy if it is the right way for that school to secure the best possible future for its pupils."
Asked how the KPIs would be used, a spokesperson for the DfE said: "The role of the regional schools commissioners is to tackle underperformance in academies and free schools, taking decisions on academy conversions and encouraging strong sponsors into the market to support struggling schools.
"The key performance indicators reflect the overall programme priorities. As with any other civil servant, individual performance is measured by a series of personal objectives that are reviewed annually."
The DfE turned down another part of the FOI request, which sought the minutes of meetings held so far by the RSC-led headteacher boards, after an unnamed minister decided that disclosure would "prejudice the effective conduct of public affairs". Some of the contents were also covered by data protection rules, the DfE said.
Regional Schools Commissioners (RSC) – All 8 Key Performance Indicators (KPIs) 
RSC remit: Tackling educational underperformance and inadequate governance in open academies
KPI 1: The percentage of academies, free schools, UTCs and studio schools below the floor standard, broken down by number of years below the floor. [These schools must have been open at least a year, and alternative provision and special schools are not included.]
KPI 2: The percentage of academies, free schools, UTCs and studio schools in Ofsted inadequate category, broken down by length of time. [Alternative provision and special schools are included.]
RSC remit: Approving new academy provision
KPI 3i: The percentage of schools that are academies or free schools. [UTCs and studio schools are not included as RSCs do not have a role in opening these types of provision.]
KPI 3ii: The percentage of eligible schools issued with an academy order, where in this case an 'eligible' school is defined as one: that is not already an academy, free school, UTC or studio school; that is not below the floor; and that is not in Ofsted inadequate category.
KPI 4: The number and percentage of academies below the floor or in Ofsted inadequate category within the first two years of opening.
RSC remit: Managing the regional sponsor market for academies
KPI 5: The percentage of local authority areas in the region where more schools require a sponsor than there are sponsors available.
KPI 6: The percentage change in sponsor attainment rating. [This rating is calculated using a combination of metrics relating to the performance of the schools managed by the sponsor.]
KPI 7: The percentage of approved sponsors that are active (i.e. that are sponsoring one or more academies).
RSC remit: Providing advice and taking decisions in relation to free schools UTCs and studio schools
KPI 8: The number of free schools and percentage of high quality free schools, UTCs and studio schools in the region. [This includes the approval rate, the attrition rate, the percentage of good and outstanding  reports after 1st term visits and 3rd term visits, and the percentage of good and outstanding Ofsted inspections (1st inspection only included in this KPI).]