It isn't supposed to be like this. The plan had been to meet in a glorious Victorian hotel and have afternoon tea. Instead we are quaffing from paper cups in the corner of a Pret.
Victorian hotels, it turns out, have a habit of closing for renovation.
Charlie Stripp seems unperturbed. He talks about maths for nearly two hours, stops for photos in the park, and then asks if I will join him – recording device still on – in the walk to the tube station so that he can tell me more about maths hubs, a national network of hubs led by an outstanding school or college to spread good practice.
If you hadn't guessed: he really, really likes maths.
Maths is "profoundly beautiful, even at a very low level"
As director of the National Centre for Excellence in the Teaching of Mathematics (NCETM), an organisation that hyperactively co-ordinates maths activities – such as implementation of the new maths mastery model in primary schools – it's a good thing that the 51-year-old likes the subject so much.
Stripp has taught the subject in secondaries, primaries and further education. In the latter, he specialised in "maths for the terrified", helping mature students with low confidence to rebuild their skills before taking degrees.
"The proportion of people who really don't understand maths at all is minute," he says, "I never accept the idea that a person doesn't understand it. You've just got a negative view about it."
He believes many people often say that they can't do maths because their family or a teacher has told them that they can't, or they believe that it is always about getting the right answer. "They think that if you make a mistake or get something wrong, you're stupid."
Not only does he believe that maths is "profoundly beautiful, even at a very low level", but also that everyone can get better at it if they are taught well.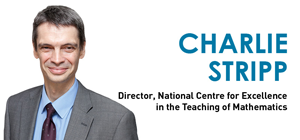 Like the schools minister Nick Gibb, Stripp has been inspired by the way maths is taught in Shanghai. Initially sceptical, he took part in an exchange visit and was impressed. The sequencing of lessons was particularly useful – teaching children elements such as subtraction and addition at the same time, rather than separately – which helps to build understanding. He also found the whole-class approach refreshing compared with the sort of differentiated activities in English classrooms that are based on pupils' prior abilities.
He's also enthusiastic about specialist maths teachers for primary schools.
"We can't just suddenly switch that on here. But if I could flick a switch and say that every primary child be taught by a primary maths specialist for their maths, I would."
A decades-long recruitment problem makes it difficult to find enough specialists to fill positions in English secondary schools. Finding enough to cover primaries would be even tougher.
NCETM is therefore working with "maths hub" schools to train primary teachers to become maths specialists, with a view that they go on to teach others. Stripp has also been involved in the development of better textbooks.
I thought, 'Become a chartered accountant? That's great! I can be an upper middle-class person'
Several multi-academy trusts also now have "virtual" maths classrooms in which children use online adaptive software that is carefully sequenced to maximise learning.
What is the probability that by 2026 all maths teaching will be delivered this way?
He looks sceptical. "I'd say 30 per cent. Part of what's in my calculation is the deep conservatism of the education system. Partly it's access to the equipment."
Beyond primary maths, he also has concerns about the reformed GCSE, which is not only more rigorous in content, but the level at which pupils must perform to get a "good pass" is being increased – meaning proportionally more children will "fail" the qualification this summer (an analysis by Schools Week suggests that about one in four pupils who currently pass their GCSE maths will "fail" under the new system).
Stripp is concerned this will lead to more people believing they are bad at maths. He is also concerned about the 250,000 students each year who do pass GCSE maths and yet still don't take it for A-level.
"Now, compare that with each of our global competitors. That's a disaster!"
He is currently working with groups on alternative qualifications for those who don't pass their GCSE first time, and to encourage those who don't feel moved to study for a full A-level.
His passion for maths is palpable, so it's a surprise to find that he only took the subject to reduce his university timetable. Originally studying physics at the University of Nottingham, his schedule involved hours of laboratory practicals and lectures. Swapping to mathematical physics gave him an out.
He also didn't choose maths teaching as his first profession. When he left university he moved to Cornwall and started to train as an accountant.
"I thought, 'Become a chartered accountant? That's great! I can be an upper middle-class person'."
Living in Cornwall allowed him to continue rock-climbing, a passion that began at university and continues today.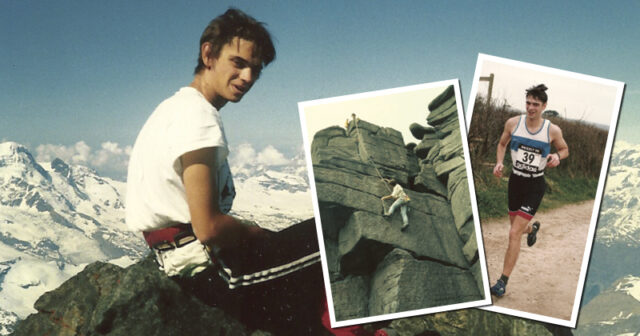 Shortly after his move, however, he was involved in a bad motorbike accident.
"It was a no-fault accident, it was raining, I met a lorry on a left-hand bend and we had a head-on collision. I was off the bike and quite badly injured."
After getting back to work, he then suffered a bout of glandular fever.
"At that point, I had a conversation with my dad, who was very supportive, and I said, 'This isn't what I want to do with my life' and he said 'Stop now, because if you qualify, you'll never leave it.' So I stopped."
On a hunch that he might be a good teacher, he took a PGCE at Exeter, which led to a job at Colyton grammar school in east Devon. He then springboarded into a variety of teaching roles and, eventually, to Mathematics in Education and Industry in 2000 after it gained funding to "essentially to save further maths in the state sector".
He succeeded. As the chancellor said in his party conference speech last week, maths is now the most popular A-level in England and the numbers taking further maths continues to grow.
It's wrong for maths teachers to be ashamed that they like maths. We're awfully shy about it
Stripp has been involved in changes to the curriculum throughout the period and is excited by some of the most recent innovations.
"In the new A-level, we have one unit that is examined on computer. That's new. There's things like working with large datasets that we really pushed for. We're also very keen on the idea of applications of maths, and trying to link with industry, and make sure that people see the relevance of the maths that they're learning."
Having worked with the government for much of the past 15 years, however, he doesn't believe it always holds the solutions. Instead he wants more on-the-ground solutions to come out of the maths hubs schools.
"The hubs are a vehicle for how school improvement can happen. We don't have the same local authority system that we used to. We have to adapt to that now and use the hubs as a vehicle."
Most important, however, is a simple belief, by every teacher, that everyone can learn maths.
"It's wrong for maths teachers to be ashamed that they like maths. We're awfully shy about it. Don't be. Working at a grammar school meant that I had high expectations of pupils because they had been selected. I've retained that. I've always had this view that pupils can do well. I never look at someone, and say, 'Oh, that person's just no good at maths'."
And, if you don't believe him, he will happily chase you all the way to a tube station to persuade you.
___________________________________________
It's a personal thing
What's your favourite book?
Can I have more than one? For a mathsy book, I like The Mathematical Experience by Philip J. Davis and Reuben Hersh. It was recommended by my PGCE tutor who saw that I was more interested in maths than in teaching. I bought a copy, left it on the bus – and went straight out and bought another one. My other favourite is the Master and Commander series by Patrick O'Brian. They're about the swashbuckling adventures on sailing ships in the late 18th and early 19th centuries.
If you could live in any historical period, when would you choose?
I'd like to say that it'd be great to live in the time of Galileo or Newton when all those fantastic mathematical discoveries were happening, but I'd have been a serf who wouldn't know where my next meal was coming from, so… I'm happy to live now.
If you were invisible for the day, what would you do?
I'd quite like to go to one of those big summit meetings, maybe some kind of cabinet meeting, to see how people really behave in those situations.
If you had to pick an animal to symbolise you, what would you pick?
What about an African hunting dog? They work well together, but they're also tenacious – and quite cute.
What did you have for breakfast?
I travel a lot between Devon and London, so this morning on the train I had one of those porridge things with cherry jam, a croissant and a cup of tea.