A former Bright Tribe boss told the headteacher of Whitehaven Academy to "think" about the application of a campaigner's son to continue into its sixth form.
The comment was made in an email from the trust's former chief operating officer Mary McKeeman after inquiries from parent Julie Rayson regarding to whom Rayson should report concerns at Bright Tribe.
Rayson was a vocal campaigner during the trust's controversial tenure at the Whitehaven Academy in Cumbria, where it oversaw falling exam results, buildings in disrepair and an "inadequate" Ofsted rating.
The email from McKeeman, sent in June 2017 to the school's then head, stated McKeeman had not responded to Rayson's request in "over 4 weeks".
"We just keep sending her down cul-de-sacs until her son leaves. You need to THINK about his application to your sixth form!!!" she wrote.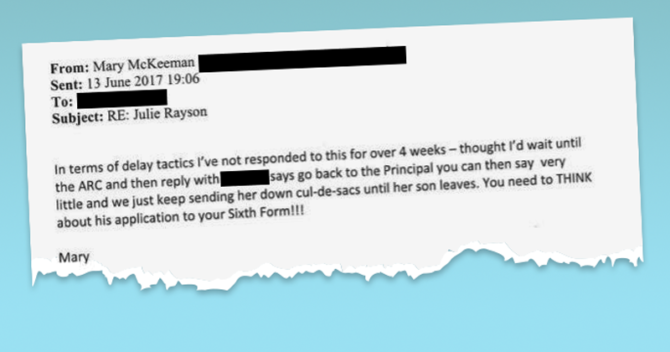 Schools Week understands no action was taken against either Rayson or her son.
Bright Tribe is being closed and its schools rebrokered. MPs were told last year that government investigations into the trust were due to be completed by Christmas 2018.
One of those investigations, by the ESFA, is probing claims made by BBC Panorama of repeated false claims for building and maintenance grants by the trust.
Angela Rayner, Labour's shadow education secretary, said the new disclosure "only adds to the case for a proper inquiry and complete transparency to get to the bottom of what happened at Bright Tribe".
Bright Tribe replaced local governance at its schools with regional accountability, review and challenge (ARC) groups, which were advised by school-level "drive teams".
Emails, seen by Schools Week, were sent from McKeeman to other staff following attempts by Rayson to find out how to share concerns with the ARC groups.
McKeeman urged the head to "not respond to this individual", adding Rayson had been escorted off site, was close to being issued with a harassment warning, and was now having to pay for freedom of information requests after submitting so many.
However Rayson, whose son chose to leave Whitehaven Academy when he finished his GCSEs in 2017, has insisted all three allegations are entirely false.
"It was upsetting," she said. "I think if I had seen this email back then it would have really terrified me. I think she thought I would back off if they used delay tactics and saw to it that my son wasn't in the school any more. But she was wrong about that. I'm still going now."
A public accounts committee report this week found that parents and local people "have to fight to obtain even basic information about their children's schools" under some academy trusts.
Local MP and education committee member Trudy Harrison, who was once escorted away from Whitehaven Academy by trust staff after trying to check on flood damage, said: "It's incredible to think these actions would belong in the British education system. It's awful.
"If the parents and campaigners at Whitehaven Academy had been taken seriously three or four years ago when they first raised concerns, we wouldn't be in this position now.
"It's right and proper that a full investigation takes place. It has to be made public. We don't want other schools to suffer in the way Whitehaven Academy has."
McKeeman, who declined to comment, left the trust in November 2017 after nine months at the helm. She is currently the headteacher at a Kent special school.
A spokesperson for Bright Tribe said its new leadership has "worked tirelessly to rectify the mistakes of the past. Central to achieving this has been building trust with the schools, parents and students so they are supported at all times.
"We are very disappointed if these principles have not always been demonstrated in the past."