The leader of an academy trust heavily criticised for the way it has run certain schools in the north of England has resigned.
Mary McKeeman, the chief operating officer at the Bright Tribe Trust has stepped down and been replaced by the director of primary education, Heidi Hoskin.
The news was revealed by the Education Uncovered blog this morning, and the trust has now confirmed the news as well as removing McKeeman's profile from its website and listed Hoskin as interim leader.
McKeeman took the reins of the 10-school trust in February this year, following the resignation of its former chief executive Kathy Kirkham.
A spokesperson for Bright Tribe said: "Mary McKeeman left her position as COO of Bright Tribe Trust on November 28, 2017.
"Heidi Hoskin –  former Director of Primary Education for the Bright Tribe and ALAT Trusts, who sat on the Executive Leadership Team and directly supported Regional Executive Principals and Academies to drive forward school improvement – has been appointed Interim COO."
Bright Tribe has been mired in controversy over its running of the Whitehaven Academy in Cumbria.
It was reported yesterday that teachers at the school are demanding it is forcibly removed from the trust, and the school's local MP Trudy Harrison was escorted offsite when she attempted to inspect flood damage last week.
Teachers have complained of dilapidated buildings, minimal budgets and poor student outcomes.
A public meeting will be held in the local community on Thursday to discuss whether the trust can be forced to relinquish control of the school.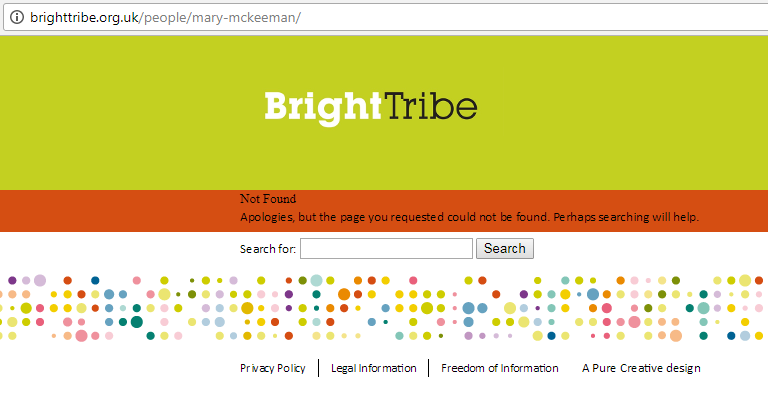 Last week it also emerged that Bright Tribe had stepped away from Haydon Bridge High School in Northumberland, which it had been due to convert to an academy in September 2016.
The trust had been lined up to take over the school since 2015 but insisted it was never more than a "potential sponsor". A spokesperson blamed the school's "significant and increasing financial deficit" and "steady decline" in pupil numbers for its decision to pull out.
A committee paper into the fate of Haydon Bridge is due to be published by Northumberland council on Wednesday.