Ofsted has today published its annual report and accounts for 2018-19.
Schools Week has rounded up the key findings.
1. Bonus pay-outs to senior bosses rise to (up to) £110,000
Eight senior staff got bonuses this year, totalling between £70,000 to £110,000. The reason for the size of the range is that bonuses are reported in £5,000 brackets, so a more accurate total is not possible.
Last year, five staff members were paid between £45,000 and £70,000 between them.
Matthew Coffey, Ofsted's chief operating officer, and Sean Harford, the watchdog's national director of education both got the highest individual bonuses – between £15,000 to £20,000 each. The accounts state bonuses are based on "performance levels and are made as part of the appraisal process".
Ofsted has previously come under fire for handing out bonuses – as it has regularly pointed out its funding has been slashed by 30 per cent since 2010. But the watchdog underspent by £1.7 million against its core funding of £130.3 million this year.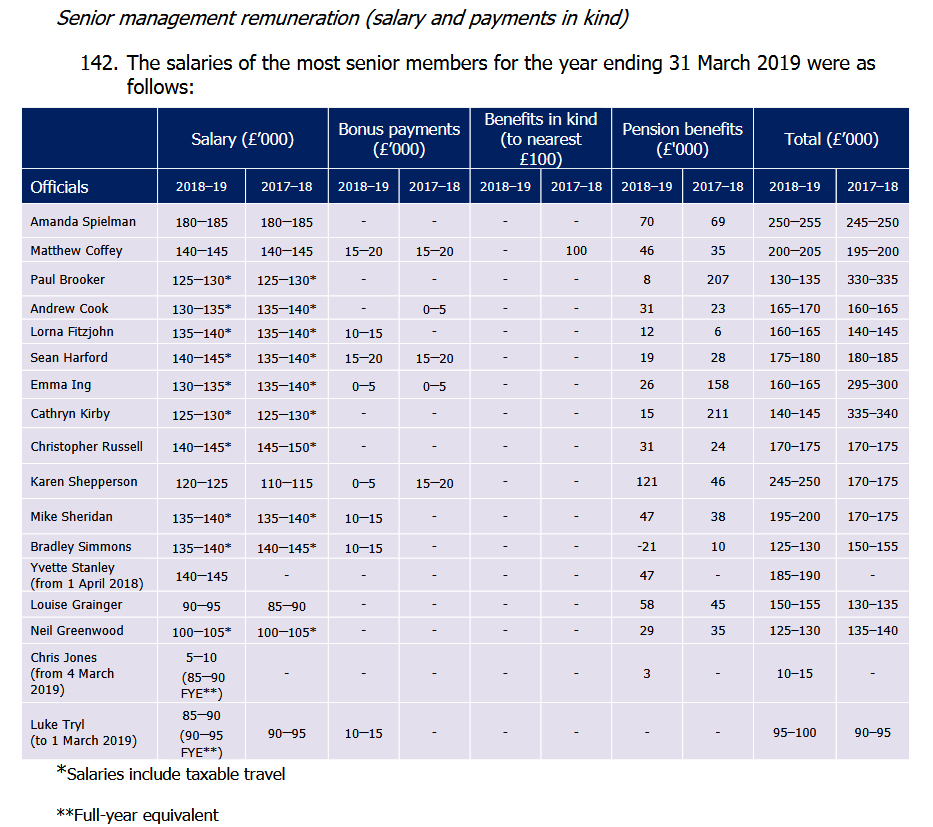 2. Watchdog reports 5 data breaches after cyber attacks
Ofsted reported five personal data breaches to the Information Commissioner's Office this year.
Two related to cyber attacks: In June an employee's mailbox was "compromised", with 500 people potentially affected. And in August, a phishing email broadcast personal contacts, affecting up to 102 people. Another incident in September was listed as "breach of confidentiality", where the names of 23 employees subject to redeployment were seemingly wrongly shared.
Another breach of confidentiality related to the notification of a child's death in January, potentially affecting two people.
No enforcement action was taken, but recommendations were made, and Ofsted said it is reviewing its internal processes.
3. School inspections are back on track
The watchdog was criticised by the public accounts committee last year for failing to meet its own inspection targets.
But Ofsted has hit its target this year on school inspection numbers, achieving 103 per cent on a target of 5,444 – up from 94 per cent last year).
However it completed just 89 per cent of planned inspections in the further education and skills sector, down from 101 per cent last year.
The overall number of inspections completed this year, at 31,500, is also actually fewer than the 35,300 in 2017-18. This is partly down to the watchdog lengthening the cycle of inspections for 'good' schools from an average of three to four years to "invest in important research and digital projects".
Inspector turnover has also been falling and now stands at 12 per cent, down from 19 per cent in 2017-18 and 26 per cent in 2016-17. Ofsted said this "reflects the success of measures to make the job more satisfying and to increase inspector certainty about their schedule".
4. Just 5% of suspected off-rollers rapped
Ofsted has identified 300 schools that have exceptional levels of pupil movement, which the inspectorate has said could suggest off-rolling is taking place.
Today's report states just 63 schools from that list were inspected between September last year and March 31. And of those, just three published reports (5 per cent) refer to off-rolling having taken place.
Ofsted said that "in many other cases the data on pupil movements facilitated helpful discussions between the inspector and the school leaders about why pupils left the school and what the school does to support pupils to either continue at the school or to find a place in a different school".
In total, five schools have now been identified as off-rolling.
5. 1 in 5 inspection complaints leads to action
The number of complaints received by Ofsted has more than halved since 2015-16 (but the total number of inspections has fallen by 35 per cent in that time, too). However more than one-in-five complaints investigated by the watchdog were upheld or partially upheld.
Actions can include anything from tweaking reports to changing overall judgments (although the latter happened just 13 times during the year).
Eight inspections were deemed "incomplete" as a result of a complaint, leading Ofsted to visit the provider again to gather more evidence.

6. Spend on severance pay nearly doubles to £1.1m
The watchdog spent £1.1 million on pay-offs for the 32 people who left this year, up from £660,000 for the 18 people who left in 2017-18. Ofsted said this was down to changing staffing structures in its early years inspection team.
Their spend on consultancy has also risen – up from £123,000 last year to £233,000 this year. Spending on temporary staff has fallen, though.