Schools could face "direct intervention" from the Department for Education from September if they have failed to allow further education providers to promote vocational education to their pupils.
The move is a part of a crackdown on non-compliance with the controversial 'Baker clause', an amendment to the 2017 Technical and Further Education Act, which came into effect at the beginning of this year.
The rule, instigated by Lord Baker, former education secretary and architect of the university technical college movement, means every school must give training providers and colleges access to every pupil in years 8 to 13, so they can find out about non-academic routes.
But a Schools Week investigation in late January found that only two of the 10 largest multi-academy trusts in England had fully complied with their new legal duty.
Now skills minister Anne Milton is encouraging further education providers to go as far as grassing on schools that are barring their access, by contacting her directly.
In her latest monthly column for Schools Week's sister paper FE Week, published today, Milton urged providers that have had access to their local schools blocked to report their experiences to her directly, via her parliamentary or constituency offices.
"I'm really keen to hear from any providers that have had difficulties with this, or have been blocked from going into schools," she wrote.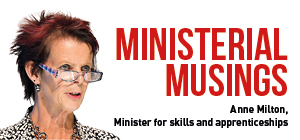 Read Anne Milton's latest expert column for FE Week here
"We want to make sure young people are getting all the information they need about the options available to them post-16," a DfE spokesperson said.
"We will be taking action from the start of the new term in September to strengthen relationships between schools and providers and share best practice across the sector about what is working well."
This action could include highlighting best practice or even direct intervention, according to the DfE.
Even Lord Baker was aware that his clause would be a hard sell, acknowledging at the time it was introduced that it was likely to be "met with great hostility in every school in the country".
In Schools Week's January investigation, school leaders argued that the timeline for complying with the Baker clause had been too tight.
Geoff Barton, the general secretary of the Association of School and College Leaders, defended the delay, pointing out that the relevant guidance was only published on November 23, "in the busy period before the Christmas holiday".
"The policy statement has to include procedures for accommodating access requests as well as details of the premises and facilities that will be provided, and clearly this does require some thought and planning," he said.
Meanwhile Marcus Taylor, the chief operating officer of Plymouth CAST, told Schools Week the trust felt the new requirements had "not been well advertised".
In June, Schools Week reported that the government had commissioned the Association of Employment and Learning Providers (AELP), a sector body that represents training companies, to carry out a survey on behalf of the DfE, asking looking into the impact of the legislation.
The review, which was triggered by concerns that schools were either unaware of or choosing to ignore the law, has now closed, but the DfE has refused to reveal its findings.
Simon Ashworth, AELP's chief policy officer, said some schools had placed "limitations on which year groups and ability groups the providers can have access to" while others "aren't keen on any access at all".
"Of most concern is the reported number of schools which haven't published a provider access statement yet which is a clear breach of the law," he said.