Education secretary Damian Hinds is calling on technology companies to help improve teaching and cut teacher workload, ahead of plans to develop new online resources for schools in the autumn.
From September, the Department for Education (DfE) will work with the Chartered College of Teaching, the British Educational Suppliers Association (BESA) and other organisations to develop a range of "online training packages", to support teachers in five areas of their work.
It has identified "five key opportunities"  for technology to "create a step change in education", which include supporting access and inclusion for pupils with different learning needs, making assessment more effective, and finding flexible ways to deliver teacher training and development.
The DfE also wants solutions to reduce the burden of 'non-teaching' tasks, and support those who have left the education system to access online learning.
Hinds said in some schools technology is already being used in "revolutionary ways".
"Students are able to explore the rainforest, steer virtual ships or programme robots from their classroom, while teachers are able to access training, share best practice with colleagues and update parents on a pupil's progress.
"It's only by forging a strong partnership between government, technology innovators and the education sector that there will be sustainable, focused solutions which will ultimately support and inspire learners."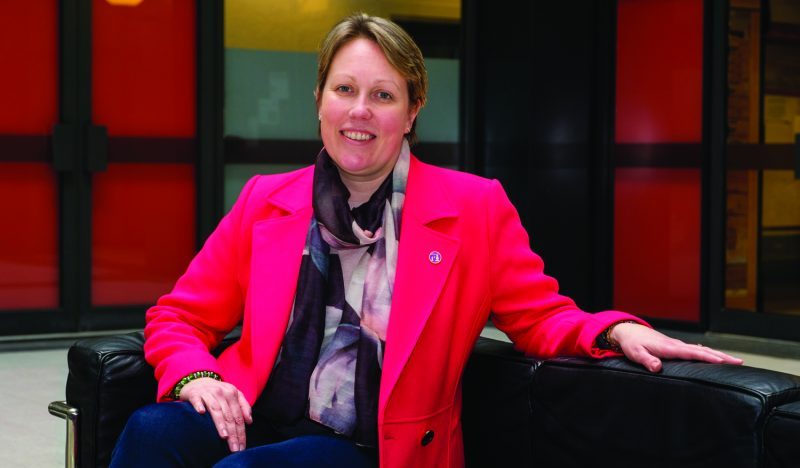 Caroline Wright, director general at BESA (pictured above), said: "I am delighted that the DfE's plans place teacher training and support at the heart and soul of their future approach to EdTech and recognises that EdTech, when introduced as part of a whole school strategy, has the power to help improve pupil outcomes, save teacher time and reduce workload burdens."
Schools will also have access to a new "online portal" which will allow them to try out new software before they choose what to buy.
Meanwhile technology industry experts, from both the UK tech sector and Silicon Valley giants like Apple and Microsoft, will come together with school leaders through a series of regional 'demonstrator' roadshows.
But some have questioned whether the government is doing enough.
Bob Harrison, an EdTech expert and former teacher, governor and education adviser for Toshiba, said the announcement was "welcome", but seemed "half-hearted".
"It's about time the DfE showed a bit of interest, we've had seven years of neglect. The technology industry is already doing a tremendous amount out there, despite the lack of guidance and policy interest from government.
"The biggest challenge in this area is not what tech companies are doing, but the need to build the infrastructure within schools and boost the skills and confidence of the workforce.
"You can't improve that without more funding, time, and leadership vision, and that's what's been lacking from the DfE. Until I see more I'm a bit sceptical."
Shireland Collegiate Academy, which serves 11 to 19 year olds in Birmingham, is one school that is already using some of the technology solutions available to try to reduce unnecessary burdens on staff.
Through Microsoft apps such as 'Planner', the school has created a system where pupils' achievements and areas for improvement can be logged and updated online, as well as building a  'planning bank' where teachers can upload lesson plans to share with colleagues. The school also uses the Microsoft 'Teams' app for departmental discussions and information sharing.
Sir Mark Grundy, headteacher at the school, said the work had been taking place for "a number of years".
"We have supported many schools in replicating our processes, and having the interest and advocacy of the Department for Education around using technology for school improvement will make an enormous difference."