The government's "nonsensical" Covid testing policy that pupils tested on-site must self-isolate without taking confirmatory lab tests has seen youngsters needlessly kept off school after being sent home within hours of returning.
Parents warn they will no longer consent to their children being tested due to the disruption, which they blame squarely on the government. Meanwhile one school is ignoring official guidance and offering confirmatory lab tests to "reassure" parents.
Schools opened to all pupils on Monday after being closed to most pupils since January 5.
As part of the return, secondary age pupils are expected to be tested three times on-site by the end of next week, switching to twice-weekly home testing after that.
The Department for Education doubled down this week on its policy that pupils told to self-isolate after a positive rapid test carried out in school should not get this confirmed by a more accurate polymerase chain reaction (PCR) test.
Even if a pupil did so, and the PCR came back negative, both the youngster and their close contacts should still self-isolate, guidance states.
However, for rapid tests taken at home, pupils are told to get a confirmatory PCR test.
'My child was in floods of tears'
Parent Jo Lubega called the rules "inconsistent and illogical" after her daughter tested positive on Monday at a secondary school in Derbyshire.
Her daughter received a negative PCR result from a test taken less than 90 minutes after the lateral flow device (LFD) test. However, the girl, along with household members including her primary-age sibling, must still self-isolate for ten days.
PCR tests are recognised as the "most reliable Covid-19 tests" by the government, but as they are processed in a laboratory take longer to produce results than LFDs.
Lubega said both daughters had been "in floods of tears" and the lack of on-site schooling since December "is having a huge effect on their mental health as well as their education".
She claimed the policy meant "the psychological impact" on her children was being "disregarded" by the government. Her daughters will have just one week in school before Easter half-term.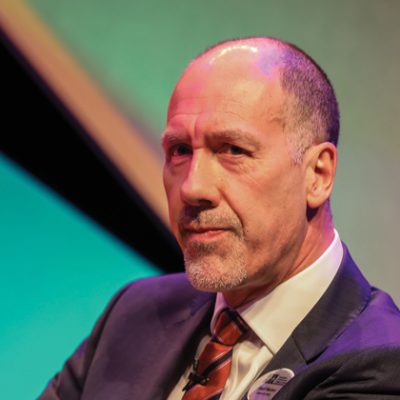 Lubega will no longer consent to on-site Covid testing and is considering whether home-testing could cause similar unnecessary disruption.
An ASCL survey of 729 secondary schools and colleges found 54 per cent of leaders reported a take-up of on-site Covid tests between 90 and 100 per cent on Monday. Take-up was between 80 and 89 per cent at around a quarter of the schools, and below 60 per cent in just six per cent.
Dr Rachel Clarke, an NHS doctor and author, said her son and 30 classmates were out of school after one tested positive from an LFD – despite a PCR test later confirming they were negative.
Geoff Barton, general secretary of leaders' union ASCL, said he had already heard of schools where one-third of the year 11 cohort were self-isolating due to a single positive result.
The situation means school leaders who are "already having to do things beyond their remit" have to explain to parents why their children must stay at home, he added.
DfE rules are 'nonsensical and unscientific'
Professor John Deeks, of the Institute of Applied Health Research at the University of Birmingham, said the differing PCR policies were "nonsensical and unscientific".
NHS Test and Trace statistics show that between February 25 and March 3, just 297 LFDs taken in secondary schools returned a positive result out of 622,861 tests taken in total.
Original government studies of symptomatic people found around three in 1,000 people received false positives, while a subsequent trial in Liverpool of asymptomatic people found it was around one in 1000.
Deeks told Schools Week you would expect the data to show at least 622 positive tests from last week.
"The low rate is really worrying because as well as saying they're probably false positive, it also says we're missing a large number of cases", he added.
School vows to 'double check' with PCRs
Uckfield College, in East Sussex, sent an email to parents on Wednesday reassuring them in the event of a positive LFD it will offer "a PCR test to double check, so there won't be any students made to self-isolate for a long period due to a false positive".
The email states the school has taken this approach since January "and will continue with it" so parents are "reassured".
Gwyn Carwardine, whose daughter attends the school, praised the "pragmatic and sensible approach".
The school had been contacted for comment
Poorer pupils more likely to remain off school
Around 96 per cent of primary school pupils returned on Monday and Tuesday, according to data from Arbor Education, a school management information software (MIS) provider used by more than 1,500 schools and 130 trusts.
In contrast just 42 per cent and 58 per cent of secondary pupils attended on Monday and Tuesday respectively, according to Arbor's data. However, the sample size was smaller for secondaries, with just 112 involved.
Secondaries were given this week to stagger returns in order to facilitate testing. Attendance was mandatory in primaries from Monday.
The Arbor data showed poorer pupils were more likely to stay at home. Just 38 per cent of pupils on free school meals attended the secondary schools on Monday. Meanwhile, across the 921 primary schools sampled, 94 per cent of free school meal pupils attended.