An academy trust "fired" a school's board of governors and accused them of causing "reputational damage" just one week after they complained about financial management.
Former governors at Dearne Advanced Learning Centre, in Barnsley, claim they were left unable to afford exercise books with teachers buying their own gluesticks and calculators while hundreds of thousands of pounds was top-sliced by Astrea Academy Trust.
The school voluntarily became an academy and joined the trust in February to improve after two straight 'requires improvement' Ofsted ratings.
However, former governors allege the trust drained the finances of the school, now known as The Dearne Academy, while giving "nothing back".
Astrea disputes this – claiming it is "open to constructive challenge" and accused some staff of "behaviours that undermine the core mission of the school, which is to improve pupils' lives".
But the fallout has prompted warnings that the "significant cultural change" of a school joining a trust should not be "underplayed".
Sam Henson, director of policy and information at the National Governance Association, said a "level of influence" is needed to "give local governance a true and meaningful purpose".
But he added: "While those at local level should retain influence, they need to understand and accept that their delegated functions may be removed or limited upon joining multi-academy trusts."
At a board meeting on November 21, Dearne governors raised concerns about the total departmental resources budget being cut from between £50,000 and £60,000 to just £13,000, and Astrea also imposing a 6.5 per cent top slice, equating to £380,000. The resources budget was later raised to £34,000.
Schools Week understands governors warned that staff morale was low, with an unusually high number of resignations and a lack of continuing professional development.
On November 29, they received a letter from Astrea's chief executive, Libby Nicholas (pictured), saying they would be replaced with a "transition management board". Former governors were told to contact Nicholas if they wanted a position on the new board.
An Astrea spokesperson insisted that four of the 11 former governors have positions on the board.
In the letter, seen by Schools Week, Nicholas wrote: "There has been particular concern that a small number of people have actively sought to undermine the successful onboarding of The Dearne.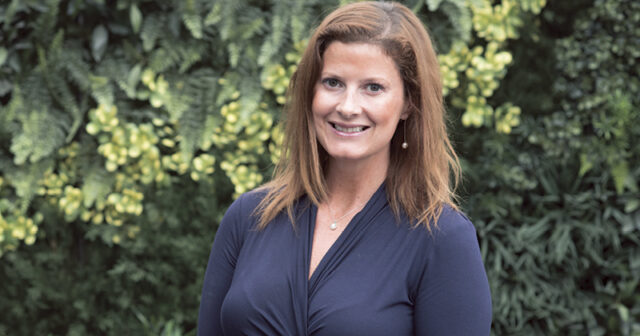 "This has included the causing of reputational damage to Astrea and, by extension, The Dearne itself."
Former governors allege they were fired for challenging the trust.
One governor, who wished to remain anonymous, said: "We've gone from being a fairly well-resourced school to not having anything.
"I actually feel so let down by a trust that promises a lot. This should be working for the families and children of the Dearne Valley but it's not. Sacking or dismissing or reining in the governors for asking challenging questions is not the way to do it."
Another governor accused Astrea of "taking our money and giving us nothing back for it. That's the truth.
"A governing body should be providing challenge to the senior leadership team, and I don't think they're interested in that."
Alona Baird, a NASUWT representative who left her position as maths teacher at the school in August, told Schools Week she had to buy her own gluesticks, pencils, rubbers and paper for classes, and other teachers "across the school" did the same.
"A lot of our children are looked-after children and it's difficult for them to bring equipment."
However, Astrea disputes these accounts. A spokesperson for the trust, which has 27 schools across Cambridgeshire and Yorkshire, insisted the governing board was not fired but "converted" to a new transition board until governance "is more stable".
She said the school had a "significant structural deficit" when it joined Astrea and budgets are set by the principal.
She also claimed the previous governing board "misunderstood its responsibilities on how to balance fiscal decisions with protecting teaching and learning."
Furthermore, she said it was a "fundamental misunderstanding" to ask what schools get in return for the top-slice, and insisted there was "no separation between 'the trust' and the schools" with "myriad" support on offer.
"We understand change is difficult but adults need to remember who matters most here – and that for us will always be our pupils."
The position of local governing bodies in academy trusts is changing. In 2016, E-Act revealed it would scrap its governors in favour of "academy ambassadorial bodies", while in October, Academies Enterprise Trust said it had removed all parent governors.