Lord Agnew says his money-saving experts have now found £172 million of potential savings in schools.
But a new evaluation report of the school resource management adviser pilot shows just 16 per cent of the savings have actually been enacted by schools.
Advisers, who are usually school business leaders, identified £35 million of savings after visiting 72 schools and trusts during the trial in 2017-18.
However, the Department for Education evaluation of the pilot, finally published today, shows just £4.9 million of those savings have actually been made so far. The trusts plan to make a further £10 million of savings in the next three years.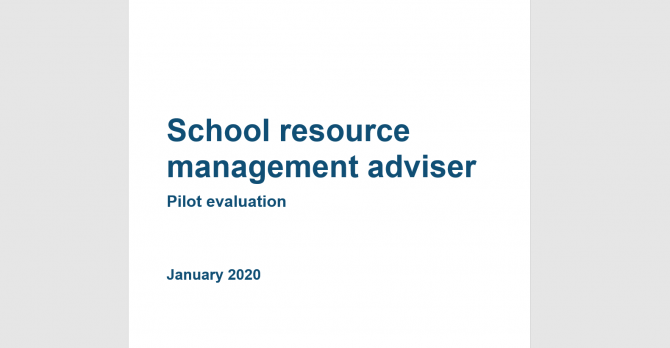 Agnew, the academies minister, said: "As consumers, we are all regularly advised to look at our household bills, such as energy, who we bank with and our internet providers – so it's only right that we help schools ask the same questions and get the maximum value possible for their money."
Since the programme was extended in 2018, £137 million of savings have been found from a further 357 visits.
It means £172 million of savings identified overall – averaging around £400,000 per visit.
Agnew said the advisers are "already having such a positive impact on the schools they visit" and, alongside additional school funding, "we want to make sure every pound schools spend benefits pupils".
"We are not asking schools to return funding which is not being optimised, we are asking them to spend it more effectively."
The evaluation shows 70 per cent of identified savings related to staff costs. However the report claimed trusts were able keep redundancies to a minimum by not filling vacant posts or redeploying staff to other areas.
Chapeltown Academy, in Sheffield, was able to recruit two more psychology teachers after saving £120,000 by reducing its senior leadership team and moving administration staff onto term-time only contracts.
A Schools Week investigation last year revealed how schools were advised to replace experienced teachers with support staff on term-time contracts, limit lunch portions for pupils and keep money raised for charity.
Agnew had previously said his advisers found money that was "essentially misdirected resources".
It's only right we help schools get the maximum value possible for their money
The evaluation also found while 94 per cent of trusts rated their visit as good or very good, just 53 per cent said the adviser made recommendations that hadn't already been considered. However the findings were based on just 17 responses.
Some advisers who only had experience in primary schools did not have a "full enough understanding" of curriculum financial planning in secondary school trusts.
The report found that for every £1 spent on the scheme, £13 of savings have been made so far. Taking into account the planned future savings, the figure rises to £41 in savings per £1 spent.
Agnew adds in the report he would like to see every school developing the disciplines involved in this pilot", and the department "stand ready to support all schools with expertise and advice to get the greatest value".
Stephen Morales, chief executive of the Institute of School Business Leadership (ISBL) which accredits advisers, said the scheme has given the sector "unprecedented access to the talent and experience of well-established school business professionals".
"The evaluation report shows the very positive impact that strong school business leadership, a robust approach to resource management and effective staff deployment can have on schools and trusts."
Only trusts in financial difficulty have to make the recommended savings. But the government has now made a SRMA visit a requirement for schools accessing repairs cash.
Ministers also "expect" schools to have acted on the recommendations within six months of the visit. So far, £500,000 of funding is being withheld because schools haven't signed up to visits.