Ministers are withholding £500,000 for vital repairs from 17 schools because they haven't agreed to a visit from Lord Agnew's costcutters.
The disclosure comes in the same week the government announced further conditions for dishing out maintenance funding.
Trusts bidding for a slice of next year's £400 million condition improvement funding (CIF) will now be penalised if they have excessive executive pay or poor governance.
But the new points system (see right) has been criticised as unfair because it only applies to smaller trusts. Chains with five or more schools and over 3,000 pupils are allocated condition funding through a different route that doesn't have the same conditions.
The department should not be making it more difficult for schools to access what little capital funding is available
Geoff Barton, the general secretary of the Association of School and College Leaders, said he was "increasingly concerned" about the "strings attached" to grant funding.
"The deterioration of the school estate is a well-documented problem and the department should not be making it more difficult for schools to access what little capital funding is available."
The government said the additional CIF criteria would "incentivise academies and trusts to improve finances and governance".
It follows the department informing winning trusts under this year's CIF that they would only get the allocated cash after agreeing to a visit from a school resource management adviser (SRMA).
Responding to a freedom of information request, the Department for Education said 1,192 of the 1,209 successful CIF 2019-20 projects have agreed to a SRMA visit.
None has rejected the offer of a visit, but £500,000 has been withheld from 17 yet to respond.
Most CIF projects will have been funded in two tranches over the summer.
Hilary Goldsmith, a school business leadership consultant, said the disclosure was "insane", adding some schools could have already appointed builders to do the work.
The DfE said it had not been contacted by any school to say it was unable to progress a project or pay contractors because of the withheld cash. Officials also said they were working with non-compliant trusts so projects could "continue as planned".
Barton added it was "not in the best interests of pupils or staff" to have the funding withheld.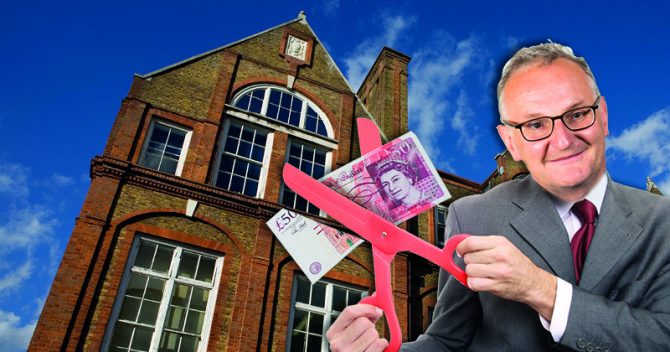 The CIF normally receives four applications for every successful project – meaning only those who can show a desperate need for repairs get the cash.
Barton added: "It is deeply worrying that money that has been allocated for keeping buildings safe and in good working order is being withheld to leverage an unconnected policy."
But the FOI also highlights potential issues over the capacity of the government's SRMA programme.
Of this year's CIF projects, SRMA visits have been completed or are scheduled for just 248 – meaning four-fifths are still waiting for a date to be pencilled in.
A DfE spokesperson said it was determined that all children should learn in "classrooms that enable them to gain the knowledge and skills they need for success".
They added it would not be appropriate to identify the schools that have had cash withheld.
The government has committed to publishing a report on SRMAs before January. Schools Week previously found some advisers had told schools to cut the size of lunch portions for pupils and to keep money raised for charity.