It is A-level results day and we are celebrating everyone's successes, but with a particular interest in secondary modern pupils.
There are 88 schools across the country who admit students who did not pass the 11+ exams and have sixth forms that teach A-levels.
An often ignored but tremendously important group, we wanted to share their true "underdog" stories and hope you feel as inspired as we do.
Results are out at 9.30am and stories will be coming in from later this morning. In the meantime, get in contact if you want to share your school's success: billy.camden@schoolsweek.co.uk
17.05 – Accrington academy, a secondary modern part of the United Learning trust, had some pleasantly surprised pupils today. Here are a few of their results.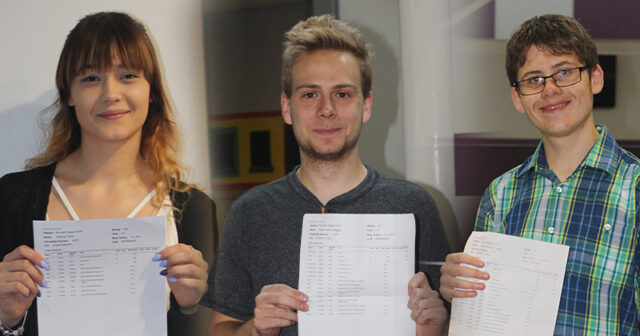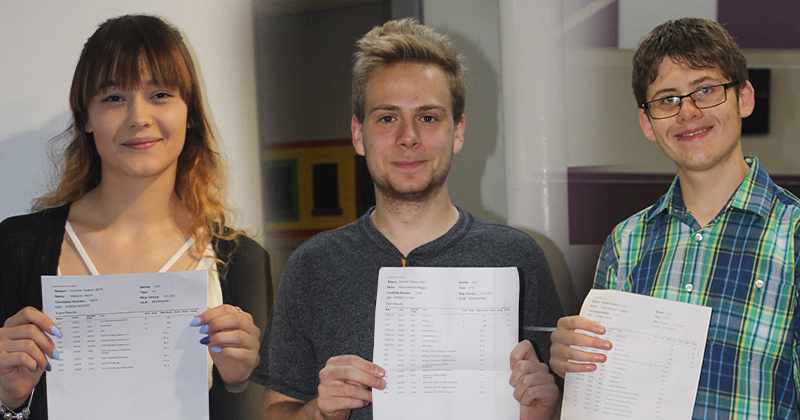 16.40 – A cerebral palsy sufferer from Ormiston Park Academy in Essex is celebrating overcoming adversity after she achieved her child development qualification. Congratulations Abbie Smart!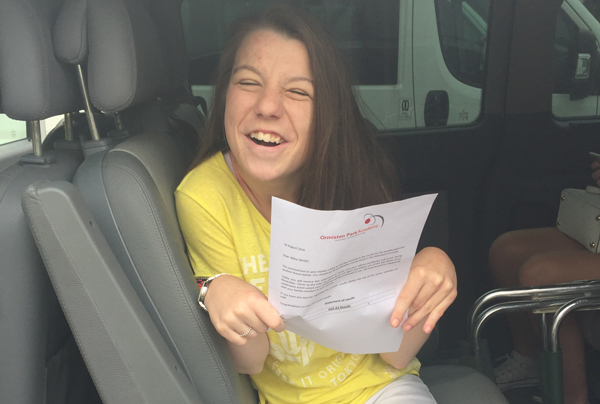 16.05 – Pupil premium student Teofil Aleksandrov, who arrived from Bulgaria aged 12, has scored two A*'s in maths and furthers maths and a B in physics, which sends him to Cambridge university. Full story.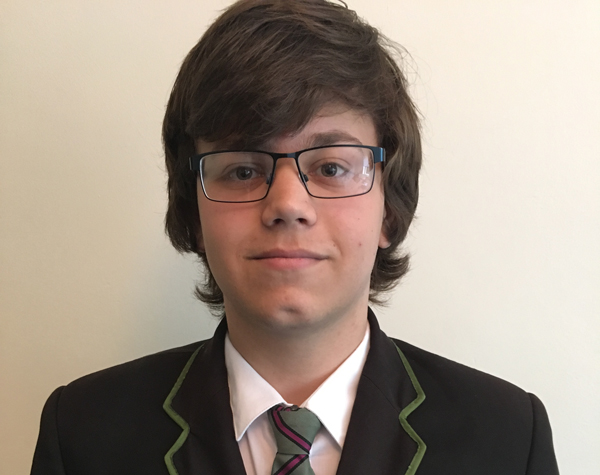 15.40 – Success story of the day from Aylward academy, a secondary modern in London, goes to Paige Frankson who fought crime to achieve an A in psychology and two B's in English literature and drama.
15.15 – Sir William Perkins school pupil Josie Stevens has triumphed over years of illness and a bone marrow transplant to receive three straight As in her A-levels.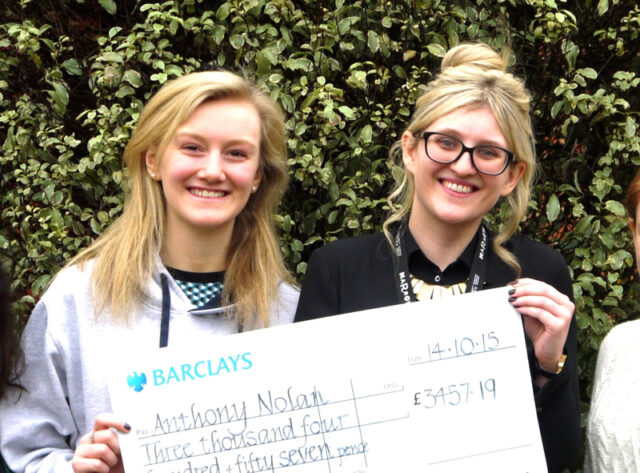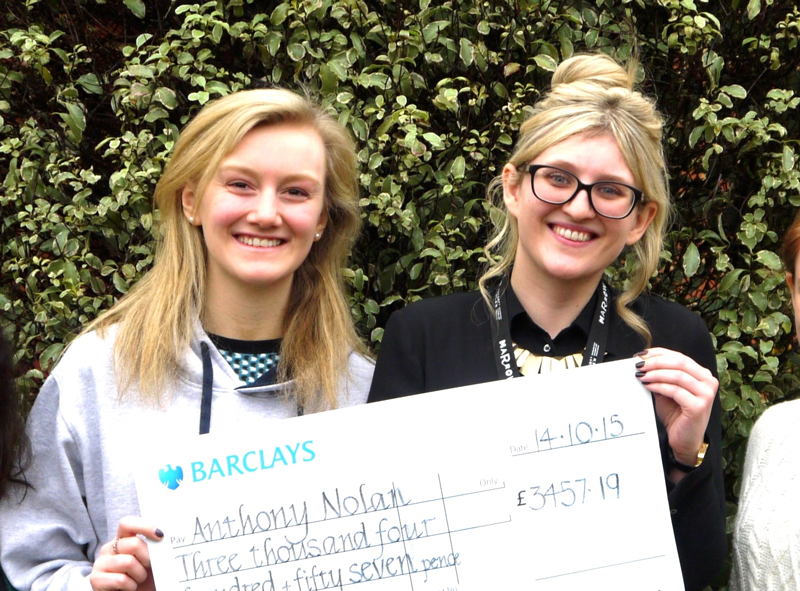 14.58 – On today's results, Pippa Morgan, CBI head of education & skills policy, said students up and down the country have "demonstrated their talent and determination to secure good grades as a stepping stone to a career and their future".
She added: "As valuable as they are, exam results and qualifications are one of many factors employers look at when hiring. It's young people with resilience, creativity and a positive attitude who will succeed, in whatever field they pursue.
"So students who perhaps didn't quite get the grades they hoped for should take heart – there are a thousand ways to build a career and businesses will give them support and the opportunity to shine."
14.40 – Resolute Sam Jones has battled through learning difficulties and disappointing AS level results to achieve his university dream. Full story.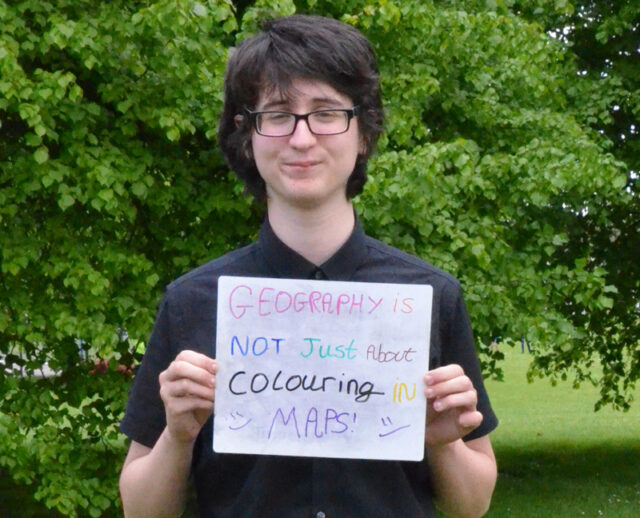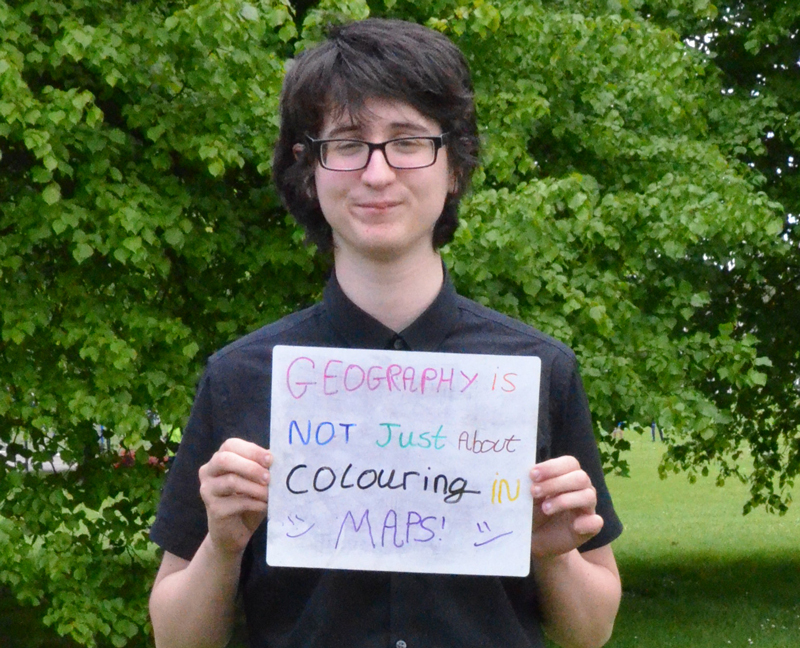 14.10 – Refugee Haroon Rashid made an unaccompanied three month journey to the UK at the age of 13 to escape war-torn Afghanistan not being able to speak a word of English, but is today off to Surrey university to read international tourism management. Click here for his inspirational tale.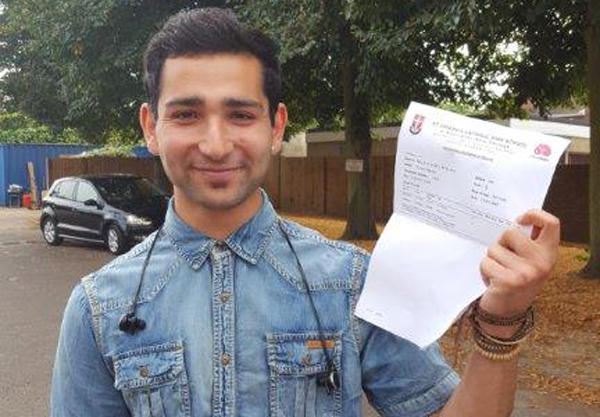 13.30 – James Harrison has bagged a place at university despite suffering from a tumour that kept him off school for seven weeks caused by his 7ft height. Read his extraordinary story here.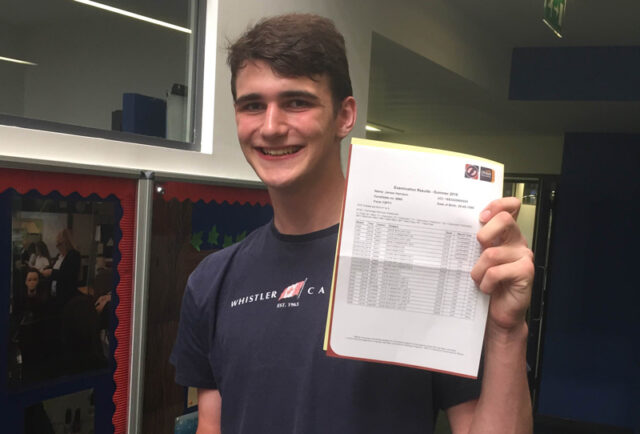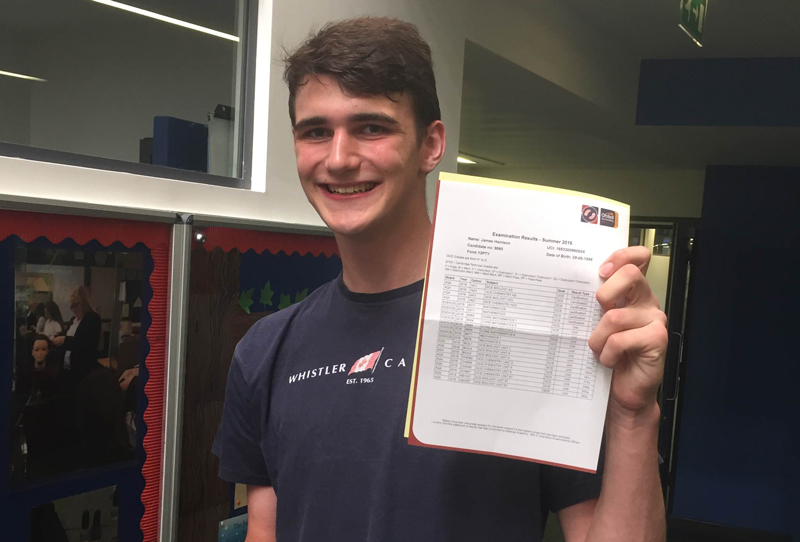 13.10 – Want to see individual subject and overall analysis of today's A-level results? Look no further by clicking here.
12.49 – Teenage mum Heather Cartwright has proved her critics wrong and given her son inspiration from a young age. The 19-year-old from Witham sixth form, part of Maltings academy's secondary modern school in Essex, has achieved some great grades. Story here.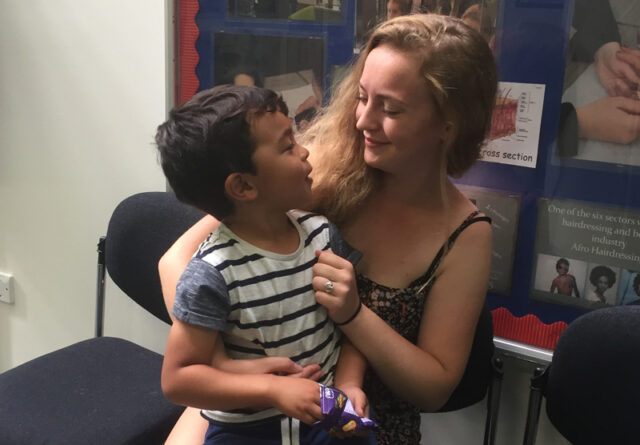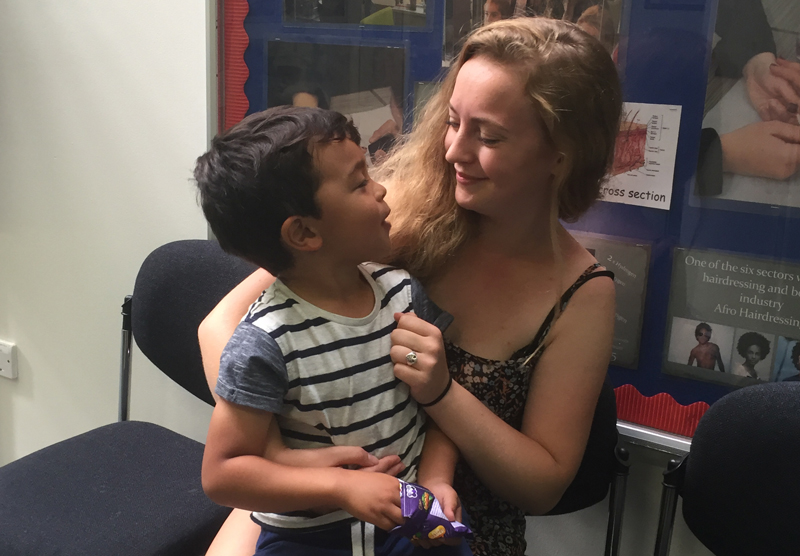 12.22 – High flying Spencer Pescod is jetting off to Boston today to start his journey at Harvard university. Here's how he landed the place by excelling at Shoreham academy, a non-selective school in Shoreham-by-Sea.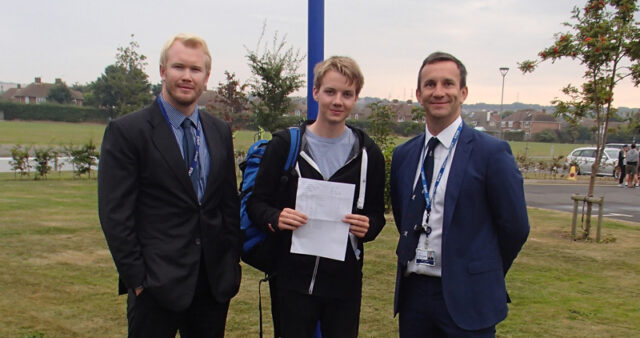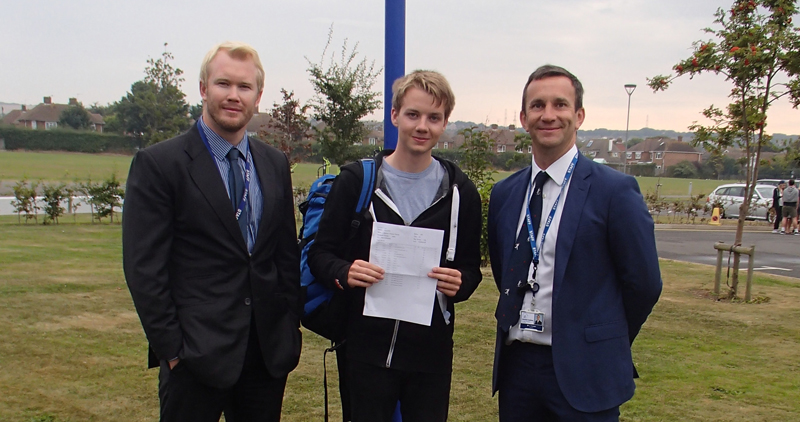 12.03 – Lucy Elliot-Brown makes history at Westlands school, a secondary modern in Kent, by achieving the school's first ever A* in English literature. She is certainly celebrating today!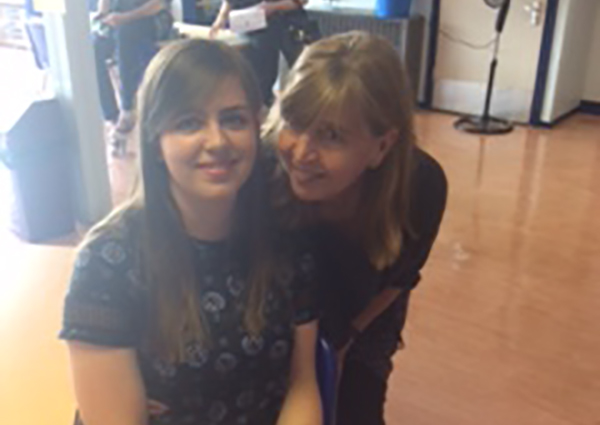 11.35 – Here's how Mary Bousted, general secretary of the Association of Teachers and Lecturers, reacted to the results:
"We congratulate students and teachers on their hard work this year and hope that those receiving their results today get what they are hoping for. It is good to hear that so many students will have the chance to go to university or onto an apprenticeship, if this is what they want to do.
"We're pleased that the new revised marking system for modern foreign languages has led to more students getting A* grades for French, German and Spanish at A-level. However, it is disappointing that entries for these subjects continues to decline and we fear this will continue to be the case because fewer language teachers are being recruited.
"It is not surprising that there has been a drop in AS entries given that the new AS level no longer counts towards the final A-level grade, and this is particularly the case in sixth form and further education colleges which have faced considerable cuts in post-16 funding."
11.09 – Phew!
Do not fear! Excellent AS results for William and Thomas #alevelresults #SL6 pic.twitter.com/Hek81jMoGX

— The Elmgreen School (@elmgreenschool) August 18, 2016
10:40 – Kevin Courtney, general secretary of the National Union of Teachers, has noted the "continuing problems" of an examination system which is "in several ways not fit for purpose".
He said: "First among the problems is the penalty that some schools have paid for the haste with which exam reform has been undertaken.
"Secondly, we are once again seeing a continuation of the gradual trend towards the more traditional academic subjects required by the Russell universities.
"Finally young people from less well-off backgrounds will continue to be put off taking up university education through an inability to shoulder the rising cost and the hike in tuition fees."
10.30 – Brett Wigdortz, founder and chief executive of education charity Teach First, has congratulated today's successful students but also highlight the young people who will have "fallen through the cracks" before sixth form and "missed these opportunities".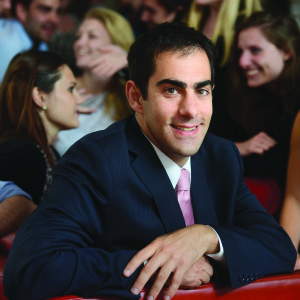 Wigortz said: "Hundreds of thousands will be getting their A-level results today and it's a moment to celebrate the hard work and brilliant achievements of so many young people, as well as the support of teachers who've played a vital role in the success. In particular I'm proud of so many young people who've overcome extra hurdles and barriers to let their talents shine through.
"Sadly, we can't forget those young people who have fallen through the cracks before sixth form and may have missed out altogether. It is an unbelievable waste of talent that in some parts of the UK as few as one in seven 18-year-olds will go to university this year, and all too often it's those from low income backgrounds that miss out.
"We must focus on raising attainment and aspiration in schools through great teaching and leadership, while expanding support for pupils at an earlier age so they know their options and can make the right decisions for their future. Without proper coordination of efforts on this issue we won't realise all young people's full potential."
10.15 – Nick Gibb, minister for school standards, has his say: "Congratulations to everyone collecting their results today, which are the culmination of years of hard work by students and teachers.  I wish everyone getting their results success as they embark on the next stage of their lives. With a growing jobs market, the choice of a high quality apprenticeship, university or college place on offer, I'm confident that with hard work and commitment, whatever option they pursue they will go on to fulfil their potential.
"We want to make our country a place where there is no limit on anyone's ambition or what they can achieve. It is hugely encouraging that this year sees a record 424,000 applicants already securing a place at one of our world-class universities, with increasing numbers from disadvantaged backgrounds gaining a place as well. "
10.00 – Onto the good news… Tenacious students from Tolworth girls' school & sixth form, a secondary modern school in Surrey, have overcome serious illnesses and financial trouble to achieve places at top HE institutions. Here're the stories of Jess Bush, Rebecca Corbett and Jaspreet Bansel.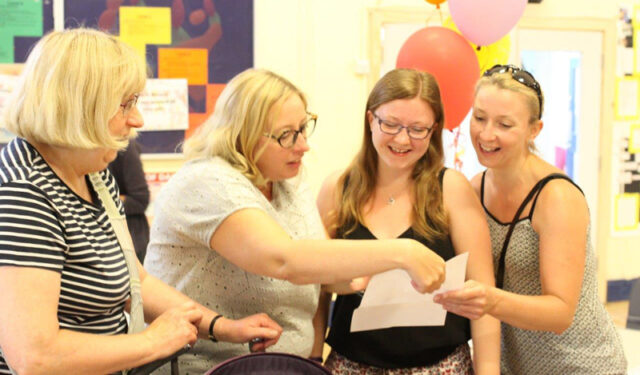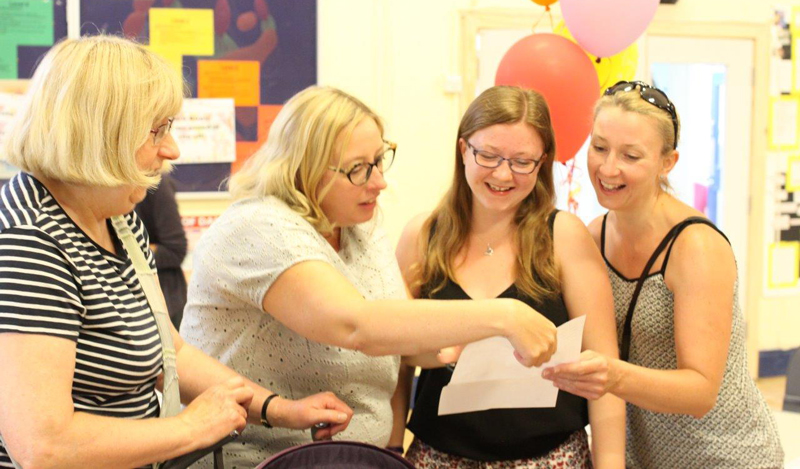 09.55 – The British Council has also raised concerns about the "disappointing" figures which show that the growth in the number of foreign language A-levels has stalled.
Vicky Gough, schools adviser at the British Council, said: "While it is fantastic that some less traditional languages have seen a rise in uptake in the past year – Japanese is up by 6 per cent and Arabic by 14 per cent – it is worrying that the more traditional languages have suffered a downturn.
"The reality is that language learning matters to the UK now more than ever. Not only do language skills boost job prospects but as one of the first opportunities that our young people have to connect with another culture, they are vital for the country's place in the world too."
09.45 – The Association of School and College Leaders (ASCL) is concerned about the decline of entries to A-levels in modern foreign languages and other "minority" subjects. Here's the union's reaction to today's results: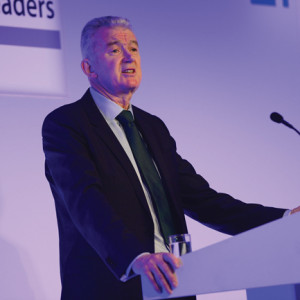 Malcolm Trobe, Interim General Secretary of the ASCL, said: "We are concerned about the continuing decline in entries to A levels in modern foreign languages, and other 'minority' subjects such as music and design and technology.
"These statistics reflect the fact that sixth forms and colleges are finding it increasingly difficult to run courses where there are relatively small numbers of students because of severe funding pressures.
"The level of post-16 funding is woeful and urgently needs to be addressed. We are in danger of becoming trapped in a vicious circle where entries to these very important subjects continues to decline and there are consequently fewer people to teach them in the future exacerbating an ongoing recruitment crisis.
"The government must invest more money in post-16 education as a matter of urgency."
09.35 – The A-level pass rate has remained stable this year, but figures show a huge drop in students taking arts-based subjects. Here's our story on the new data.
09.30 – A-level results are now OUT. Here's our breakdown of the trends and stats from the national data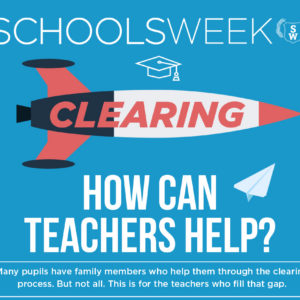 How can teachers help during UCAS clearing?
Schools Week has put together a handy guide for teachers about what they can do to help any students who miss out on their grades on Thursday.
For a full guide, follow this link.
How much does it cost to phone clearing hotlines?
More universities are offering Freephone numbers for students who need to phone their clearing numbers.
Although, most still only provide a landline number, which can vary in cost from different mobile phone providers.
Here, all the numbers for each university are provided, as well as the reason why one university stopped using a premium number for clearing.
Re-marks – what you need to know
How long do re-marks take? It's not the easiest question to answer, but we've tried to give you a rough idea, as well as explaining what the changes to the re-mark process are this year.