A firm running "low cost" private schools in Africa, financially backed by an investment scheme launched by Justine Greening while she was international development secretary, will close all its schools in Uganda for failing to meet basic education standards.
The Ugandan government announced on Friday that the 63 schools run by the for-profit commercial private school chain Bridge International Academies (BIA) will be shut for failing to meet basic guidelines, including over hygiene and sanitation.
The announcement is embarrassing for new education secretary Greening, who was in charge of the Department for International Development (DfID) when the £75 million impact fund was set up and sanctioned the investment in BIA.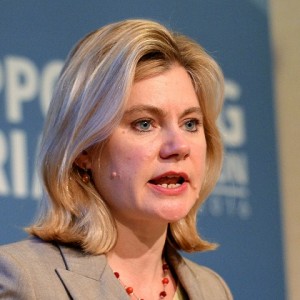 Greening previously said the investment fund would allow the sharing of "joint knowledge and expertise on development and sound investment choices will improve the lives of many of the poorest people across East Africa".
She also praised BIA, which is also backed by education firm Pearson, during her keynote speech at a G8 event in 2013 for "providing low-cost, quality education for $5 per month".
BIA lists DfID as an investor on its website (see picture above). DfID owns all shares in the public company Commonwealth Development Corporation, which provided cash through the DfID's impact fund to the venture capitalist firm Novastar. Novastar invests in BIA.
But a report released earlier this year by the United Nations raised serious concerns about the government's funding of schools such as those operated by BIA.
Its report said: "Rapid increase in the number of such schools may contribute to substandard education, less investment in free and quality public schools and deepened inequalities in the recipient countries, leaving behind children who cannot afford even low-fee schools."
The UN committee on the rights of the child warned the government it should "refrain" from funding such schools.
Janet Museveni, the Ugandan minister of education and sports, told the Ugandan parliament this week that infrastructure of the schools was in "bad shape", adding: "The material used could not promote teacher pupil interaction.
"And most of all, the report showed poor hygiene and sanitation which put the life and safety of the school children in danger."
Museveni also said only one of BIA's schools was actually licensed, and the government had to enforce closure of all schools because of the "danger from poor hygiene and sanitation on the life and safety of the innocent children".
In April, the Kenyan government prevented BIA from expanding over similar concerns.
The schools will remain open until the end of the current term, and will then be closed until the ministry is satisfied they have met guidelines.
Museveni said all BIA pupils will be transferred to GPE [Global Partnership for Education] schools – state schools run by the Ugandan government. DfID is a donor to GPE and has a representative on GPE's board.
The closures come just weeks after Greening moved from DfID to become the UK's education secretary, ultimately responsible for thousands of academies in England.
Schools in the UK cannot be directly run to make profit, but one free school, IES Breckland, is run by a for-profit making company.
David Archer, head of programme development at ActionAid, told Schools Week: "Introducing a for-profit motive into running schools and having big companies running the schools is just not right. While that cannot be done here at the moment, taxpayers' money is being used to finance for-profit schools in other countries.
"I would hope the government learns from the problems with BIA and that the new Secretary of State will echo her predecessor at DfE who was explicit in rejecting the 'for profit' model of education."
Last month, the international development committee launched an inquiry into DfID's involvement with groups such as BIA, asking whether DfID should support low-fee private schools in developing countries.
Michael Kaddu, head of corporate and public affairs for BIA in Uganda, said the group was working with the government "to put the needs of the children first and come to a speedy resolution of any issues made known to us".
He added: "In the meantime, our academies are running as usual as we continue to work with the relevant educational authorities."
A spokesperson for Pearson, an investor in a fund that is a "minority investor" in BIA, said it was not its role to comment or "be actively involved in [BIA's] operations".
But they added: "The humanitarian challenge is complex and global and we believe we need to look at all opportunities to improve access and the quality of education. Low-fee private schools can serve as one legitimate approach to improving access and quality."
DfID did not comment, but a source said it did not "directly" fund BIA.
The Department for Education did not respond to Schools Week's request for comment.