Autism-specific free schools are continuing to dominate new special free school approvals, with more than half of those in the pipeline having it as a focus.
However, SEND experts are openly asking whether this one area of need is receiving too much attention.
"We need to know what analysis has been done to show 65 per cent of all new special schools should focus on autism, and how the need of other groups of pupils is going to be met," said Simon Knights, the director of Whole School SEND, a membership body that supports SEND provision in schools.
Of the 29 special needs free schools open since 2011, 62 per cent have autism as a primary or secondary focus, figures obtained by Schools Week show.
Among the 40 new special schools with approval to open, meanwhile, 65 per cent are autism-specific.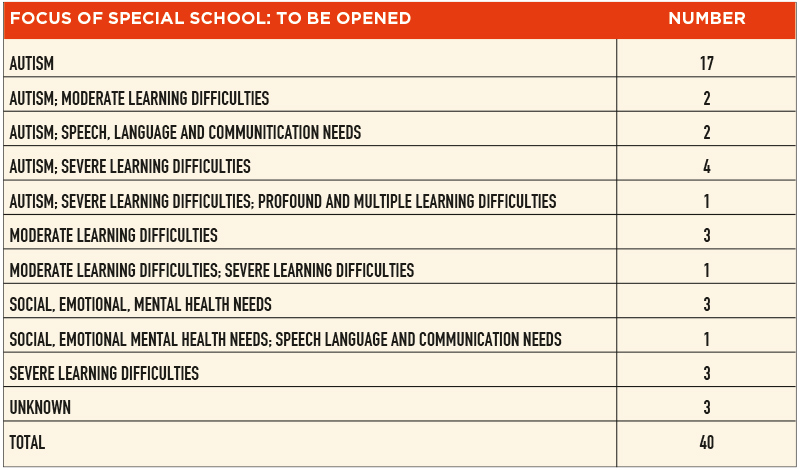 Special schools catering for needs other than autism are getting much shorter shrift, figures from the New Schools Network, a charity which supports free schools, show.
Two schools for pupils with speech and language communication needs are already open but no more are planned at present.
Instead, speech and language needs will be a secondary focus for two new autism-specific schools, and in one social and emotional health-specific school.
Chris Rossiter, the director of the Driver Youth Trust, a literacy charity for SEND inclusion in mainstream schools, said there was a risk teachers will become familiar with autism, because other needs such as speech and language issues are "more nebulously defined".
Autism is wrongly perceived as "more complicated" than any other kind of need, he said. Instead, many pupils with special educational needs are ending up in alternative provision due to "behavioural" issues, leaving them with less access to specialist intervention for their needs.
Special schools catering for needs other than autism are getting much shorter shrift
"There is not the same infrastructure or perception for other difficulties," he said.
Knights wants a countrywide analysis to check that special schools with particular focuses are opening in those areas in which they are most needed.
Barney Angliss, a consultant specialising in SEND, said the government should watch the "onward march" of autism-specific providers to assess what kinds of theoretical interventions were being used to help pupils.
"It would be interesting to know whether DfE has considered how to assess their efficacy as autism interventions, not just their business model," he said.
The five autism-specific schools which opened this year are the Bridge Satellite Provision in north London, Purple Oaks Academy in Northampton, Quest Academy in Warwickshire, SGS Pegasus in Gloucestershire and the Wherry School in Norfolk.
One other type of need – severe learning difficulties – also has more schools in the pipeline. So while there is just one special free school focused on severe learning difficulties currently open, three more have the go-ahead for the future.
Save