Most Labour MPs don't go out of their way to draw attention to their private education, but Louise Haigh isn't like most Labour MPs.
As we sit down in a Portcullis House meeting room, the new MP and shadow digital minister admits that she feels "quite uncomfortable" about her schooling, but she's assumed that she needs to talk about her childhood so has decided "to get comfortable" for our interview.
"There were family issues," she tells me. "I ended up having to live with my mum; she had to take me out of school and put me in private school, which is obviously in this day and age something that is very much looked down on for Labour MPs, and rightly so. I am completely opposed to private school myself."
But Haigh does not judge her mother for her decision: "My parents split up when I was in my early teens, and it was a very difficult time for her, bringing me and my brother up on her own.
"We've got to reclaim standards for working-class children"
"She was very ill at one point, and I was badly bullied at school as well: I was ginger and overweight."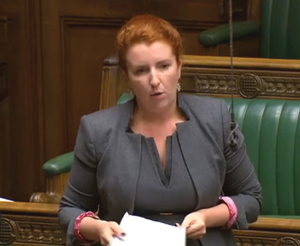 The new MP for Sheffield Heeley, the constituency where she was born and raised, fought a tough selection battle against her party leadership's preferred candidate and has become a shadow minister, all by the age of 28.
Elected for the first time on May 7 with a substantial majority, Haigh was not, as many new MPs are, blinded by the lights and glamour of UK politics – she'd already worked in parliament – and education was one of the major issues on which she was anxious to roll up her sleeves. She tabled a slew of parliamentary questions for ministers in her first week.
When she talks about her life after school, it becomes clear why she entered parliament so familiar with its arcane systems.
After "absolutely hating" student life at the London School of Economics, she moved to Nottingham University to complete her degree in politics and economics, and took a job in the office of Graham Allen, an opportunity the MP for Nottingham North extends to one graduate from the university each year.
Next, working for party stalwart Jon Trickett, now the shadow communities secretary, Haigh went on to become an adviser to current shadow energy secretary Lisa Nandy, who had then just joined the education select committee and would become a shadow children's minister.
With this background, she was immediately propelled into the team Labour assembled to fight the government's new education and adoption bill, currently passing through the Commons.
It was former shadow schools minister Kevin Brennan who made sure she was on the committee for the bill despite a lack of enthusiasm from party whips who "weren't that keen" on the presence of such a left-wing MP.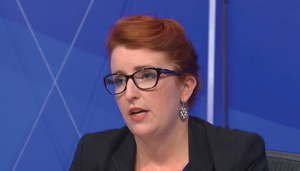 The thought of becoming an MP only occurred to Haigh when she broke her leg after moving to work for the insurer Aviva in the City. She found herself "back on the scene in Sheffield politics", noticing that few people had shown an interest in running for the Heeley seat following Meg Munn's decision not to stand again.
"The leader's office had a preferred candidate," Haigh tells me, almost mischievously. "He was a councillor in Camden with no links to Sheffield at all."
Following her selection, she was "completely left to get on with it.
"I was in the media, running amok, basically," she says gleefully. "I wasn't given any media training, any support from regional office . . . or anything."
The evening of May 7 was "bittersweet" for Haigh, who tripled the Labour majority in Heeley, but entered parliament following a catastrophic night overall for her party.
"It was a very unsettling experience," she says, "being here with no leader. Not only no leader but almost no shadow cabinet either because most were either running for leadership or running someone else's campaign. Nobody was really doing their jobs for quite a long time.
"That was one of the reasons I decided to get stuck into the education bill, because I thought my job was to hold the government to account."
Pre-empting future policy announcements by Jeremy Corbyn and his shadow education secretary Lucy Powell (our interview took place before the party conference), Haigh tells me she is strongly in favour of "local oversight" of schools.
"I think the government managed to convert them to academies at such a speed, I don't see why we can't bring them back into some kind of – if not local authority – local corporation or local oversight, because this central oversight and this large geographies of academy sponsorship just isn't working.
"And with regional schools commissioners and the government having set targets to academise schools, it's very difficult to believe that it's being done with the best interests of the schools and pupils in mind. We need those decisions to be taken at a local level."
She said the education bill moved "further and further away" from local oversight, removing consultation rights and "heading down a very dangerous path in the mad dash there's going to be to find new academy sponsors.
"Again, the government doesn't seem particularly in favour of the local federations [informal school collaborations rather than legal bindings] that have worked well in some cases. It's very much those academy sponsors that are close to the government, and people like Lord Nash, who sit on the boards of those sponsors, who will have a financial interest in pursuing sponsorships as well."
Haigh was one of the 35 MPs who nominated Jeremy Corbyn for the Labour leadership, ensuring his place on the ballot paper. She doesn't regret her decision, although she went on to work on Andy Burnham's campaign.
"I have a lot of respect for Andy, I think he was the most effective shadow cabinet minister in the last parliament and was why we had such a great NHS campaign. I felt I had to stick with him because I'm very loyal, but I don't regret for one second having Jeremy on the ballot paper."
Following Corbyn's "astonishing victory", Ms Haigh has been set to work shadowing the government's digital strategy, the Freedom of Information Act, data security and privacy. But her passion for education and her willingness to get involved on behalf of her constituents does not seem to be in any danger of subsiding, despite her admission that she would prefer a top job at the Treasury – maybe chief or financial secretary – over education secretary in future.
"We've got to reclaim standards for working-class children and children from deprived areas," she says. "The Tories seem to have taken that off us in the same way that they're meant to be the party of working people now, and you know, painted us as the enemy of aspiration.
"We need to take that back and show that a fully comprehensive education system is the only way to ensure that all children can achieve."
---
It's a personal thing
What was your favourite subject at school?
I did economics at A-level, so I guess before that it was probably maths. I don't know why I didn't do maths at A-level, that was daft. If I could go back now I would definitely do a science or maths degree — and I wouldn't be a politician, I would be
an engineer!
Favourite book?
Probably The Grapes of Wrath.
Favourite holiday destination?
This is so cliché, but I went to Cuba last year, which was amazing. That's very fit for purpose now that Jeremy's in post, isn't it?
Favourite cuisine?
I'm a vegetarian, so Indian is definitely best for vegetarians.
Favourite place in the world?
Sheffield! I've got to say that, haven't I.
---
Curriculum Vitae
Education
2005 Sheffield High School
2008 University of Nottingham – BA in politics and economics
2010 Birkbeck, LLM in international law
Career
2006 – 2008 Nottingham City Council Youth Service, training administrator
2008 – 2009 Office of Graham Allen MP
2008 – 2010 Office of Jon Trickett MP
2010 – 2012 Office of Lisa Nandy MP
2009 – 2011 Special Constable
2008 – 2012 Unite – shop steward
2012 – 2015 – Aviva plc
2015 MP for Sheffield Heeley