All young people aged 16 and 17 will be offered a second dose of the Covid-19 vaccine, the government has announced.
Health secretary Sajid Javid confirmed the move after it was recommended by the Joint Committee on Vaccination and Immunisation. He also accepted a recommendation that booster jabs be offered to all people aged 40 and over.
"I have asked the NHS to prepare to offer those eligible a vaccine as soon as possible," he said.
"We know immunity to COVID-19 begins to wane after six months and new data published today shows a third dose boosts protection against symptomatic infection to more than 90 per cent – this highlights just how important it is that everyone eligible gets their top-up jabs as soon as possible."
16 and 17-year-olds were offered their first dose of the jab from August.
Unlike vaccines for 12 to 15-year-olds, which have been offered through school immunisation services, vaccines for 16 and 17-year-olds have so far been administered through local NHS services and some walk-in centres.
It is not yet known whether the approach for the second dose will be different.
It comes as the latest Office for National Statistics Covid infection survey data showed a large fall in the proportion of secondary-age pupils testing positive for the virus after schools broke up for half term.
Around 4.8 per cent of pupils in school years 7 to 11 are estimated to have tested positive in the week to November 6, equating to around 1 in 20, down from a high of 1 in 11 in the week before half term.
Among pupils aged 2 to school year 6, infection rates remained fairly stable at around 3.8 per cent, or one in 26.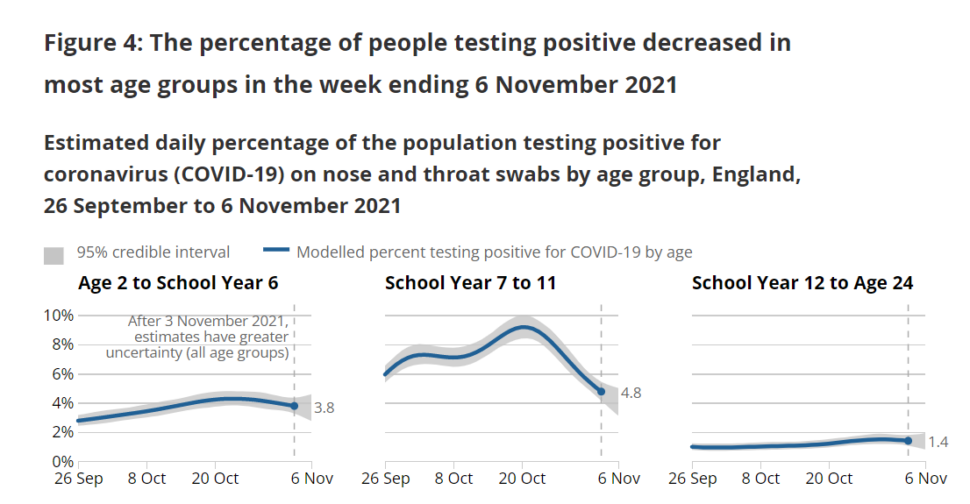 Javid also said today that the JCVI would "keep under review whether the booster programme should be extended to all people under the age of 40 and I look forward to receiving their advice in due course".
"This is a national mission – the vaccines are the best way to protect yourself and your loved ones and I urge everybody to get your jabs as soon as you can."