Exam board WJEC Eduqas has been forced to temporarily take down its portal for submitting teacher assessed grades just hours before the deadline for schools, after problems displaying data.
It is the third exam board to face issues with its website during the past two days.
This morning, WJEC, which has entries from over 3,800 centres in England, said for a "small number of centres" data on its grades portal was "not displaying correctly".
They said no data had been lost and they were confident schools would be able to submit grades in line with the deadline.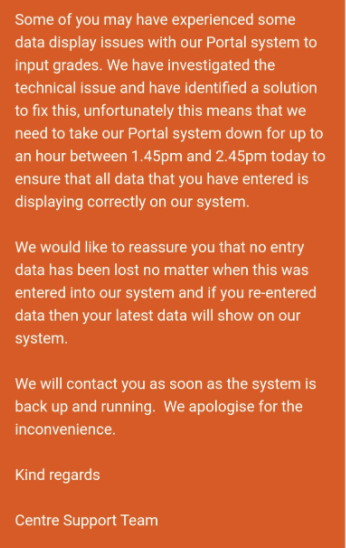 But the exam board subsequently told schools it would need to take its portal system down between 1.45pm and 2.45pm to make sure all data schools have entered is "displaying correctly on our system".
The portal went live at about 3pm.
"We would like to reassure you that no entry data has been lost no matter when this was entered into our system and if you re-entered data then your latest data will show on our system," they said in a statement to schools.
A spokesperson said the team would "implement a solution to address" the issue.
"As previously stated, all data is stored securely, and we will update centres once the system is available," they added.
On Thursday, OCR realised schools and colleges were unable to submit grades on its grade submission system. After about five hours, the problem was fixed.
Teachers also complained on Twitter on Thursday that they were unable to access the AQA grades portal. AQA said it had "systems" issues, but tweeted that the portal for submitting grades was not affected.
The systems were up and running by 10am. AQA said the issue was caused by "a problem at an internet service provider that affected systems around the world".