Schools are shut out from submitting teacher grades, just a day before the deadline, after an exam board's submission portal crashed.
OCR realised at lunchtime on Thursday that schools and colleges were unable to submit results to its grade submission system.
A spokesperson said "urgent action" is being taken to resolve the problem, but they said it "may take the rest of the day" to resolve.
The deadline for submitting grades is Friday, June 18. OCR said it "anticipates that all schools and colleges who would have submitted today will be able to submit tomorrow."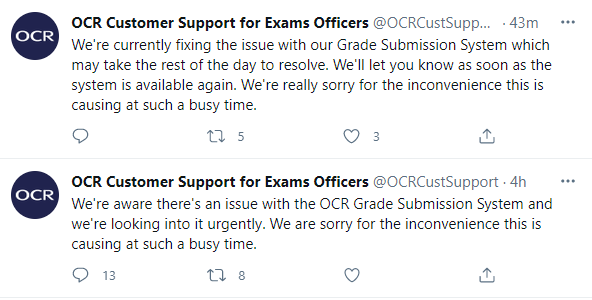 A spokesperson said: "We would like to apologise to our schools and colleges for the inconvenience this is causing at such a busy time."
Teachers also complained on Twitter this morning they were unable to access the AQA grades portal. AQA said it had "systems" issues, but tweeted that the portal for submitting grades was not affected.
The systems were up and running by 10am. AQA said the issue was caused by "a problem at an internet service provider that affected systems around the world".
Update: At 5.10pm, OCR said the problem had been resolved and schools and colleges should now be able to submit grades.
A spokesperson apologised again for the inconvenience caused.
WJEC also reports problems
Exam board WJEC Eduqas, which has entries with more than 3,800 centres in England, also confirmed problems with its website.
On Friday, a spokesperson said for "a small number of centres the data is not displaying correctly".
But they confirmed no data had been lost and they were confidence centres would be able to submit grades by the deadline.