The Queen's Speech revealed plans to extend the powers of the Regional Schools Commissioners. But who are they?
Eight regional school commissioners were appointed last summer and currently preside over all academies in England.
We've interviewed them all – so if you want to put faces to names click through to our interviews with them here:
A – Martin Post, south central England and north west London
B – Sir David Carter, south-west England
C – Dr Tim Coulson, east of England and north east London
E – Dominic Herrington, south-east England and south London
G – Paul Smith, Lancashire and West Yorkshire
H – Jenny Bexon-Smith, east Midlands and Humber
But don't rely on the place names to tell you which areas they cover. Their regions are a little unusual. They are drawn here: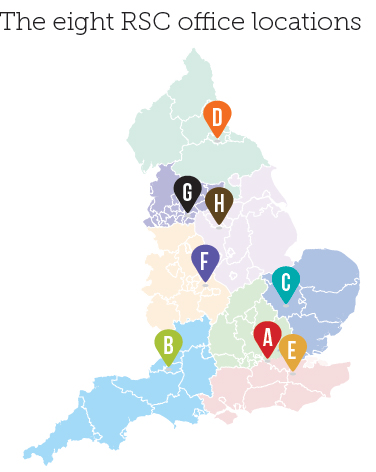 (Yes, Yorkshire is oddly intersected by three regions, as is London).
The RSCs also cost quite a bit. Salaries are between £115,000 and £140,000. Staffing costs in each of their offices are up to £260,000.
What do the RSCs do?
Their powers are devolved from the Secretary of State and include:
– Allowing schools to convert to be academies
– Sending warning notices if academies perform below expectation
– Deciding whether schools can expand or reduce their intake
We've been keeping tabs on all these sorts of actions here.
Why are they increasingly important?
RSCs have been increasing their power grip.
We have seen them:
– Tell a school they should standardise lesson plans
– Meet school leaders for emergency meetings (and shun parents)
– Become the people in charge of free school decisions
– Set up 'challenge boards' for under-performing areas
They also have some very interesting performance-related measures – which includes converting schools to being academies: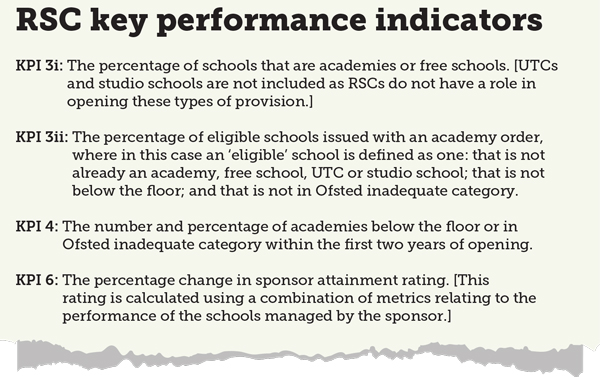 But they are about to become even more important.
Plans revealed in the Queen's Speech plans suggest RSCs will be given intervention powers in all schools. And they will increasingly be expected to intervene in 'coasting' schools – which Nicky Morgan has revealed could include 'good' schools with poor progress measures, as well as those covered by the 'requires improvement' label.
Hence, this group of civil servants will both simultaneously hold schools to account for their performance and be performance-managed based on how many they convert.
It will be a challenge for commissioners to balance these interests and no doubt scrutiny on decisions will increase as they do so.
We will continue watching and reporting on their actions so that you don't miss out.
Download the FREE Schools Week 'Guide to Regional Schools Commissioners'