It seems impossible that nearly 50,000 pupils disappeared from schools last year for no apparent reason. But this is exactly what the Education Policy Institute's most recent report revealed last week: between 2016 and 2017, one in twelve students didn't progress from year 10 to 11 in the same state-funded secondary school, for reasons that weren't a permanent exclusion or family move, or switching to a higher-rated school or special school.
There are other reasons why this might be. Families might put their child into private schools, for example. Yet we'd expect this sort of decision to happen more in other year groups, given the substantial negative consequences for children switching amid their GCSEs. For several years, therefore, there's been a growing feeling from journalists and politicians that perhaps these children are being forced out of the schools to shunt their results from league tables.
According to our recent Teacher Tapp survey data, teachers are sharing this growing feeling.
It all feels like rather slow progress
Among our panel of more than 3,000 teachers, 14 per cent said their school had formally excluded or encouraged a pupil to leave "to protect the school's exam results". That figure is higher in secondary schools, and particularly in those rated Requires Improvement or Inadequate. In these schools, 22 per cent of teachers reported cases of missing pupils, many of whom never pop up again in someone else's classroom.
One of the many problems with the current accountability system is that students who leaders can see are likely to get very low progress scores will contribute negatively to performance measures. Being under pressure to turn around a poor Ofsted judgment (particularly if there is a fight for pupils to fill places), creates a strong incentive to engage in a game of pupil pass-the-parcel.
We found that school type matters for off-rolled students. In sponsored academies – the schools forcibly taken over because of poor historic performance – one in five teachers said their school had excluded students to protect results. That is the highest across the state sector.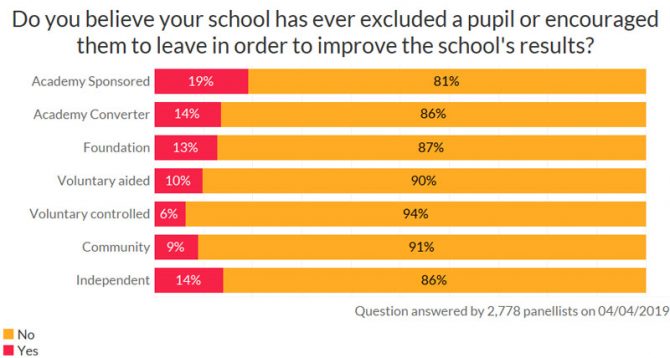 Why? One hypothesis is that sponsored academies are under huge pressure to improve their results.
Think not, however, that this means those outside the accountability system escape the pressure. Private schools often ask students to leave to protect their results too. There are no regulatory controls in this sector – something that we should remember and therefore treat their headline exam results with a pinch of salt.
What's possibly most alarming is a double incentive to push out pupils with special needs. Cash-strapped schools with resource units for special educational needs can off-roll pupils halfway through the year, neatly dropping their results, but still keep their £10,000 from the local authority. For schools struggling to stretch funds to pay their teachers adequately, extra dosh becomes attractive.
At various times the government has said it would remove the "perverse incentive" by making schools accountable for the exam results of pupils until they're in another permanent school. Alternatively, schools could receive a percentage of the grade score, proportionate to the time pupils stayed at the school.
Angela Rayner, the shadow education secretary, has now committed to doing the same. Ofsted too is proposing to track schools with exceptional exclusion rates to clamp down on ousting kids for self-gain.
It all feels like rather slow progress, however. These issues were first mooted in 2010 and the whole thing has got worse since. The fixes are reasonably quick and it's beyond bewilderment why they haven't yet happened. Fifty-five thousand children are relying on us to solve this problem. There's no time to wait.