In a move allowing certain local authorities greater control over special-needs funding, the education secretary has lavished Conservative-run councils with more flexibility.
Councils are no longer able to freely move money from general schools funding to cover spikes in demand for higher-needs funding, which is used to pay for special needs places and excluded pupils.
Under the government's new plans, just 0.5 per cent of schools funding can be moved into the high-needs block for special schools and pupil referral units, should it be needed to cover increased demand for places. Councils need the approval of a schools forum, a group of local heads, to transfer the money.
But the children's minister has announced that 27 local authorities have appealed the rule, four of which may now move the money without schools forum agreement – and more Conservative councils have received the green light than Labour.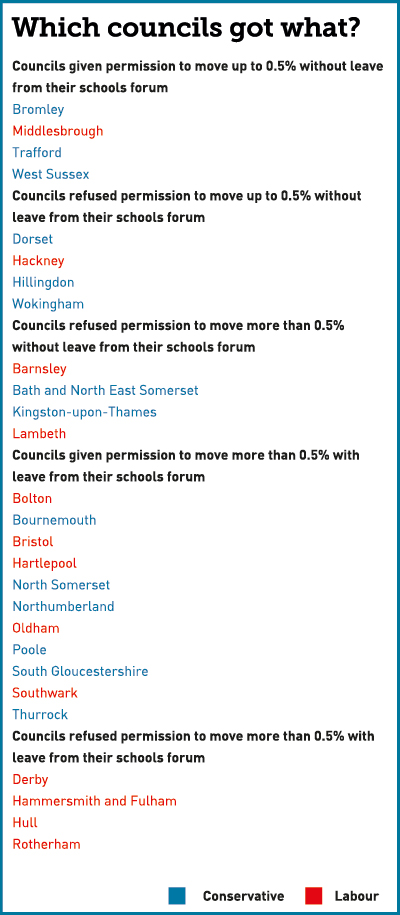 As for the other 12 councils that were turned down, Barney Angliss, a SEND consultant, believes they will now be forced to extract more from other services such as libraries, and will also seek to "claw it back from top-up funding for education health and care plans (EHCP)".
Top-up funding is given to schools by councils to meet the needs of any pupil in a mainstream setting that costs more than £6,000 a year, and the exact sum is designated within an EHCP.
For instance, an autistic pupil might need 15 hours of one-to-one support a week at a cost of £7,000 per year, and their school is given extra cash to pay for it.
Under the new rules, councils with no flexibility to move funds are likely to produce EHCPs which do not allocate any top-up money to the school, said Angliss, who admits to being "suspicious" about why certain councils have been given greater control.
"It will be a postcode lottery in terms of top-up funding," he said.
In a written answer to a submitted question, children's minister Nadhim Zahawi revealed that eight councils asked to move 0.5 per cent or less of the schools budget without schools forum approval. Four asked to move more than 0.5 per cent without approval, and 15 councils asked to move more than 0.5 per cent with approval.
An analysis of the political make-up of the 27 councils shows that just 46 per cent of Labour appeals were successful, even though 64 per cent of Conservative appeals were successful.
Eleven councils got the go-ahead to take more than 0.5 per cent from the schools block, as long as the schools forum agreed.
Barnsley council was one of those turned down for moving over more than 0.5 per cent without approval. It appealed after the local schools forum refused to release 10 per cent of the schools block for higher-needs places.
The council's cabinet member for education Tim Cheetham has also openly wondered whether the "political flavour" of councils has been a factor in the government's decisions.
"No reason was given, just that the Secretary of State was basically 'not minded' to give it to us," said Cheetham. The council now has a £6 million gap in high-needs funding, he said.
It is now considering telling schools they must fund provision for higher needs pupils themselves, he admitted.
"The schools get the funding for the kids, so in the end they'll have to produce the payment."
This might include places at pupil referral units: "Normally we'd just say 'right there's a place available', but now there will be a financial implication."
Julia Harnden, a funding specialist at the Association of School and College Leaders, agreed that the new rules for councils will "worsen and increase the pressure on top-up funding".
She wants a framework in place to protect top-up funding, rather than permitting councils to refuse it.
The Department for Education strongly denied that any decisions were influenced by the political make-up of councils, pointing to Zahawi's written response which said each request was assessed against factors published in the schools revenue funding 2018 to 2019 operational guide. "Decisions were made based on the evidence provided by the local authority for each element of their disapplication request."