Twenty prime ministers may have once graced Eton's playing fields, but – for the first time in nearly three decades – they did not produce a single medal winner for Team GB at an Olympic Games.
England's most famous private school is likely to be quietly mourning the lack of Old Etonians on the podium for Team GB, a feat it had managed at every Olympics since at least 1992.
But Schools Week analysis suggests independent schools more widely need not worry that their dominance of elite sport is under threat.
Our study of British medal winners at Tokyo found 35 per cent were educated privately for at least some of their secondary schooling up to 16.
It is more than four times higher than the 7 per cent of pupils who attend private schools.
Progress reversed closing state-private gap
The findings suggest progress in closing the state-private school gap has gone into reverse. 32 per cent of British medal winners in Rio in 2016 were privately educated, according to previous School Week analysis.  
That had marked an improvement for the state sector compared the London 2012, when between 36 and 41 per cent of medal winners were privately educated, according to Sutton Trust and Ofsted analysis respectively.
Fee-paying school alumni also excelled disproportionately in particular fields.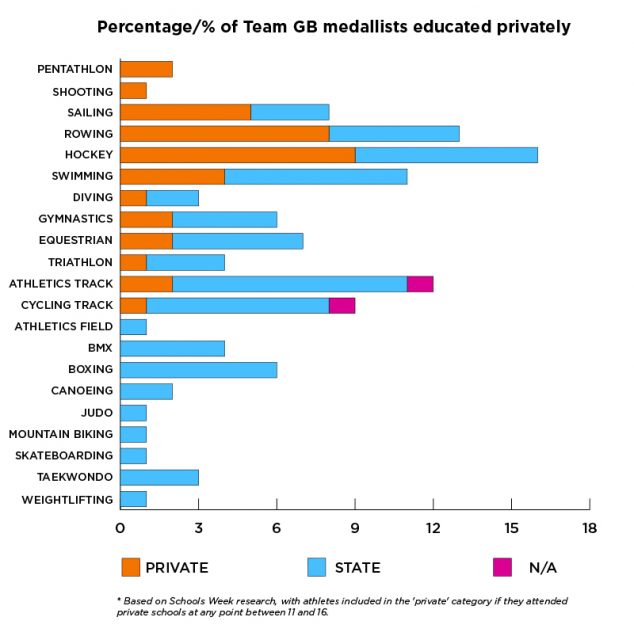 Privately educated athletes won Team GB's two pentathlon and one shooting medal. Sailing had the next highest representation, with 5 of the 8 medal winners privately educated, followed by rowing with 8 of 13 medallists.
Nine of the 16-strong women's hockey team who won bronze were privately educated. Diving, gymnastics, equestrianism, swimming, triathlon, athletics and cycling track events also had higher independent school representation than the 7 per cent educated privately nationwide.
This year's data is based on researching the backgrounds of 112 medallists in individual and team sports in Tokyo, with school information identified for 110.
Thirty-eight were privately educated for some or all of their secondary education up to age 16. The number partly educated privately between 4 and 18 is likely to be even higher, with more pupils typically studying at independent schools post-16.
'We're proof you can make it – no matter your background'
Yet nine sports with 20 Team GB medallists between them only had state-educated winners.
All four BMX medallists were state-educated. Team GB's medals in boxing, canoeing, judo, mountain biking, skateboarding, taekwondo, weight-lifting and the pole vault were also secured only by state school alumni.
Ralph Lucas, editor-in-chief of The Good Schools Guide, said the Games marked a "victory" for state and private sectors alike.
Three state schools even celebrated multiple medals.
Cyclist Matthew Walls won gold and silver in the men's ominuim and madison respectively, while Stuart Bithell took gold in the men's skiff 49er sailing. Both attended Crompton House Church of England School in Oldham.
Headteacher Karl Newell said Walls had "managed to do his A Levels and at the same time take his passion to a world-class level".
Meanwhile bronze-winning gymast twins Jessica and Jennifer Gadirova, 16, are still pupils at Aylesbury Vale Academy in Buckinghamshire. Hockey bronze medallists Anna-Frances Toman and Hollie Pearne-Webb both attended Derbyshire's Ecclesbourne School.
Sir Peter Lampl, founder of the social mobility charity Sutton Trust, said it was "fantastic" so many state-educated athletes won medals, adding that some state schools had improved support for competitive sport over the past decade.
Beth Shriever, educated at Helena Romanes in Essex, told PA she and fellow racing winner Kye Whyte, who attended Harris Academy Peckham, were proof "you can make it, even if you are from a rural or lower-class area".
But she also told how she had to crowd-fund and find a part-time job to reach the Olympics after official women's BMX funding was axed in 2017.
State-educated rower Josh Bugajski has also spoken of overcoming a "lot of issues" at school, including bullying as a "chubby kid" who followed the rules.
Lee Elliott Major, professor of social mobility at the University of Exeter, said too many young people from less privileged backgrounds still "don't have the support or facilities required so they have a chance to fulfil their potential".
Four private schools win multiple medals
For Lucas, there is "some inevitability" about private schools' success. "It should come as little surprise that schools with boathouses and Olympic-size pools turn out pupils who excel in rowing and swimming."
He noted many independent schools had longer school days and greater timetable flexibility, on top of money "often beyond anything the state can provide" for facilities and expert staff.
The privately educated are more likely to enjoy "ample time set aside for sport, excellent sporting facilities and highly qualified coaches", according to Lampl.
Radley College, a private boys' boarding school situated alongside the Thames in Oxfordshire, was one of four private schools toasting multiple medals.
Three Old Radleians – Tom George, Charles Elwes and Oliver Wynne-Griffith – took bronze medals in the men's eight last week.
Rowing has been "at the core of life at Radley" since 1849, according to the college's website, and it has "one of the best equipped, best coached clubs in the country".
Wishing our three ORs every success in the Men's Eight rowing repecharge. Tom George @tomgeorge1994, Charlie Elwes @crjelwes and Ollie Wynn-Griffith @olliewg1994 representing @teamgb in the Men's Eight @tokyo2020.
Photo by British Rowing #Olympics2020 #GBRowing #RadleyORs pic.twitter.com/MbT43ZaSqF

— Radley College (@RadleyCollege) July 27, 2021
Lomond School, a boarding school near the famous loch in Scotland, also saw alumni John Gimson and Anna Burnett won silver in sailing.
Whitgift School in London had just one winner, but ex-pupil Joe Choong's pentathlon success is probably no coincidence when it calls itself "one of the largest Pentathlon GB Academies in the country". Provision was first established by Kate Allenby, a former Olympic bronze winner.
Elliott Major said multiple medals for single schools demonstrated "just how much impact" education could have.
Eton unable to paint the town gold

But this year, £14,698-a-term Eton will not be able to paint any phoneboxes gold in honour of Team GB athletes, as it did for rower Constantine Louloudis in 2016.
A 2019 Social Mobility Commission and Sutton Trust report noted Eton College alumni had won Team GB medals in so-called "sitting down sports", such as rowing, cycling, sailing and equestrianism, for at least seven Olympics in a row.
Old Etonian Wiliam Fox-Pitt won silver in 2008 and both silver and bronze in 2012 in equestrian eventing, while rower Matthew Pinsent won four consecutive golds between 1992 and 2004.
The report pointed out all such sports involved "specialised and frequently expensive equipment and facilities, and are sports historically associated with higher social classes". Funding has also been targeted at them and achieved significant success, but "come at the expense of funding more widely played and accessible sports".
Eton did not respond to repeated requests for comment.
Despite its Team GB disappointment, Eton did still manage to notch up a rowing medal this year for another country – with Old Etonian Fred Vystavel winning bronze for Denmark.
Huge congratulations to Fred Vystavel (the VIII 2011 & 2012) for qualifying for the Tokyo Olympic Games to represent Denmark in the coxless pairs. pic.twitter.com/hc8mPyeNbU

— Eton Rowing (@EtonRowing) May 16, 2021
He was one of at least four UK private school alumni winning medals but not representing Team GB, a testament to their enduring global appeal. Almost one in 20 independent pupils' parents live overseas.
Devon's Mount Kelly educated both Bermuda's triathlon gold-winner Flora Duffy and Italian double bronze-winning swimmer Federico Burdisso.
Scholarships and sports funding overhaul
Julie Robinson, chief executive of the Independent Schools Council, said the sector had been "integral" to the national effort behind the Games.
She said it had provided bursaries, scholarships, partnerships and club level support, as well as sharing coaching and mentoring opportunities.
Schools Week found at least four privately educated medal winners who received scholarships. They include diving star Tom Daley, who left a state school at 14 over bullying, and Wales' most-capped sportsperson Leah Wilkinson, who is now also a history teacher competing while on sabbatical.
A UK Sport spokesperson also said there were a large number of sports scholarships, and official funding was being targeted at a more diverse range of and sports ahead of the Paris Olympics in 2024.