Proud teachers and their schools have heaped praise on former pupils who have contributed to a record medal haul for Team GB at this year's Rio Olympics.
Overall, just under 70 per cent of the medal-winning athletes were educated at state-maintained schools. A handful of athletes, including Tom Daley, the diver, were given scholarships to attend independent schools.
Sutton Trust figures from the 2012 London Olympics revealed more than a third (36 per cent) of British medal winners attended a private school, despite those schools only educating 7 per cent of pupils. However, that proportion has decreased since 2012, and Schools Week analysis shows 32 per cent of medal-winning athletes were educated at independent schools.
Sir Peter Lampl, chair of the Sutton Trust and of the Education Endowment, said today: "The success of Team GB in Rio has been a national triumph. It's been fantastic to see a growing number of our national heroes coming from comprehensive and other state schools.
"But alumni of private schools are still over-represented among our medalists. Although some state schools have improved support for competitive sport over the last decade, they're still more likely to benefit from ample time set aside for sport, excellent sporting facilities and highly qualified coaches."
Schools Week has also reported on figures from the Independent Schools Council that show private schools have almost as many swimming pools between them as the whole of the state school, higher education and further education sectors combined.
But the winners appear to buck the trend. See below for a full breakdown of the type of school medal winners attended.
Schools Week has put together a full round-up of their schooling history. Medalists with multiple medals are listed under the day they won their first medal.
Day 2
Adam Peaty, 100m breastroke, gold
The 21-year-old beat his own World Record to win gold on day 2 of the Olympics.
Born in Uttoxeter, Staffordshire, he attended Painsley Catholic college, a Roman Catholic academy, and then Derby college, an FE provider.
Painsley posted on its website: "Many congratulations to Adam Peaty – our first Olympic Gold!! What a fantastic swim from our former student!!"
Painsley boasts a number of other sportspeople in its alumni, including lower league footballers Adam Yates and Gareth Owen.
Jazmin Carlin, 400m freestyle, silver, and women's 800m freestyle, silver
Born in Swindon, the 25-year-old moved to Swansea, Wales, ten years ago. She previously attended Royal Wootton Bassett academy, in Swindon, which was rated outstanding by Ofsted in 2013, and now operates in a standalone academy trust.
The 25-year-old missed out on the opportunity to compete in London 2012 because of illness.
In an interview with the Swindon Advertiser about Carlin's win, the school's chair of governors Marion Sweet said: "We are tremendously proud. I was absolutely desperate for her to get a medal."
Sweet said Carlin was an "inspiration" to current pupils.
Day 3
Tom Daley and Daniel Goodfellow, men's synchronised 10m platform, bronze
The duo (pictured above) came third in the synchronised diving, after a tense battle for the spot. It was their first competition and medal as a pair.
Goodfellow, 19, attended Melbourn Village college in Cambridgeshire until he moved to Plymouth. The school is now part of the Comberton academy trust.
Daley, 22, who became a supporter of ChildLine when he was 13, has spoken out about bullying he endured when he was at Eggbuckland community college after he competed in his first Olympics, in Beijing in 2008.
His father withdrew him from the school, and he was given a "very significant scholarship" at Plymouth College, an independent school, where he sat his GCSEs and A-levels. The school is partnered with Plymouth Leander swimming club and has produced a number of Olympic and world medallists.
Daley will have a chance to secure another medal when he competes in the individual diving event later in the competition.
YES!!! 89.64 Well done @TomDaley1994 @danngoodfellow They win bronze at @olympics #diving #soproud

— Plymouth College (@PlymouthCollege) August 8, 2016
Edward Ling, men's trap, bronze
The 33-year-old from Somerset, attended community school Court Fields.  The school, in Wellington, became a sponsored academy after a 2013 Ofsted report said it required improvement.
Ling has competed in two previous Olympics.
Day 4
Siobhan-Marie O'Connor, 200m individual medley, silver
Another athlete from Somerset. O'Connor attended Ralph Allen school a comprehensive in Bath.
Hearing of her win, the school tweeted:
A massive well done to ex-student @SiobhanMOConnor on silver! Proud of you!Students can learn from your hard work. https://t.co/NI48bSScA3

— Ralph Allen (@RalphAllenBath) August 10, 2016
James Guy, Stephen Milne, Dan Wallace and Duncan Scott, 4x200m freestyle relay, silver
Guy, 20, who was born in Bury, received a scholarship from the prestigious Millfield School when he was 13, and moved to Somerset to attend the school.
Milne, Wallace and Scott are all Scottish. Milne, 22, from Perth, attended a comprehensive school – Perth academy; Wallace, attended North Berwick high school, near Edinburgh, and 19-year-old Scott attended Strathallan School, an independent school in Perth.
Day 5
Chris Froome, men's time trial, bronze
Froome wasn't educated in the UK, growing up in Kenya and then South Africa. He attended two independent schools, St Andrew's and St John's college, both in South Africa.
Steven Scott, men's double trap, bronze
The 31-year-old went to the same state school as Olympic gold medallist Dame Kelly Holmes – Hugh Christie technology college, in Tonbridge, Kent.
Joe Clarke, canoe slalom, gold
Another water-based Olympian from Staffordshire – joining Adam Peaty in winning a gold medal.
Clarke, 23, attended Alleyne's academy, a comprehensive school in Stone.
Sally Conway, 70kg judo, bronze
The 29-year-old, from Bristol, went to a state school – Marlwood school.
https://twitter.com/sconway70/status/764816593411006464
Jack Laugher and Chris Mears, synchronised 3m springboard, gold. Laugher also won silver in the diving 3m springboard on day 11
Both state educated, Laugher attended Ripon grammar school, a selective school in Yorkshire, and Mears went to The Willink school in Reading.
Max Whitlock, men's all-round (gymnastics), bronze, and individual men's floor, gold, and individual men's pommel horse, gold
Whitlock attended Longdean school in Hemel Hempstead, a former grammar school that became comprehensive in 1970.
The school's PE department tweeted:
Fantastic performance by Max Whitlock yesterday in a gripping gymnastics all-around medal final!

— LongdeanPE (@longdeanpe) August 11, 2016
Day 6
Katherine Grainger and Victoria Thornley, double sculls, silver
Great Britain's most decorated female Olympian, Grainger attended Bearsden academy, a state secondary school in Glasgow. She is chancellor of Oxford Brooke's university.
https://twitter.com/BearsdenAcademy/status/763769957964517376
Welsh-born Thornley attended Bishop Heber high school and then independent Abbey Gate College, both in Chester.
Philip Hindes, Jason Kenny and Callum Skinner, men's cycling sprint, gold. Kenny and Skinner also claimed gold and silver respectively in men's individual sprint
Kenny went to Mount St Joseph school in Farnworth, Manchester. He has previously praised the support he had at the school from his PE teachers.
Skinner, from Scotland, attended James Gillespie's high school in Edinburgh, a state secondary school.
Hindes holds dual nationality with Germany, having a  German father. He grew up in Germany, attending a specialist sports college called Heinrich Heine Gymnasium, which boasts a number of athletes in its alumni.
David Florence and Richard Hounslow, canoe slalom double, silver
Hounslow grew up in Harrow, London, and went to Rooks Heath high school and then Harrow college.
Florence attended Scottish independent school Stewart Melville's college.
Congratulations to former student @RichHounslow & D.Florence for winning Silver at Rio2016! #alumni https://t.co/7ZWE9eiDcr

— HarrowCollege (@HarrowCollege) August 12, 2016
Men's rugby 7s, silver
Seven of the 12-strong team went to a state school, they are:
James Davies – Dyffryn Taf comprehensive school, Wales
Phil Burgess – Tomlinscote school and sixth form college
Ruaridh McConnochie – Cranbrook school – a state, boarding grammar school
Dan Norton – Brockworth Enterprise school, and then Hartpury College (FE)
Mark Robertson – Earlston high school, on the Scottish borders
Mark Bennett – St Joseph's High
Sam Cross – Brynmawr school, Wales
Those who attended an independent school are:
Ollie Lindsay-Hague – Millfield school
Marcus Watson – St George's college – the same school attended as former schools minister David Laws
Daniel Bibby – Kirkham grammar school
Tom Mitchell – Worth school
James Rodwell – Berkhamsted school
Alex Gregory, George Nash, Constantine Louloudis & Mo Sbihi, men's coxless four, gold
Gregory attended Bredon Hill middle school, followed by Prince Henry's high school, in Worcestershire, and Sbihi went to Hollyfield school, an academy in Surbiton. Nash attended independent Lanesborough school, and Louloudis went to Eton.
Helen Glover and Heather Stanning, women's coxless pair, gold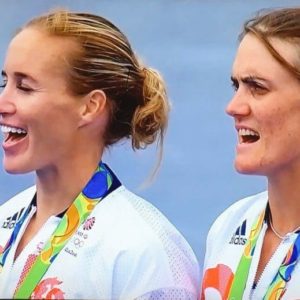 Glover attended Humphry Davy School, a comprehensive in Penzance, before winning a scholarship to Millfield independent school for her sporting ability.
Stanning attended independent school Gordonstoun school in Scotland, where she was head girl in her final year.
Charlotte Dujardin, Carl Hester, Fiona Bigwood, Spencer Wilton, Team GB, team dressage, silver. Dujardin also won individual dressage gold
Dujardin attended Van Dyke's school, an academy in Leighton Buzzard, although she said she constantly missed lessons to go riding.
Hester went to Elizabeth College, an independent school in Guernsey, Bigwood attended Croydon High, an all-girls independent school in London. Schools Week was not able to find which school Wilton attended.
Bryony Page, women's trampolining, silver
Page went to Brine Leas School, an academy in Nantwich, Cheshire.
Nick Dempsey, Men's RS:X windsurfing, silver
Dempsey attended Orton Longueville school, in Peterborough. The school became an academy in 2011, joining the Cambridge Meridian academies trust, and was renamed Nene Park academy.
Ed Clancy, Steven Burke, Bradley Wiggins and Owain Doull, Team GB, Men's cycling team pursuit, gold
Clancy, whose mum is a primary school teacher in Gloucestershire, attended Shelley High school, a comprehensive in Huddersfield.
Burke attended Park High school and later Nelson and Colne college, which reportedly renamed its sport centre after Burke.
Wiggins attended St Augustine's Church of England high school, a voluntary-aided school in Kilburn, north west London, and Doull attended Ysgol Gyfun Gymraeg Glantaf, in Cardiff.
Britain's most decorated Olympian in history: Sir Bradley #Wiggins: 5 Gold 2 Silver 1 Bronze. Legend @BritishCycling pic.twitter.com/mMHuEfzu4Z

— Team WIGGINS Le Col (@OfficialWIGGINS) August 12, 2016
Day 7
Team GB, Women's Eight rowing, silver
According to analysis by the Good Schools Guide, five of the women went to independent schools and three went to state schools.
Team GB, Men's eight rowing, gold 
According to the same analysis, six of the men went to state schools with three being educated in private schools.
Day 8
Laura Trott, Joanna Rowsell-Shand, Elinor Barker and Katie Archibald, Team GB, Women's cycling team pursuit, gold. Trott also won omnium gold on day 11
Trott attended Turnford school, a comprehensive in Hertfordshire, which turned into an academy last year and renamed Haileybury Turnford. It is now sponsored by Haileybury and Imperial Service college, an independent school in Hertford.
Rowsell-Shand was first spotted by the British Cycling Apprentice Programme after being tested at her school – Nonsuch high school, an all-girl's grammar school, in Surrey.
Barker is the daughter of a teacher and attended Llanishen High School, in Cardiff. Archibald is the only rider who attended an independent school, The Glasgow Academy.
Rebecca James, women's Keirin, silver, and cycling sprint, silver
James attended King Henry VIII school, an English-language comprehensive in Abergavenny, Wales.
Mo Farah, men's 10,000m, gold
Farah, who moved from Djibouti to England aged eight, attended Isleworth and Syon school and later Feltham community college. Farah credits his old PE teacher, Alan Watkinson, for introducing him to athletics, "if it wasn't for him I don't think I would be running".
Very proud of @Mo_Farah and the fact he went to my school (@IsleworthSyonPE) From this to a national hero 👏🏾👏🏾👊🏾👊🏾 pic.twitter.com/UvxkO4ahEf

— Andrew Samms 👊🏾 (@sammsy) August 14, 2016
Greg Rutherford, men's long jump, bronze
Rutherford attended Denbigh School, a specialist technology college in Milton Keynes. He played several sports, and had trials for Premier League club Aston Villa before committing to athletics.
Jessica Ennis-Hill, heptathlon, silver
Ennis-Hill attended state school King Ecgbert in Sheffield, and stayed on in the sixth form to study her A-levels. England cricketer Joe Root also attended the school and was in his first year when Ennis-Hill was in her final year.
Adam Peaty, Duncan Scott, James Guy, Chris Walker-Hebborn Men's 4x100m medley relay final team, silver
Scott attended Strathallan, an independent boarding school in Scotland, Guy attended Millfield independent school and Walker-Hebborn attended King Edwards school, in Bury St Edmunds.
Day 9
Justin Rose, Golf, gold
Rose attended Robert May's School, an academy in Hampshire, from 1991 to 1996.
Louis Smith, individual men's pommel horse, silver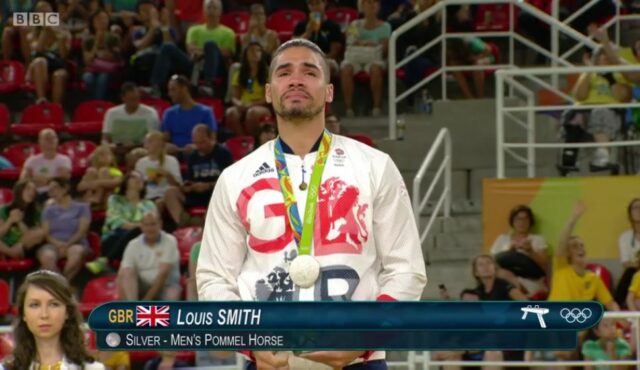 Smith attended Arthur Mellows Village College, a state school just outside Peterborough.
Andy Murray, men's tennis singles, gold
Murray attended Dunblane high school, a state school in Perthshire, Scotland, before he moved to the Schiller International School in Barcelona, Spain, at the age of 15. The private school cost £40,000 for his 18-month stay at the tennis academy.
Day 10
Sophie Hitchon, women's hammer throw, bronze
Hitchon attended Hameldon community college, a comprehensive in Burnley, Lancashire.
Mark Cavendish, men's omnium, silver
Cavendish went to Ballakermeen high, a comprehensive school in Douglas, on the Isle of Man.
Day 11
Gilles Scott, Finn sailing, gold
Scott attended Sharnbrook Upper School, a state school in Bedford. It is one of the only schools in the country that uses vertical tutoring – where each tutor group has pupils from every year group.
Congratulations to former Sharnbrook Sixth Form student @GilesScott on the gold medal win! #Rio2016… https://t.co/EghVabqZ2T

— Sharnbrook Academy (@SharnbrookAca) August 16, 2016
Amy Tinkler, floor gymnast, bronze
Tinkler attends Durham high school for girls, an independent school. It's a busy few weeks for the 16-year-old, who is set to find out her GCSE results next week.
Nile Wilson, high bar, bronze
Wilson went to Pudsey Grangefield School, a state school in west Yorkshire. After Wilson's success, the school tweeted: "Huge congratulations from us all to Nile. We are all so proud to have an Olympic bronze medallist as one of our former students!"
Joshua Buatsi, boxing light-heavyweight, bronze
Buatsi attended Archbishop Tenison's CofE High School, a specialist maths and computing selective school in Croydon.
Katy Marchant, cycling sprint, bronze
Marchant attended Brigshaw High School, a state school in Leeds.
@katymarch awesome work Katy @BrigshawNews is cheering you on!!#lovesport

— Brigshaw PE (@BrigshawPE) August 14, 2016
Day 13
Jon Schofield and Liam Heath, kayak double 200m, silver
Heath went to George Abbot, a state school in Surrey, and Schofield attended Clitheroe Royal grammar school in Lancashire.
Chris Langridge and Marcus Ellis, badminton men's doubles, bronze
Ellis is another Yorkshire medallist, he attended Colne Valley high, a state school in Huddersfield, while Langridge went to Therfield school, in Surrey.
Alistair Brownlee, men's triathlon, gold and Jonathan Brownlee, men's triathlon, silver
The Brownlees both attended Bradford grammar school, an independent school in Yorkshire. Headmaster Simon Hinchliffe said: "Words cannot express how thrilled and proud we are that two former Bradford Grammar School pupils have won a brilliant Olympic triathlon gold and silver in Rio.
"Alistair and Jonny show a wonderful drive and commitment to excellence that started during their time at Bradford Grammar."
They are off – a special moment as former pupils, the Brownlees, bid for #Olympic #triathlon glory! Go @TeamGB! pic.twitter.com/k4ZDhuKogp

— Bradford Grammar (@BradfordGrammar) August 18, 2016
Hannah Mills and Saskia Clark, women's 470, gold
Mills attended an independent school in Cardiff, Howell's school, while Clark went to Essex state school Colchester County high school for girls.
Jade Jones, women's 57kg taekwondo, gold
Jones attended Flint high school in Flintshire, Wales.
Day 14
Nick Skelton, individual jumping (equestrian), gold
Skelton went to independent school Bablake in Coventry – one of the oldest schools in the country.
Hockey, women's, gold
The 16-strong team is evenly split between state and independent schools, although state grammar schools appear to be more represented in this sport than in aforementioned sports.
State
Giselle Ansley – Kingsbridge community college, Devon
Sophie Bray – Tiffin girls' school, Kingston
Hannah Macleod – Hitchingbrooke school, Cambridgeshire
Sam Quek – Birkenhead high school for girls (an independent school at the time Quek was there, but which in 2010 converted to academy status) and Calday Grange grammar school
Helen Richardson-Walsh – West Bridgford school, Nottinghamshire
Kate Richardson-Walsh – Priestnall school, Stockport
Laura Unsworth – Sutton Coldfield grammar school for girls
Hollie Webb – The Ecclesbourne school, Derbyshire
Independent
Crista Cullen – Oakham school
Alex Danson – Farnborough Hill
Maddie Hinch – Kings college, Taunton
Shona McCallin – Repton
Lily Owsley – Clifton college, Bristol
Susannah Townsend – Sutton Valence
Georgie Twigg – Repton
Nicola White – Hulme grammar, Oldham
Relay, women's, 4 x 100m, bronze
All four women went to state schools, with just one (Asher-Smith) attending a grammar school
Dina Asher-Smith – Newstead Wood school, Orpington
Desiree Henry – St Anne's Catholic high school for girls, Enfield
Daryll Neita – Prendergast school, Lewisham
Asha Philip – Connaught school for girls
Lutalo Muhammad, taekwondo, men's, 80kg, silver
Muhammad attended Holy Family technology college, in Walthamstow – the same school as grime artist Lethal Bizzle.
Day 15
Vicky Holland, triathlon, bronze
The 30-year-old attended Newent community school in Gloucestershire
Nicola Adams MBE, women's flyweight (boxing), gold
Born in Leeds, Adams, the world's first female Olympic boxing champion, attended Agnes Stewart Church of England school in the city before going on to Hopwood Hall college, an FE provider in Rochdale.
Relay, women's, 4 x 400m, bronze
Emily Diamond – Bristol grammar school (independent)
Eilidh Doyle – Kinross high school, Scotland
Anyika Onoura – Archbishop Blanch school, Liverpool
Christine Ohuruogu – St Edward's C of E school, Romford and Trinity Catholic high school, Woodford Green
Kelly Massey – Royal Wolverhampton school (independent)
Bianca Walkden, taekwondo, women's +67kg
Walkden attended Broughton Hall in Liverpool, a voluntary aided school, also attended by Brookside actress Jennifer Ellison and Atomic Kitten singer Natasha Hamilton.
Day 16
And the final medal goes to….
…..Joe Joyce, men's super heavyweight (boxing), silver
Joyce's state school – Ernest Bevin college in Tooting – is a heavyweight when it comes to former pupils. The school was named after trade union leader and Labour politician Ernest Bevin (not to be confused with fellow Labour MP Nye Bevan, the founder of the NHS).
It is also where London mayor Sadiq Khan went to school, and has many sportsmen in its alumni, including snooker player Jimmy White and professional basketball player Eric Boateng.
The school is a specialist school for sport.
The Schools Week schools Olympics medal table