Teacher training is a hot topic. Teaching unions, headteachers and academics keep saying the profession is facing a crisis; yet the government is confident the figures do not suggest a problem. Schools Week looks at this year's trainees to uncover the true picture.
The number of recruits in postgraduate teacher training dropped this year: down from 32,500 last year to 27,769 this September.
The government was willing to fund 40,000 training places, but set targets of around 30,000.
In total, 94 per cent of targeted places were filled, up last year from 91 per cent, but this hides over-recruitment in primary places.
Primary was allocated 11,245 training places, but recruited 13,034 – a 116 per cent recruitment rate. Secondary only managed a paltry 82 per cent, leaving almost one in five training places empty.
At subject level, only two exceeded their allocated target – history and English (see table on page 9). PE met its target exactly.
Last year art was the most oversubscribed subject, with 129 more trainees than needed. This year it was the third most undersubscribed subject, by 37 per cent.
Design and technology again remained at the bottom of the table. It missed its trainee target number this year by 753 – a cumulative total of more than 1,300 for the past two years. That's the equivalent of 43 classes without a teacher.
The most common are courses within higher education institutions, school-centred initial teacher training (SCITT), or one of the two School Direct routes (see below).
All routes lead to qualified teacher status (QTS), but take different amounts of time, and offer a different mix of training experience.
The Department for Education wants more training taking place in schools, which means the number of places allocated to universities will fall sharply.
Each route is allocated a number of places by the government, with allocation levels always some way above a target figure, to account for people not completing courses or not working in schools once trained.
Comparing the number of starters by route shows both School Direct routes were allocated 18,000 places – but fell short by 8,000. Universities also did not meet their target, but the gap between allocation and starters was much smaller at 3,500.
Training routes explained
HE institution
Despite a dramatic fall in the number of people gaining qualified teacher status through a course at a higher education institution, it is still the most popular route.
This year, just 13,561 started the university-led course this September, compared with 20,774 last year.
A Postgraduate Certificate in Education (PGCE) course allows those with an undergraduate degree to gain qualified teacher status. Courses typically last one year when completed full-time.
For those who do not already have a degree, undergraduate study that leads to qualified teacher status is also available.
Next year, the number of allocated places continues to fall, pushing for a more school-led system.
School-centred ITT
Schools that have been approved to deliver initial teacher training directly are called school-centred initial teacher training (SCITT) providers. SCITT courses generally last a year and see new starters receiving training from teachers at the school in which they are based.
According to the Department for Education, in many cases the training also leads to the award of a PGCE from a university.
This year, 2,372 people have started a course provided by one of these providers, against an allocation of 3,718 places, which means that only 64 per cent of places are filled. Its share in the training market has increased from 7 per cent, last year, to 9 per cent this year.
Teach First
Trainees recruited by the charity Teach First are included in the statistics for the first time this year.
Teach First is government-funded though independently run, and puts high-achieving graduates and career-changers into schools in low-income communities, following a condensed period of teacher training.
This year, 1,584 people started on Teach First – which equates to 6 per cent of the total number of recruits. It has been allocated 2,000 places next year.
Comparisons are not yet possible as previous figures were not included.
Other (not in DfE ITT statistical release)
A number of other teacher training routes exist but are not covered by the government's latest training statistics.
Last year, the Headmasters' and Headmistresses' Conference launched HMC Teaching Training – as the independent schools' take on Teach First. The scheme started this summer, offering a salaried, two-year in-school training programme and a PGCE from the University of Buckingham.
Troops to Teachers is the government's school-based training route for people leaving the armed forces. It had fewer than 100 service leavers in its first two cohorts.
School Direct (fee)
School Direct is the largest school-led training route. This year it has 7,086 recruits, an increase from 6,451 trainees last September. It was allocated more than 13,500 places, but filled only half of them.
Unlike school-centred initial teacher training, it is delivered via a partnership of a school or schools, and an accredited teacher training provider – a university or a school approved to carry out SCITT.
Launched in 2012, it exists in two variants – a salaried route, and a route in which tuition fees are payable – with the fee-paying route the more popular route.
School Direct (salaried)
The salaried School Direct option is aimed at career-changers who have worked outside of schools for at least three years.
A total of 3,166 people started the route this autumn, leaving 38 per cent of allocated places unfilled.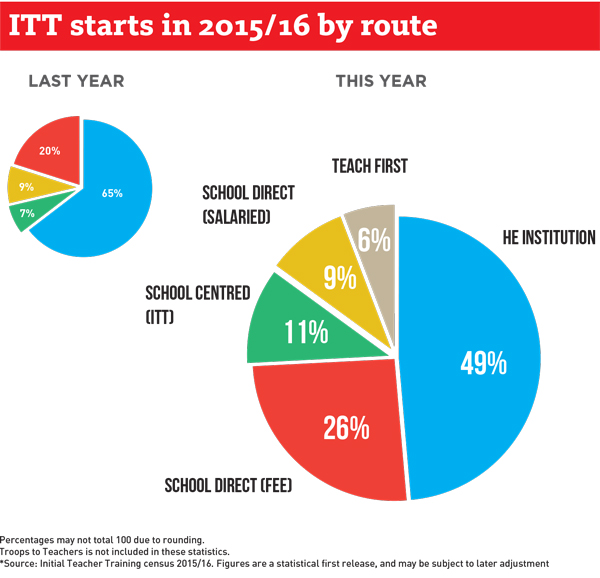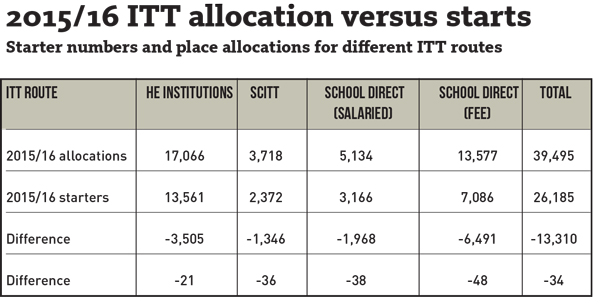 This year, a year-on-year comparison for the number of allocations to each route cannot be done in the same way as last year. This is because the government has amended the way it is making the allocations; it has not split the allocations down to route level, rather leaving it as either school-led or HEI-led.
However, the government plans to double the number of teachers completing training in schools, which will speed up reductions in university-based places.
In 2014, there were just 15,254 places allocated to that route. This autumn's figures show 22,429 places allocated.
*Includes 387 forecast teacher training registrations that are not categorised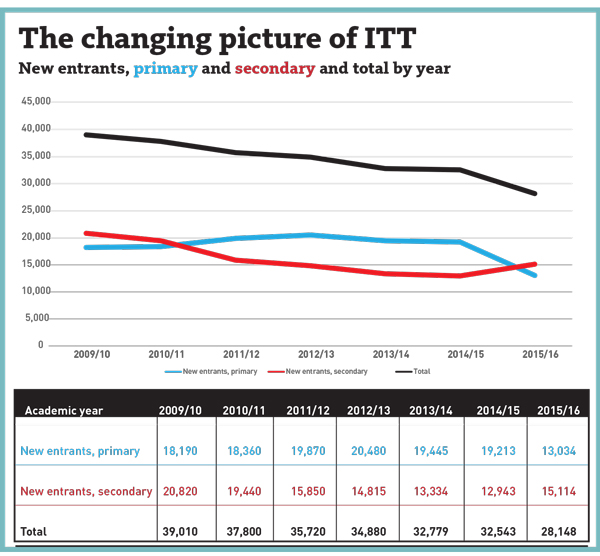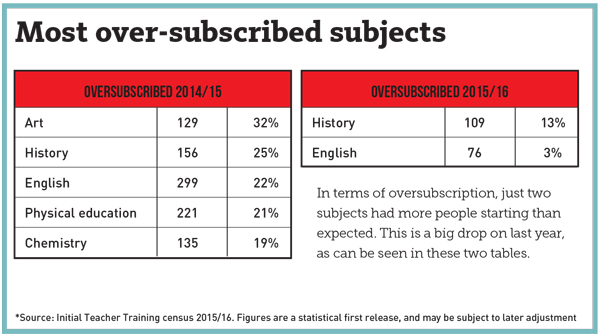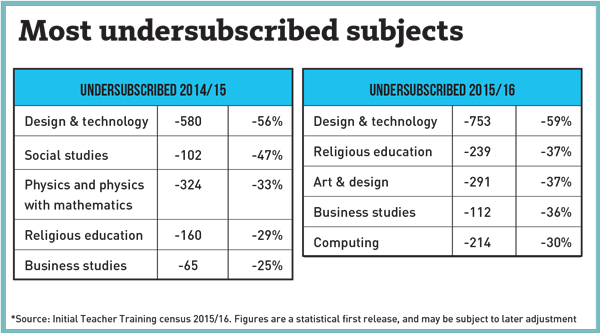 Teacher training – the key terms
QTS – Qualified teachers status. Teachers in free schools and, since 2012, new academies are not required to have or be working towards QTS – a topic of political controversy (see right). Maintained schools can use non-QTS teacher in areas where – as teaching regulations put it – "special qualifications or experience or both" are required.
NQT – Newly qualified teacher. After a trainee secures qualified teacher status they must complete an induction period lasting three school terms, during which time they are a considered an NQT. Trainees' performance during this period is assessed, and if judged to be of the required standard, they become a fully-fledged teacher, able to apply for work in any school in the country.
There is no set time limit in which an NQT must start or complete their induction period after gaining QTS.
PGCE – Post-Graduate Certificate in Education. The 'traditional' route to gaining QTS, a PGCE is a masters-level qualification issued by a university.
Trainees undertake placements in at least two school settings and study for periods at university.
At the end of the year students are assessed to ensure they meet QTS as well as PGCE requirements.
DfE statement:
Schools minister Nick Gibb said: "Great teachers are at the heart of our drive to extend opportunity to every single child.
"With the economy improving we have redoubled our efforts to attract top graduates. Today's figures show that teaching is still a hugely popular profession with over 1,000 more graduates training to teach secondary subjects — including record levels of trainees holding a first-class degree.
"I'm delighted that for the first time the majority of teachers are being trained on school-led routes in the classroom, from day one and learning from the best teachers. This is a testament to the popularity of Teach First and School Direct."
In an interview with Schools Week in October, Mr Gibb admitted the government was taking teacher recruitment "very seriously" but has refused to admit that there is a crisis in teacher supply.