A school in Leeds is using the latest technology to make prosthetic hands for amputees across the world.
Students at UTC Leeds, a specialist school focusing on engineering and manufacturing, print and assemble the hands during bi-weekly workshops in which they have access to the school's ten 3D printers.
Once completed, the hands – which take about two weeks to make – are sent to amputees identified through Enabling the Future, a website that matches amputees with people who can make them prosthetics.
Bradley Mellor, head of engineering at Leeds UTC, said: "People from around the world can go on the site, and then we will be contacted and told what colour they want and what size they need.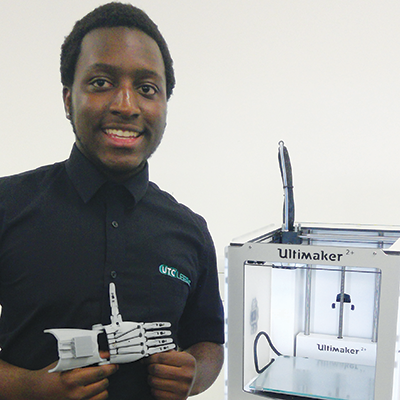 "All parts of the hand are made in the printer . . . they even have fingernails, and some of the girls have put varnish on them."
Once printed, students fit elastic and fishing line through the various grooves and channels of the hands, which allow for grabbing and releasing.
Mellor already has plans to expand to prosthetics suitable for amputations just below the elbow.
"This is a fantastic way for students to learn how to use the printers, learn aspects of mechanical engineering and for them to give something back to the community" he says.
The service is free, which releases the school from liability if anything were to go wrong with the hands because of misuse or technical error.
Mark Kennedy, UTC Leeds principal, said: "Recipients are often born with missing fingers, or have lost them due to war, disease or natural disaster. These 3D hands and arms can make once impossible tasks possible. Simple things like holding a ball, tying a shoelace or riding a bike suddenly become possible."