Junior schools minister Lord Nash has admitted that early funding agreements have blocked the government from delivering "strong and swift" intervention in some underperforming academies.
But proposed legislation will allow the government to step in. In a letter sent to academy trust leaders this week, seen by Schools Week, Lord Nash said the government's inability to intervene had led to "criticisms of the academies programme" and frustrated academy trust chiefs. The "few cases of high-profile failure" also tarnished the whole programme.
"Introducing consistent formal powers to take action in underperforming academies seems the right thing to do."
But who are these "untouchable" academies referred to by Lord Nash? The Department for Education (DfE) did not respond to a request from Schools Week to name them.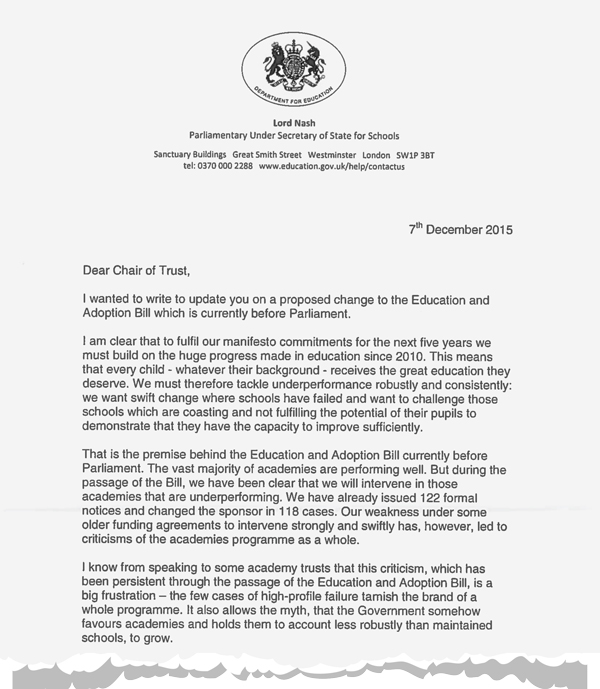 However, policy experts have told Schools Week that standardised funding agreements were not brought in until 2012.
John Fowler, an education policy consultant, said the newer agreements included clauses such as allowing government intervention should a school get an inadequate Ofsted, whereas older agreements specified the Ofsted grade would have to be special measures to trigger government intervention.
Professor Alan Smithers, director of the Centre for Education and Employment Research at the University of Buckingham, said funding agreements were "particularly lax" during the academy programme's early days.
He pointed to some of the early converters in 2010 and 2011, adding: "To tempt sponsors in, the DfE was very generous."
By January 2011 there were 407 academies, of which 204 had opened since September 2010.
The Basildon Academies Trust, set up at that time, has been criticised for underperformance. It runs two schools, the lower and upper academies, which both opened in 2009. The trust is sponsored by the Stanton Lane Educational Trust.
The upper academy was issued with a pre-warning letter in January 2012 after an "unacceptably low" 32.9 per cent of pupils achieved five or more A* to C GCSEs, including English and maths.
The letter, from then schools minister Lord Hill, said it was vital governors "consider joining a successful sponsor chain" to drive improvement.
Basildon Academies was then issued with a second notice – a full warning notice – in June that year after standards were still "unacceptably low".
It was told to raise achievement at key stage 4, improve the quality of teaching and learning and improve the quality of leadership and management.
Non-compliance meant the secretary of state could intervene and appoint additional directors, the letter said.
GCSE results rose to 46 per cent in 2013, but then dropped below the government's floor target again in 2014, to 28 per cent.
In September last year, directors at the Basildon Upper Academy were issued with a third notice about continuing poor attainment from regional schools commissioner Tim Coulson.
Education secretary Nicky Morgan has previously said "a day spent in a failing school is a day too long when their education is at stake".
But a former Basildon teacher said: "The warning letters just show the DfE's frustration. All they can do is throw warning letters at them, they can't intervene."
Mr Fowler said it was an example of inconsistency. Appointing additional directors was "cumbersome" and caused difficulties for local authorities that wanted to step in and improve struggling schools.
The school did not respond to a request to comment from Schools Week.
The DfE said the 2012 notices were deemed no longer applicable because of changes in leadership at the school, and the pre-warning notice in 2014 set out up-to-date concerns.