Ministers have come under fire for paying a television presenter up to an estimated £15,000 for social media posts promoting the government's back-to-school campaign.
Kirsty Gallacher used her Twitter and Instagram accounts to "reassure parents on the changes and safety measures in place at schools".
There's a point where you wonder whether the government is running a safety campaign or a PR one
In a post last week, she was pictured with Dr Philippa Kaye, a celebrity GP, visiting Charles Dickens Primary School in south London to "hear about the new measures put in place to make schools as safe as possible on our kids' return". A hashtag made it clear it was an advert. (Social media posts qualify as adverts where the person is paid "in some way" and where a brand or company had some form of editorial control.)
The government said using social media influencers allowed it to "reach a wider audience than using only traditional advertising", but has refused to say how much the posts cost.
Experts told Schools Week they could cost anywhere from £4,000 to £15,000.
They come as school budgets are squeezed by coronavirus-related costs – and a government refusal to pay for preventive measures such as cleaning.
"There's a point where you wonder whether the government is running a safety campaign or a PR one," said Hilary Goldsmith, a school business leadership consultant,
"I'm sure that most parents would far rather that the public money used to pay for these celebrity endorsements was directed to schools to buy the resources and equipment needed to keep their schools safe, rather than see it spaffed up the wall of a celebrity photo shoot."
Gallacher's tweeted about the campaign to her 430,000 followers on August 27 and September 4.
She also posted to her 337,000 followers on Instagram about the visit to Charles Dickens, saying the safety measures were "really great… as a parent, to know that our children's health is a priority when they go back to school".
The Instagram post attracted about 1,900 likes, while her two Twitter posts received 200 likes combined and fewer than 30 retweets, including one by Gillian Keegan, the skills minister.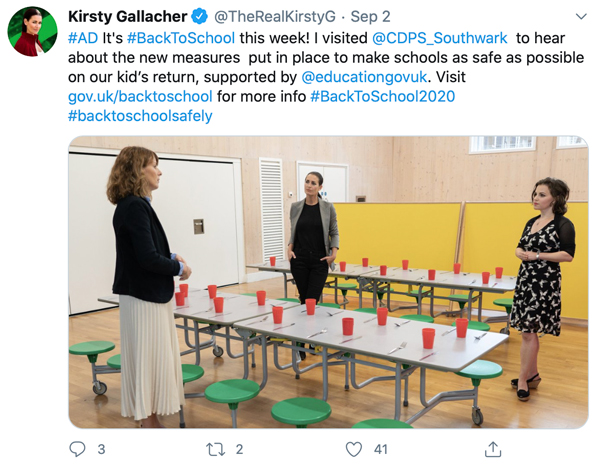 Jodie Cook, of JC Social Media, estimated a Twitter or Instagram post for an account with 500,000 followers could cost about £4,000.
Alan Stevens, a media coach, said a typical fee for someone with Gallacher's number of followers could be above £15,000. He said a rough rate per Instagram post would be about £6,000-£10,000.
"However, a government department is not going to pay full commercial rates, so I suspect there would be a package deal, rather than per post."
Representatives for Gallacher did not respond to a request for comment.
Schools Week revealed in July that the government had spent tens of thousands of pounds to present positively its response to the impact of coronavirus on education, including a sponsored post on Mail Online.
It also paid social media influencers, including contestants on the TV show Love Island, to promote its test and trace scheme.
Kaye, who has featured on national television, posted on Instagram and Twitter about the back-to-school campaign.
On Instagram, she said: "As a parent and GP I completely understand that it's normal for parents to feel anxious about sending their children back to school, but schools are doing everything they can to reduce the risks of transmission to our children."
She did not include an ad hashtag, but later apologised for the "error" and amended the post with #ad and #paidcollaboration.
Schools Week has also been told that the popular Instagram page @thisismothership, which has 58,000 followers, had posted about the campaign on its Instagram story – a format that is usually available for 24 hours.
It typically charges £1,500 + VAT for an Instagram story. The company said partnerships are confidential and they won't comment on a commercially sensitive matter.
However, the communications agency Freuds later told us that any questions should be directed to the Cabinet Office.
Freuds did not respond when asked if it was involved in the government's social media influencer work.
The Cabinet Office said "all costs involved in the campaign will be published as part of the regular transparency reports on gov.uk".
However, it refused to say whether there would be a breakdown for this spend, or whether it would be rolled up in other coronavirus spend.
The spokesperson added it would use "every means possible to keep the public informed during the pandemic and to deliver on our priority of ensuring all students return to schools and colleges safely".
This was "just one part of a wider campaign utilising TV, radio, social, print and other advertisements".