Never in a month of Tuesdays did I think Bankfield, a comprehensive in my home town and well-known as "the dodgy school", would become a turnaround success.
When it went into special measures two years ago I advised local councillors to raze it the ground.
But it didn't take a month of Tuesdays to resolve the situation. It took just one.
Tuesday Humby, the principal of what is now Ormiston Chadwick academy, has steered the school in just two years from around a third of pupils receiving five good GCSEs to two-thirds hitting the benchmark. More impressively, the school's Progress 8 score is in the top five in the north of England (beaten only by single-sex faith schools) and the school's Attainment 8 score is higher than the local outstanding-rated secondary.
There are nearly 650 pupils in the five-year-group school, and numbers are now growing.
The change is so much more than numbers, though. It's about reputation too.
Widnes is a small industrial town, nestled between Liverpool and Chester, famous for chemical factories, power plants and industrial incinerators.
When foot-and-mouth disease spread across the country in 2001, the dead cows were brought to us for burning. Open a window downstream of the works on a windy day, and you'll gag.
A decade ago its four secondary schools were known locally as the outstanding one (a former grammar), the religious one (quite decent), and the two dreadful ones: Fairfield (my alma mater) and Bankfield.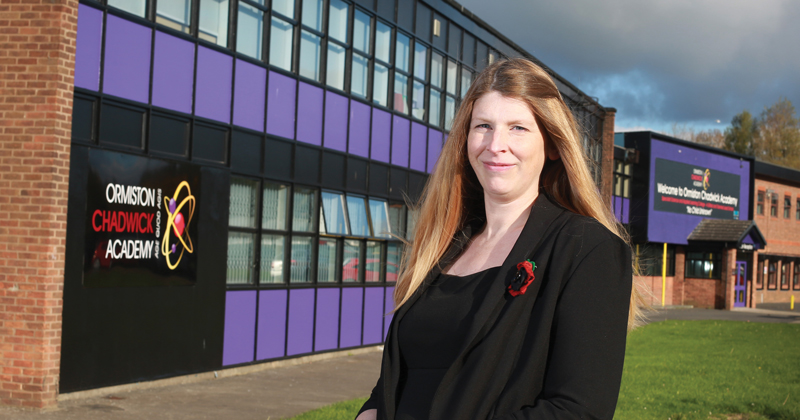 It's the sort of eco-system seen in many small towns, and it's the reason why the government is able to make a persuasive case for grammars: if you fear your child will go to the dreadful school, why not buy into the idea of an escape-ticket in the form of a brilliant selective school?
But the story of Widnes, and of Chadwick, shows the situation isn't irresolvable.
Six years ago the council decided it wasn't fair to condemn more generations to mediocre schooling and closed Fairfield. (For transparency I must report it was my dad, a local councillor, who made this decision. At the time, I didn't agree with him. But he was right, as dads so often are). The children at Fairfield merged into the outstanding Wade Deacon school, and its results held up.
Bankfield improved for a while on its own, but results plummeted and two years ago it was put into special measures.
At the time, Humby, now 38, was working in a school across the River Mersey, run by the Ormiston academy trust, and was asked by the headteacher, John Rigby, to help with teaching and learning at the failing school.
She was supposed to be there two days a week; within one she sent him an email: "I don't want to come back, I want to stay here and sort it out."
Two days later she became the principal. Fifteen months later and I heard rumour of a brilliant new school in Widnes that people were clamouring to get their children into. I was bowled over when told which school it was.
There are no bones about it: Chadwick is an ugly school. Growing up in Widnes you learn that factories don't look like they do in Lowry paintings.
Mostly they look like hulking great impersonal blocks: think Ikea after an apocalypse.
Bring the grammars on. I'll still beat them
Within seconds of being in reception, however, a girthfully pregnant Humby waves me through to her office where she is eating a bacon buttie. She has arranged for four former pupils, who were in year 10 when she arrived, to take me on a tour and sends me packing before I can ask any questions.
"They'll tell it as it is," she says. And they do.
They talk of a school where bullying was endemic and the teaching "awful".
"At the beginning of year 10, I'd have happily left and never come back," says Sophie, who is now studying performing arts in Liverpool.
What changed? "The teaching!" says Georgia, who describes how teachers started to become organised, focus on results, run revision lessons, "showed they cared".
"I remember Miss Humby standing up in assembly when she arrived," Sophie says, "and thinking, 'this is either going to go really well, or really badly', but she talked about what she was going to do for us rather than the other way around."
The school's logo was redesigned, by pupils, via a contest. A house system was introduced, with the pupils picking house names based on people they admired, including Malala Yousafzai, the young girl shot by the Taliban for trying to get an education, and Tim Parry, a boy killed in the Warrington bombing in 1993 which happened a few miles from the school. The parents of both attended a "reopening" ceremony.
For the first time, it gave the pupils a belief their school was no longer the "dreadful" one.
The pupils also talk about the introduction of a school-wide behaviour system. In an art room, they show me a display clearly laying out stepped consequences for misdemeanours.
"Before you didn't know if anyone would follow up," Sophie says, "for bullying, or for behaviour."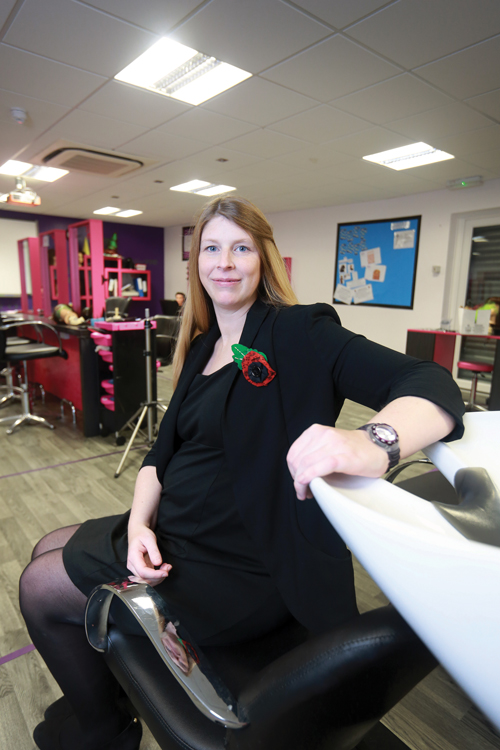 Humby explains she put a stop to that culture: "The students were crying out for change. We've got the mantra: 'No one disrupts the learning of others'. And, you know, kids have bad days, but the ones that disrupt the learning of others, they have to come out of the class, and we are just firm about that. They'll go into isolation and someone will work with them."
Being out of class must never mean getting behind with learning, she says, but sometimes a different curriculum approach is required. She holds out a timetable sheet full of scribbles. It is for a pupil who missed a great deal of school earlier in the year and is now so behind in languages she is misbehaving in lessons. Extra tuition failed. The data suggests she is too far behind to catch up, so Humby has personally re-arranged the timetable to add extra classes in other subjects where the pupil might get the greatest benefit.
It seems an exhausting approach and somewhat at odds with the "no excuses" approach pushed in other turnaround models, where curriculum is narrow and expectations homogenous at all times.
As well as having kept drama, dance, art and music separate – and providing pupils with lessons in each – Chadwick also offers a wide variety of GCSE options, including engineering, sports science, and hair and beauty, taught in a salon with washing basins and mirrors.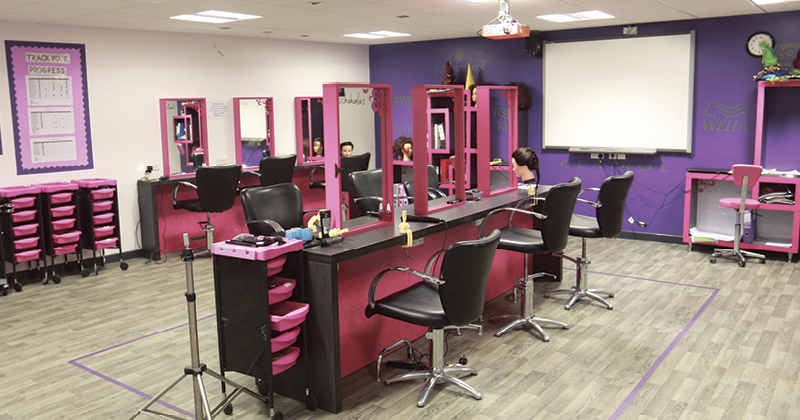 "We do the GCSE, so it is more theoretical and mostly about the science, which means when our learners move on to college they are able to go straight into the level 3 beauty qualifications," the department head explains as we pop our heads into a room with massage tables laid out.
The subject diversity is Humby's doing. When she took over, all pupils were forced to take all the subjects in the English Baccalaureate, which she felt was "crippling" some students.
"We do make the EBacc available for every child here. Low ability, high ability. It's available for everyone. But so is hair and beauty," she says.
Why not kept things simple, though, and concentrate resources on more academic subjects?
"Because that's just limiting them, isn't it? … Also, it came down to what I knew would work for the students, just giving them loads of choice… I know that the more choice you give them the more it's going to work. And what came before wasn't working. So things had to change."
She is not, however, someone who lets pupils off. She shows a thick document, known as "the bible", in which she has data on every pupil in year 11.
By the time the 2016 year 11 left, I could have told you what they all ate for breakfast
The pages in it are shared with parents and pupils each half-term, to inspire and celebrate progress.
It's also clear Humby knows her staff and pupils inside and out. At one point she quips, "By the time the 2016 year 11 left, I could have told you what they all ate for breakfast." (I don't think she's kidding.)
If the approach is unconventional it is perhaps because her own background is odd. Educated at a very good secondary school in Macclesfield she became "bratty and lippy" by the time of her A-levels, but threw herself into drama.
After completing a degree in the subject she signed up to a PGCE at Manchester Metropolitan University before taking a teaching job at Poynton high, a school in a leafy part of Cheshire.
Supported by a brilliant department head, Allie Cutler, after one year she felt convinced she knew "everything in the world about drama and theatre" and moved to Pool Academy in Cornwall, where she planned to be a fabulous teacher and spend most of her leisure time surfing. But the intake was far more deprived, and the school was in chaos. Nothing from her previous experience worked.
She had to scrap everything and start again.
"I went to the head after two weeks, and I'm not a crier, but I cried on her and said 'what have I done', and she told me to grow up! So I did."
Her next position was in New Zealand, at an all-girls Catholic school, and then – plot twist! – on her return to the UK, she decided to do something different, and so trained as a solicitor.
I went to the head after two weeks, and I'm not a crier, but I cried on her and said 'what have I done'
After realising she was spending more effort trying to get back into schools to run mock trials than she did on her legal battles, she re-entered education with a position in a small school serving a Plymouth Brethren community in Huyton, Liverpool, where its religious beliefs meant she couldn't use any published resources– an attractive challenge. "I thought to myself: How do you teach politics without any resources? I want to see this!"
Two years later she applied to Future Leaders with a view to becoming a head and was placed as a senior leader in Ormiston Bolingbroke academy, a turnaround school in a deprived part of Runcorn, before being dispatched to Chadwick.
She breaks off the story half-way through to ask if it's really an interesting thing for people to know. "Wouldn't they rather hear about the school?" she asks.
But her biography starts to answer a question gnawing in my mind.
It takes 10 minutes to drive from my parents' house to the old Bankfield School. Twice the route passes through an area known as Knowsley. The longest stretch of road on the journey actually straddles the border: houses on one side are in Widnes, houses on the other in Knowsley.
If the name is familiar, it is because Knowsley is known for having the worst schools in the country and is commonly referred to by ministers
as a justification for any education reforms. Just this week, schools minister Nick Gibb mentioned it as a place that could be improved by grammar schools.
But there are only six secondary schools in Knowsley and the kids there are the same as the kids at Chadwick – white, working class, from an industrial area. If turnaround doesn't need selection in Widnes, why would it need it there?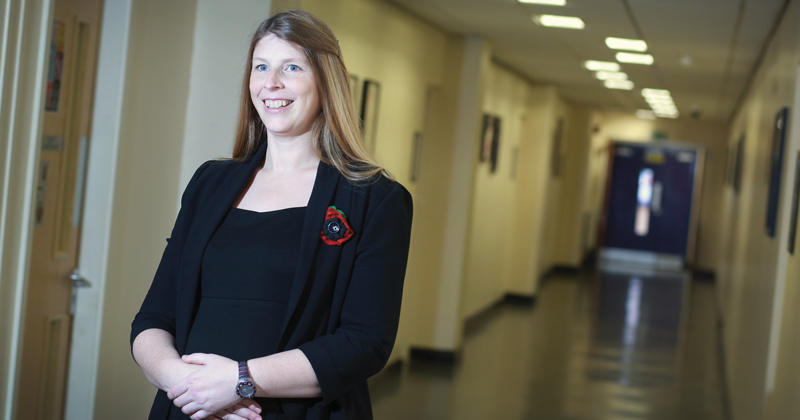 Humby doesn't bat an eyelid when I ask if she's worried about a local school becoming a grammar. "Bring 'em on," she says, "I'll still beat them."
She worries for the pupils, though. Some of her most successful former pupils would never have got in to a selective school, and many already feel they are written off when they arrive at secondary school with low test scores. One pupil recently gave a talk to the year 7s to explain how his own low scores on entry meant he was only predicted low scores and yet he achieved all Bs and Cs at GCSE.
The nagging question, however, is whether there are a limited number of leaders like Humby, whose ability to understand, challenge, and yet improve the community seems uncanny. Her diverse set of experiences, within education and outside, is likely a plus – but difficult to replicate.
However, there is a glimmer of hope.
Tuesday Weld. It's an awful name
A benefit of the multi-academy system is that it allows new leaders to quickly move into schools that need them. It was the executive head, John Rigby, who saw her potential and placed her in the school and, in return for her concentrating on teaching and learning, he oversaw the school's finances for the first year. The broader Ormiston network also helped.
Staff talk about this with enthusiasm, describing how they felt they could draw on expertise in other schools in the network and how they too aimed to be promoted within schools across the network, "just like Tuesday" did. Maybe the self-improving system has legs after all.
Before I leave I ask her the obvious but burning question.
She smiles. "It was after Tuesday Weld, the actress. My brothers used to say that because I was born last my parents had decided to 'call it a day'. But, yeah, Tuesday Weld. It's an awful name."
___________________________________________
It's a personal thing
What job did you want to do when you were a child?
I wanted to be an author.
Favourite book?
The Last of the Really Great Whangdoodles by Julie Edwards (the married name of singer and actress Dame Julie Andrews). It's a children's book I read as a kid about the value and power of a great imagination. I still love it as much as an adult.
If you were invisible for a day, what would you do?
I'd have an uninterrupted duvet day with some ale, terribly unhealthy snacks and The West Wing.
Which animal do you think is most similar to you? (And why?)
A former feral cat that has sort of been domesticated. I've got one; we have many similarities.
What's the best piece of work advice you've ever been given?
My gran (also a teacher) always told me to "spread myself about". She would have been mortified to know the modern day connotations of that phrase… But what she meant was to experience as much as you can, as often as you can. So I applied that to work. I believe that being able to draw on a whole range of different experiences made me a better teacher and leader.