One in four participants in the government's doomed 'Troops to Teachers' course quit before earning their teaching qualification, Schools Week has learned, raising questions over the decision to replace the programme with £40,000 bursaries for former military personnel.
The Department for Education said reasons for trainees withdrawing included "deciding teaching wasn't for them", being offered alternative employment and "personal reasons".
First announced in 2012, the Troops to Teachers route expected to recruit hundreds of veterans into the classroom.
This has clearly been a costly scheme, and sadly not what that has done much to resolve the teacher recruitment and retention crisis facing schools
Six years later and just 106 have completed the course, while 96 are still in training.
The DfE does not know how many of the trainees who gained qualified teacher status are now employed in schools, but a spokesperson claimed they are "highly sought after".
But figures seen exclusively by Schools Week also show that 267 teachers attempted the course, however 65 did not complete it – meaning almost one in four walked away without any teaching qualification.
The data, obtained from a Freedom of Information request, also reveals the DfE has spent around £8 million on Troops to Teachers so far.
The total budget for the scheme, which will come to an end once the remaining 96 trainees have completed the course, is £10.7 million.
If the pass rate remains the same for the final cohorts, the programme will have cost £60,000 per qualified teacher.
The figures are important context to the government's new plan to offer £40,000 bursaries to former military personnel to complete three-year teacher-training degrees in shortage subjects such as maths and computing.
However, Schools Week revealed last month there is no way for the government to ensure those signing up for the scheme will actually go into teaching.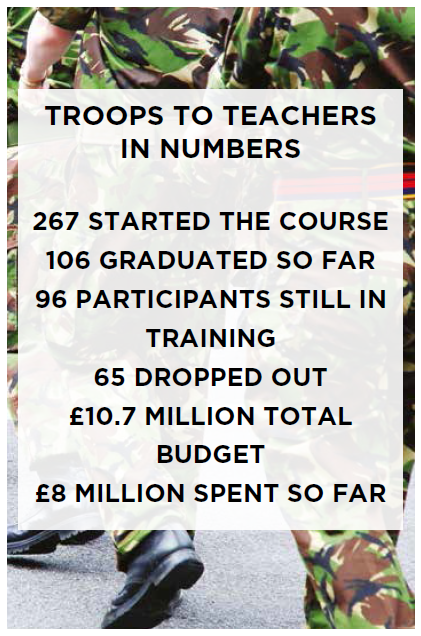 Gavin Williamson, the defence secretary, recently commissioned a review into the benefits of enforcing a "military ethos" in schools after promoting its values.
Former children's minister Robert Goodwill will lead on the report for the Ministry of Defence looking into the impact of schools that already use military-style practices.
But Paul Whiteman, the general secretary of the National Association of Head Teachers said the government "can't keep hoping piecemeal solutions and one-off schemes" will be able to "fix" the teacher recruitment and retention crisis.
Instead, he wants "a national strategy" to simplify the routes into teaching and more investment in retention.
"This has clearly been a costly scheme, and sadly not what that has done much to resolve the teacher recruitment and retention crisis facing schools," he said.
A spokesperson for the DfE described the programme as a "success".
"Ex-servicemen and women have been particularly effective in helping students develop leadership skills and supporting extracurricular activities in schools and graduates from the programme have been highly sought after by schools," she insisted.