It's a brave man who takes on Owen Jones in front of a young audience. Jones, author of Chavs and darling of left-wing socialists, is beloved among angsty teenagers who see him as one of the few people on telly talking about politics in plain language and sticking up for the rights of the young.
Tony Sewell, however, is unamused – and in a talk at the Festival of Education due to take place today, he plans to explain why. The speech, Loud, Proud and Happy to be Victims, accuses Jones of pulling the ladder up for children of the future by reinforcing victimhood and "making out that universities are full of posh snobs who despise the working class".
"There is some romanticism about being working class and I want to break that," Sewell says, as he dashes from Victoria station in central London to a meeting related to his charity Generating Genius.
"Ain't nothing romantic about being working class. Most working-class people, who are genuinely working class, want to come out of it. That's the definition of it. You don't want to stay in it."
Being working class isn't about culture, he says, it's about poverty. Jones often talks about the culture of working class (particularly northern) people – their hobbies, or their accent – and there's a suggestion that going to university requires these to diminish.
"We didn't do black studies. We just did really difficult science"
Sewell is excoriating on this point: "The left to a certain extent have misunderstood that. They think that somehow we will do something to working-class kids if we expose them to Shakespeare or Latin or whatever. There's an idea of 'that's not for you, that's for an elite type of person'."
He also blames working-class culture for becoming "too obsessed with consumerism" claiming that "bedrooms are packed with cheap TVs and expensive phones, with not a book in sight".
But the 300 pupils that Sewell works with at any one time through Generating Genius show it's possible for young people from poorer backgrounds to bridge different cultural worlds. "They can be at home on the streets of Brixton or Croydon and yet still go into Devon or Cornwall and be at home there – they are now able to adapt."
Awarded a CBE in the recent Queen's Honours, the achievement caps Sewell's career which began as a classroom teacher in London, through to becoming a teacher trainer, complete a PhD, and chair the London mayor's 2013 inquiry into schools.
Most recently he helped to found the Michaela free school in north London, a strict "no excuses" school, and Generating Genius has continued to give out-of-school experiences to Afro-Caribbean boys from families and schools without a history of university attendance.
Sewell is pleased by his honour but wants to use it to highlight Generating Genius in particular.
"It started in 2007, coming out of what we saw then. There was an issue where children who were very bright, but we didn't help because we put a lot of emphasis on underachievement."
Wanting to demonstrate that while barriers for poor black children to attend university were real, they were nevertheless surmountable, the organisation decided to target the group with the lowest achievement (Afro-Caribbean boys), teaching them the hardest subjects (science and maths) and targeting the most aspirational outcome (attending top universities).
"We realised that this thing couldn't be done by a one-off programme. We knew we would have to commit to a cycle for four or five years," he says.
The first boys to enter the programme were 13 and were given a series of extra-curricular activities, as well as support and mentoring. They are now 21. Most went through universities and at a returners' event last week Sewell learned they are now working for companies such as Shell, BP and investment banks.
Instead of focusing on their disadvantages, pupils were given experiences to develop their knowledge – visiting university campuses in rural areas with predominantly white populations, or studying with a world-renowned team of scientists developing a cure for malaria at Imperial College London.
"People ask if we did black studies with these pupils. No! We didn't do any of that. We just did really really difficult science."
Sewell himself benefited from an "accidental classical education" after his mother discovered a retired neighbour had once been a Latin teacher, and sent him for lessons.
"Also I went to an all-white Anglican church. That gave me role models, which is ironic, but role models don't have to be from the same background as you. It was natural that all those kids from that Anglican white middle-class church were all going off to university. All my peers went so I just did the same thing. You follow me? It's all about exposure. It's about reinforcing."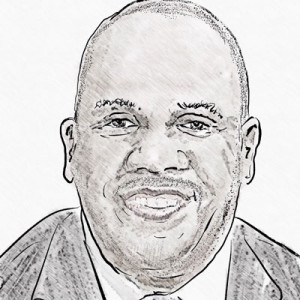 So does he think about middle-class white kids learning from the young people that he works with? Does it go both ways?
"Yes and no," he says, then trails off and starts laughing. "Actually… no."
He tells the story of a young person from Hackney who, on his arrival at the University of Bristol, is greeted with presuppositions of his life around gangs when fellow students learn of his origins. But the boy overcame the prejudice because of his experiences on the programme.
"What our kids are able to do is that they are so confident, they are so exposed to the world – the same world as their middle-class counterparts – that this kind of conversation and fear drifts away. Even if people think it, it takes seconds to change it."
And so, Sewell says excitedly, in just a short while the boy was accepted by his peers. "This is unashamedly a Pygmalion exercise where I have made them middle class!"
I can't say for sure given that we are on the phone, but it sounds like he's smiling.
The exam results statistics of poor black Caribbean pupils may now be marginally better than their white counterparts, but they still make grim reading, and the permanent exclusion rate for the group remains stubbornly high.
Girls are also now the largest cohort in the group, with the focus on science and maths particularly important, as girls are so under-represented among those degree subjects.
What Sewell would like to do next is expand the charity beyond London. In 2007, the capital was still struggling with violence and low standards. Today, its schools are the best in the country and achievement across all pupil groups outstrips every other region.
Pragmatically, Sewell knows there isn't much government cash around for such projects "and I'm not necessarily asking for any" – but he, like many small education organisation founders, believes its success is down to the personal relationships with young people that are only possible because participant numbers are low. Scaling the organisation risks upsetting that balance.
What he would therefore like to see is the government considering how small voluntary organisations such as his could create other small projects in parts of the country most in need of support for bright children.
He's also pleased to have a new ally. "It's good that Michael Wilshaw [the chief inspector] has now made the case for doing more to help brighter children who have the intellectual capacity to succeed but are from poorer backgrounds.
"We should all do more," he agrees, before cheekily adding, "we just got there first!"
---
Odds stacked against disadvantaged young people
Last year, the Social Mobility and Child Poverty Commission reported that low-ability wealthy children are overtaking their high-ability, poorer peers during school. And only 2.2 per cent of young people from areas where few progress to higher education reach the most selective third of universities compared with 18.1 per cent of those from high participation areas, making them eight times less likely to do so.
Similarly, only 3 per cent of disadvantaged 18-year-olds enter "high tariff" universities (such as the Russell group) compared with 21 per cent of those from the most advantaged backgrounds
---
CV
Born: August 1959
Schools:
St John's school, Penge, south London
Kentwood boys' school, Penge
University:
University of Essex, BA (hons) English
University of Nottingham, PhD