Stag's Hill in Guildford is an address known to the many secondary teachers who have submitted GCSE coursework to AQA. Its name conjures the image of a royal park full of leaping deer and rolling foliage.
In reality, it is located at the University of Surrey, in a building reminiscent of Ikea. The place screams "industrial park" much more than it does "safari" – and it doesn't help that it's raining.
But Toby Salt, the exam board's recently-appointed chief executive, has made his warehouse-sized office comfortable and warm. A latte is waiting, which he went and bought himself after texting to see what I wanted. And his rescue dalmatian Frankie pops out from under his desk.
"We have to ignore him to begin with," says Salt, wincing slightly at the thought.
His career is spectacularly wide-ranging, and he jokes that AQA was perfect for him because "it's the only thing in education I hadn't done!" He moved in the summer after spending five years as chief executive of Ormiston Academy. Before that, in order, he was: a teacher, a headteacher, a head of a federation, then at the DfE innovation unit as a civil servant, a senior leader at the National College of Teaching and finally a MAT CEO.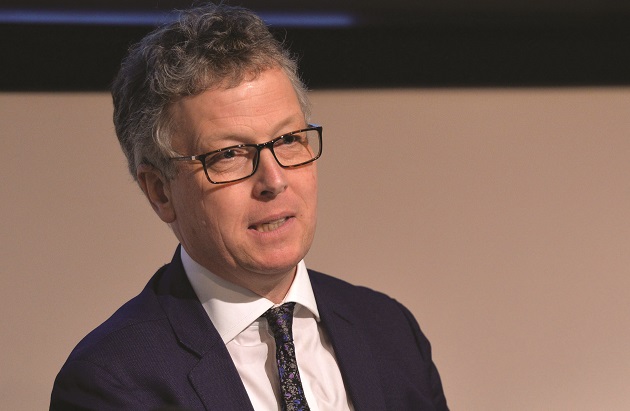 His career actually started with a short sojourn into fishmongery at 16 (he lasted two months). Largely though, he knew from early on he would become a teacher, inspired in large part by his dad.
Born in the slums of Leeds, Salt's father was immediately orphaned after his mother died in childbirth and his own father abandoned him. Abused terribly by the woman who subsequently cared for him, Salt's dad was eventually reunited with his long-lost father, who had returned to England after working on an Icelandic listening post at which he had met and married a woman, Alla, who insisted he find his son.
"After three or four years of stable education in a local village school [my dad] went to join the army as a boy solider and they realised quickly that he wasn't stupid and he had leadership skills," he recalls.
"They taught my father to read and write, and the value of education, and he quickly did well. He became a senior officer and then was sent to the Sorbonne to learn French, Romanian and Russian and… became a spy!"
During Salt's own early childhood, his father was away "doing military things" but once he and his three siblings (including twin sister Joanna) appeared, his mother insisted he stop.
He taught me education is the biggest gift because it's a social equaliser
"So he went and looked for a second career and became a teacher. He was a very good teacher. He taught French. I remember telling him I want to be a teacher and he said 'oh dear', probably like a lot of teachers do to their children — that's one of the biggest problems we have with recruitment!"
Although Salt was never taught by his father he attended the school where he taught, Woodbridge School in Suffolk, which was then a grant-maintained grammar.
At the end of each day, he and his four siblings would be sat on the stairs like the Von Trapps, and were asked by their father what they had learned at school that day.
"And if you gave a flippant answer, he'd go 'no Toby, what did you learn at school today' which was quite profound and I remember opening my O-level exam papers and he was there with me, opening them, and I could tell it was important to him. He taught me education is the biggest gift because it's a social equaliser."
During his A-levels, Salt volunteered for a charity that took children with special needs on camping holidays and discovered an affinity for more challenging children. In his first teaching job he was given extra cash to work in "the unit" – again, with the more challenging children.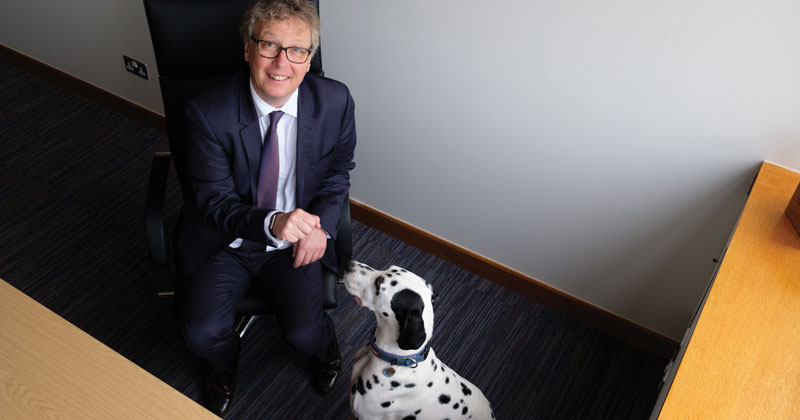 Where did his skills come from? He stops, surprised at the question.
"I think I learned from people, probably. I just… I liked the challenge. And I wasn't particularly good in those early days. I remember my first lesson in the unit. I was in a Portakabin with 16 children. I looked about 12, and they gave me hell, absolute hell. I suppose I don't like to give in to a challenge at any job," he muses.
"I could have gone an easy route but I didn't want to give in. I mean, why foster? It's so hard! Why do I have a huge rescue dog?" he asks, as Frankie sticks his nose back out. "Why don't I have a little puppy?
"I think there's something about the more disadvantaged, more special needs children, where if you get it right it makes a huge difference."
At 38, when he took his first headship at St Anthony's in Chichester, his youthful looks still haunted him. Over the summer, before his first term began, he sat in the school's office checking mountains of paperwork left by his predecessor, only to have the police turn up and demand to know what he was doing.
I was in a Portakabin with 16 children. I looked about 12, and they gave me hell, absolute hell
"I said I was the new headteacher and he said, 'yes, very funny', because I looked so young. I said 'I really am the new head' and he wouldn't believe me. I had to take him down the drive to show the newly painted sign and my driving licence!"
He talks at length about the opportunities at the school: it needed new buildings, there was greater recognition of specific learning difficulties, and it had an autism specialist unit, which in 1999 was very forward-thinking. It is only afterwards, however, when looking up Ofsted reports, that I realise it is a special school. Salt only refers to it as a community school.
Away from the day job, he and his wife ran a residential home for "children in difficulty" and fostered children, while also bringing Daisy, Isaac and Mary into the world. Daisy calls during our conversation, as she's walking to work.
"She's a young doctor with a very stressful job so she usually phones on her way into work or on the way home," her dad says, supportively.
With hindsight, both as a headteacher and from his work in government policy, he believes there are two critical lessons for any leader. First, remember that everything you say is taken seriously, even if you mean it flippantly. And two, explain everything as clearly as you can.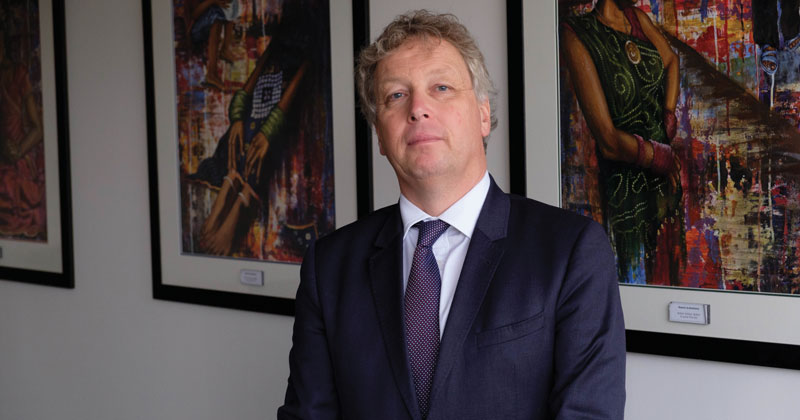 "I've often known why something is right or important but I've not taken the time to explain it. And 99 per cent of the time when you do then people can see why," he explains.
One of the biggest challenges he faced in his career was taking over the lead role at Ormiston Academy Trust in 2012. At the time the trust had 17 schools spread across the country, making it one of the larger early adopters, alongside AET and CfBT, many of which struggled and subsequently gave away schools. To Salt's credit, Ormiston never relinquished any schools. Instead, he developed a regional strategy and worked on getting the schools to support one another.
What's the magic ingredient?
"There's no magic formula," he insists. He focused on creating a central charter which everyone could sign up to that made expectations clear. Key non-negotiables included agreeing to support any other struggling school in the trust family, or any neighbouring school. Likewise, the schools had to remain part of their local community as well as the Ormiston brand.
You have to set a core vision; we did that to start via the charter, and you make the teachers the agents of change
"You have to set a core vision; we did that to start via the charter, and you make the teachers the agents of change. You can do that through conferences, through meetings, through visits, through policies, through incentives or conditions of funding," he says. "You can change behaviour at all those levels, but it's also just about being very clear on leadership.
"And there's an element of headhunting and taking a punt on people because people once took a punt on me. It's the right thing to do."
At AQA the challenges are different and, he admits, further away from the direct work with young people which fuels him. But it's also exciting. His office is located opposite AQA's research department, where world specialists in assessment statistics are figuring out complex issues on exam reliability and validity.
Given all the resource and expertise, why are people so wary of exam results?
"I don't think people know about the level of integrity involved. It's complicated and I'm not sure how we can explain it better. The science and maths behind it is really complicated. And at one stage I think I thought the same and it's only changed as I've learned more. So there's something about us explaining things better," he says.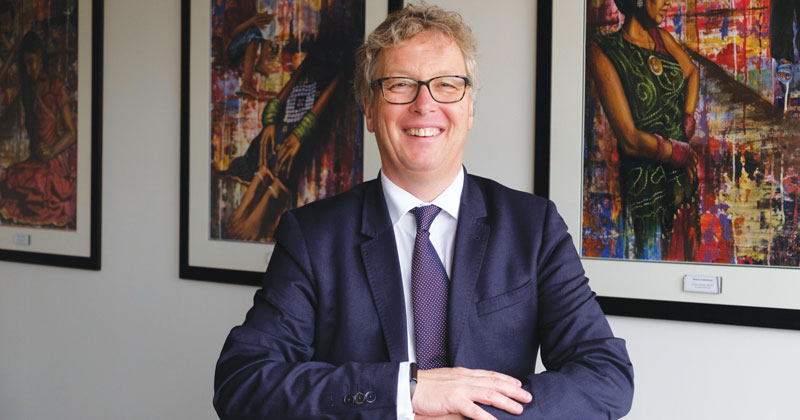 "But we have 25,000 really good markers. They do their very best. And we have 11 million scripts. And we do our very best. Is it perfect? No. One mistake is one too many. But the reality is that we have a very fine system at a time of significant reform and I think most professionals understand that actually."
He also wonders how exams can keep pace with technological change, and research is underway to see if online exams might be worth using in future – although he's wary of changing too quickly.
I understand the scrutiny, and focus, and the need for transparency but I don't like talking about money
"One of the problems of using digital technology is that we don't really know how it works," he says. "On paper exams we have 100 years of experience. With digital, we don't know if, for instance, children think differently on computers. Will it disadvantage them if they can't plan out as we expect or will it advantage them because they can cut and paste and move things around?"
As we near the end of the interview, there's one last obvious question. For the past three years Schools Week has run a pay league for academy chief executives, and Salt topped the pay-rise table for two years. Unlike other bosses, who have been bullish about pay, he has always appeared uncomfortable about it. Is there anything he'd like to say now he's out of that role?
He shifts uneasily in his chair. "My mum always taught me that it's vulgar and rude to talk about money. I don't like to talk about it. I don't think anyone does. It's always more complicated than it looks," he says.
"I have never set my pay. I've never asked for a pay rise. I've never been involved in discussing my performance. I have had big, scary, highly accountable jobs," he reveals his bitten nails, "and I think we have got to get a sense of perspective. I understand the scrutiny, and focus, and the need for transparency but I don't like talking about money. Plus it goes to the people I love, in a very large extended family, that now also includes a very large rescue dog!"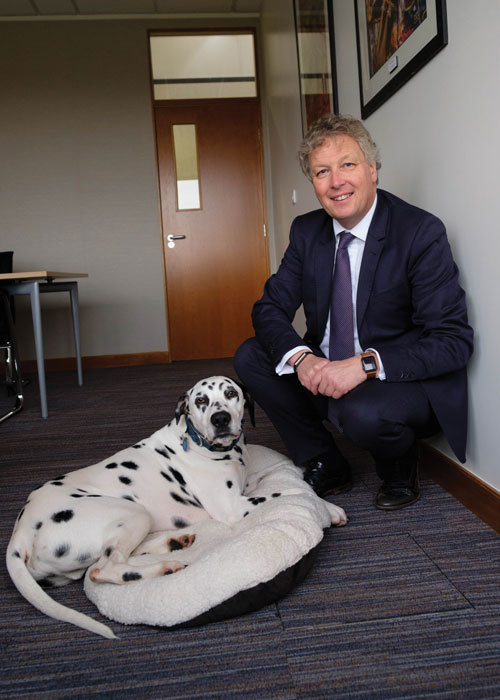 Frankie, no longer ignored, decides to chew his bed as a congratulatory fanfare.
As we chat later about Charles Dickens, Salt's favourite author, he points out that his father – whose life started as it did – would be so proud if he could see that his son is now the head of an exam board "doing a job that really matters… that's social mobility in action".
It's a personal thing
What animal would you be?
A lion, because I'm never happier than when I've got my pride around me and I do like sitting in the sun.
What is your favourite book?
Little Dorrit. I did it for O-level and it was the first Charles Dickens I read in detail. The timeless element of his social commentary is just fantastic. That one is particularly good.
If you could do another A-level in a subject you haven't done before, what would you pick?
Law; it's one area I don't know a lot about and I've always been wholly dependent on legal counsel and I'd quite like to be able to quote some acts and case law back at them.
If you were stood on a building with a huge crowd below and you could shout out one sentence to them all, what would it be?
Be kind to each other.
What do you eat for breakfast?
Normally, toast with marmite. After my run. My twin sister and I like marmite, my brothers don't. It's our defining feature!