The Education Policy Institute (EPI) has published new analysis looking at how parents choose which secondary schools to send their children to in England.
Each child can list up to six secondary schools they want to apply to, which parents rank in order of preference. These are submitted to the local authority who then allocate children to schools based on their preferences and the availability of places at schools.
The EPI report used new national census data on the preferences of parents applying for a place at a state secondary school in September 2016.
It considered the number of schools that parents apply to, the quality of those schools (based on their Ofsted rating) and who is successful in securing a place in their school of choice.
Schools Week picked out some of the key findings.
1. Only 5% of parents miss out on all their choices
84 per cent of parents are offered their most preferred school and 95 per cent get an offer from one of their top three preferences; but there are stark geographic differences.
There are 24 local authorities where at least 10 per cent of pupils don't get a place at any of their top three choices, and 18 of these areas are in London.
In Hammersmith and Fulham, one quarter of parents miss out on their top three, followed by 19 per cent of parents in Westminster and 17 per cent in Kensington and Chelsea.
There are six areas outside of London where at least 10 per cent of pupils don't get a place either: Thurrock (12 per cent), Birmingham (12 per cent), Bradford (11 per cent), Gateshead (11 per cent) North Tyneside (11 per cent) and Slough (10 per cent).
2. One third apply to only one school
EPI senior researcher Emily Hunt found that nationally, one-third of parents apply for only one school. This is the most common response from parents – despite being a risky strategy in some areas.
One-fifth of parents (18 per cent) express at least four preferences, with six per cent stating the maximum of six preferences.
3. Londoners are likely to apply to more schools
There are clear differences between local authorities, with the highest proportion of parents stating only one preference in Northumberland (83 per cent), Central Bedfordshire (75 per cent) and East Riding of Yorkshire (74 per cent).
Virtually all parents in Northumberland (99 per cent) and Central Bedfordshire (99 per cent) are offered their top preference school, so applying to just one school in these areas is low risk.
The lowest proportion of parents applying for a place in only one school was in Lambeth (seven per cent), Wandsworth (seven per cent) and Hackney (eight per cent).
This is partly because parents are much less likely to be offered their first preference in London.
Of the 20 local authorities with the lowest likelihood of being offered first preference, 19 are in London. The exception is Birmingham (69 per cent).
4. White British families more likely to apply to one school
Some parents are more likely than others to apply to only one school, including those who have children with low prior attainment.
White British families and those with English as their first language are also more likely to express a preference for just one school.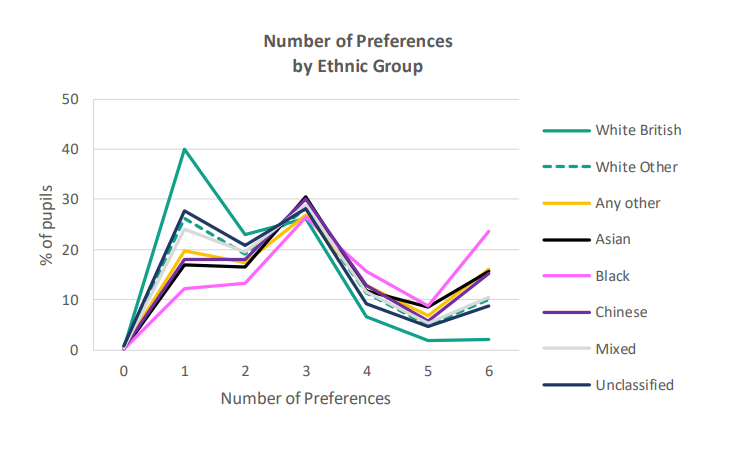 5. White British families are also more likely to get an offer
White British parents are most likely to get an offer from their most preferred school (90 per cent success rate), whereas black parents are least likely (66 per cent) on average.
Similarly those with English as an additional language are less likely to get offered a place at their most preferred school.
However, the analysis does not account for variables such as where people live or school quality, which will be the subject of further EPI research.
6. 17% of parents opt for a school rated less than good by Ofsted
The research found that one in six parents (17 per cent) nominated a most preferred school that is rated less than 'good' by Ofsted – and of these, over a quarter (27 per cent) do so despite having a good or outstanding school as their nearest school.
Parents who are eligible for pupil premium funding are much more likely than others to be in this group who bypass their good local school for a school further away that has a lower Ofsted rating.
White British parents were found to be around 10 percentage points less likely to apply to an Ofsted rated 'good' school than black or Chinese parents.
Overall, just over half of parents (52 per cent) choose a 'good' school as their top preference, with a further 30 per cent nominating an 'outstanding' school (around one-fifth of state secondary schools).