A teenager who gave an emotional speech about living with a stammer has won what its organisers say is the world's largest youth speaking competition.
Fifteen-year-old Erin Stoner clinched the top prize at Jack Petchey's "Speak Out" Challenge for her passionate description of life with a speech impediment, winning £2,000 for herself and £3,000 for her school, Westcliff High School for Girls in Essex.
She won over judges including Ofsted chief inspector Amanda Spielman, journalist Faisal Islam, activist Gina Miller and Schools Week's managing editor Shane Mann with her moving speech, saying her "eight-year-old self would never believe me if I told her that one day I would be in front of the Cambridge Theatre, 1,000 people, and on that day my voice will flow like the river Nile between the seats".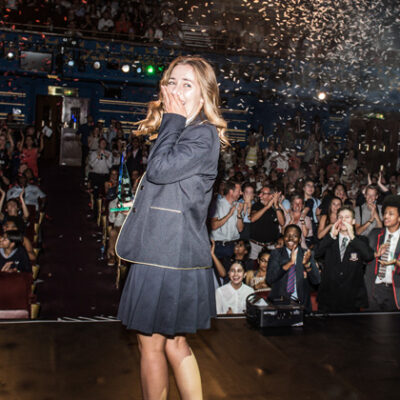 The competition, designed and delivered by the Speakers Trust and funded by the Jack Petchey Foundation, encourages 14- and 15-year-olds to develop public speaking and communication skills. More than 19,800 young people in 500 state schools across London and Essex took part this year.
Russell Findlay, chief executive of the Speakers Trust, said it was "inspiring to hear such positive messages from young people on the issues that matter to them".