A team of young engineers from the Royal Grammar School, Worcester, will now compete in a world final after they scooped the top prize of a national STEM (science, technology, engineering and maths) competition.
In the final of the Land Rover 4×4 in Schools Technology Challenge, Team Ascent, a team of 16-year-olds from Royal Grammar, competed against 25 other teams from across the UK.
The challenge involved designing and building a radio-controlled 4-wheel drive vehicle that could negotiate a test track designed to emulate real life and what a full-scale 4×4 could do.
Team Ascent narrowly beat 2FAST from Richard Hale school, Hertford, and third-placed Sector, from Clyst Vale community college in Exeter.
It was the first time in the competition for the new champions, Jack Beet, George Mann, Faiz Ibrar, Edward Lawson, Harry Smith and Alec Berry.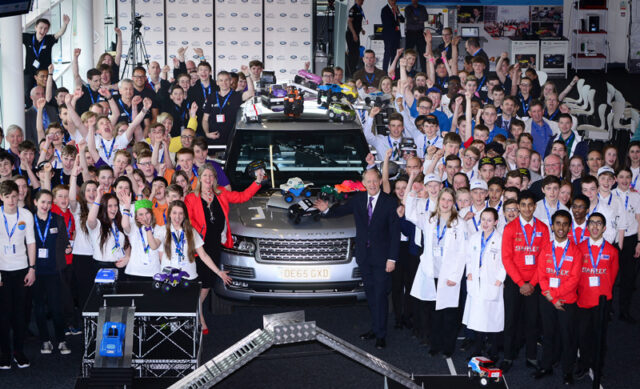 Alec, team manager and electronics engineer, says: "We've been working on our vehicle since last October, but we'd never done it before, so we really didn't expect to win. We think we impressed the judges with our engineering, as our car had a unique double-wishbone suspension system.
"The biggest challenge was keeping to a time plan and making sure we had made everything in time. We learned so much, especially with CAD/CAM software and electronics. The challenge has been a really good experience and we definitely all want to be engineers, some of us in automotive engineering and others in aerospace."
Team Ascent will now compete in Coventry against teams from 15 countries in the Land Rover 4×4 in Schools world final in July.
Alec says the team needs to do "a bit of work" on their care for the world final. "It's quite heavy and it's on the limits for the dimensions, so we'll try to cut it down as it was quite tight for the track test. But we're looking forward to taking it to the next level."
During the national final, Team Ascent also took honours in the best rookie team award and the best engineered vehicle award.
As well as competing in the world final, one member of the team will be awarded an Arkwright scholarship, sponsored by Land Rover, to support their A-level studies.
A £1,000 scholarship to attend Harper Adams University in Shropshire is also on offer to one member from the winning team.
The recipients will be chosen closer to university choice time.
Main pic: Team Ascent celebrate their victory