Education charity Teach First has adapted its advertising techniques after a report discovered applicants were more likely to respond to a "challenge" rather than ads appealing to their social conscience.
Teach First, a teacher training scheme, was responding to research by the Behavioural Insights Team (BIT), a group initially put together by the Cabinet Office.
BIT looked into the best ways to get talented graduates into jobs in rural areas and found there was more response to adverts that offered a challenge than the traditional pull on the pro-social aspects of teaching, a line Teach First has mainly adopted.
As part of the Somerset Challenge, BIT worked with 38 of the county's 39 secondary schools in the past academic year to use behavioural science to address a number of common problems.
One of the concerns of the participating schools was teacher recruitment, particularly to science, technology, engineering and maths.
The report, released in July, said: "Although recruiting teachers is a general problem, it is acknowledged to be especially difficult in rural and coastal communities, and in areas further away from universities – all of which are the case for Somerset."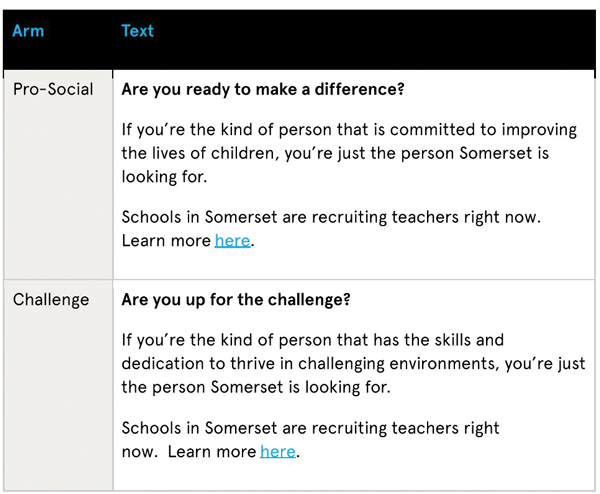 To address this, BIT crafted two similar job adverts to evaluate ways to recruit more teachers to the area and to "attract the kinds of applicants… most likely to perform well as teachers and stay for more than a year".
Last week, figures revealed in Schools Week showed that more teachers left the country to teach abroad than those who qualified to become a teacher through a university PGCE course.
Traditionally, job adverts are designed to appeal to the pro-social side of applicants – for instance, encouraging them to do something that would make a "difference".
The researchers created a job advert with this message, alongside one that included all the same information but asked if they were "up for the challenge" of teaching in Somerset.
The adverts were emailed to more than 1,000 Teach First ambassadors, and almost 270 student teachers at the University of Exeter.
BIT found applicants were almost twice more likely to click on the advert when the job was presented as a challenge.
James Darley, executive director for graduate recruitment at Teach First, said the charity has launched a new recruitment campaign based on BIT's findings.
He said it combines "a focus on the social value of teaching, alongside the opportunity to develop as leaders and address educational inequality in other ways".
The report said: "This trial found that changing wording for a teacher vacancy advert slightly can have large effects on how many people are interested in the position. In absolute numbers, our 'challenge' variation attracted an additional 15 potential candidates to the page, compared to the pro-social message.
"Yet, already, the click-through rate on the pro-social message was high compared to the rates of other job adverts using similar outreach methods.
"This suggests that direct advertising can be effective, in general, and that zero-cost interventions to improve messages can have large impacts on the number of interested candidates."