New schools have been granted additional breathing space from Ofsted after the education watchdog announced today it will put back initial inspections until their third year of opening.
Ofsted previously visited new schools in their second year, normally from the fifth term onwards.
But it was announced today initial inspections for schools that opened from September last year will now take place in their third year of operation.
As well as free schools this will include sponsored and converter academies, school amalgamations and mergers. It also applies to UTCs and studio schools.
Henry Stewart, one of the founders of Local Schools Network which promotes state schools, said: "It's worrying. We are aware some new schools have not been successful and it's important that they are accountable.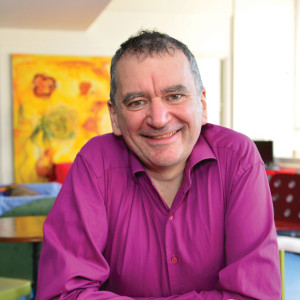 "I may not be the biggest Ofsted fan but there needs to be someone holding new schools to account.
"This means children could be in an under-performing new school for three years and go unnoticed – left to languish. Our kids deserve better than that."
Chief inspector Sir Michael Wilshaw has retained the power to inspect earlier if there are concerns about the school, or when requested by the secretary of state.
Schools Week asked Ofsted why the decision was made to delay inspections until the third year.
A spokesperson said: "Some new schools that have opened are still operating on a small scale and this limits the evidence base on which to inspect under section 5 reporting. Extending the time scale for the first inspection allows a more extensive evidence base to be collected by inspectors.
"However, HM Chief Inspector has the discretion to inspect earlier where he has concerns, including where parents have raised issues. Our regional teams will continue to closely monitor the performance of all newly opened schools and new provision to ensure that action is taken where necessary."
A press release on its website said the decision was made in consultation with the Department for Education.
It is also due to issue an updated policy statement on inspection of new schools "shortly".
A handful of free schools have had to close down in their first years after they were found to be failing, including Durham Free School and Discovery New School, in Sussex.
Others have been criticised after posting low results in their first round of GCSEs.
And Alasdair Smith, national secretary of the Anti-Academies Alliance, said: "It concerns me. I don't believe the procurement process for new schools is credible enough and leaving it for another year risks letting parents and children down.
"We've had a whole series of free schools that have set up and crashed and it's very regrettable."
But Nick Timothy, director of New Schools Network, said: "Having a robust accountability regime in place is essential for all schools. Ofsted should play an important part in that, as should transparent and easily accessible data on results.
"Free schools are best placed to drive up standards – and in Ofsted terms, they are twice as likely to be rated outstanding.
"But accountability is about more than just Ofsted, and free schools and academies face considerably more scrutiny than council-run schools. They are overseen by the Education Funding Agency and Regional Schools Commissioners and of course Ministers retain the power, in extremis, to close down a free school. Most importantly though, they are directly accountable to parents."
Data compiled by former Schools Week reporter Philip Nye shows of the 303 open free schools, 158 have been inspected.
A total of 34 have been rated inadequate or requires improvement (22 per cent). 42 have been rated outstanding (27 per cent) and 82 (52 per cent) good.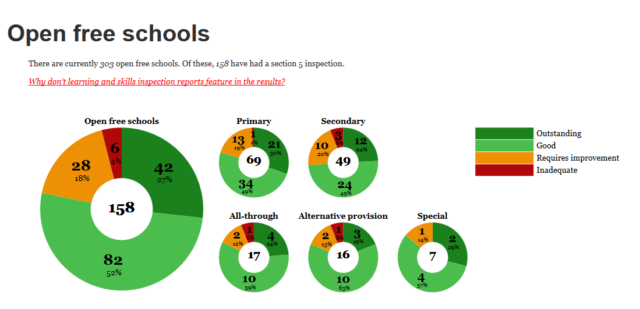 Figures released in March by the education watchdog show only 18 per cent of schools were rated as inadequate or requires improvement, 20 per cent were outstanding and 62 per cent good.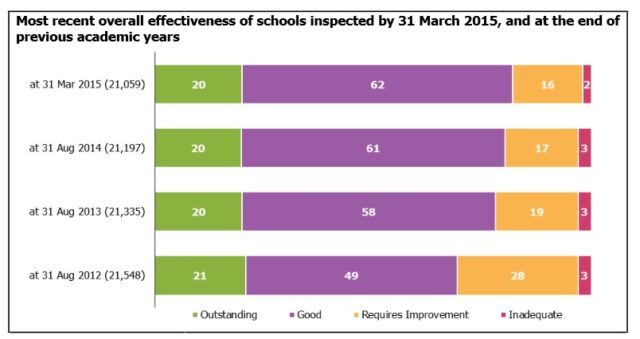 At the end of each school term, Schools Week, in conjunction with Watchsted, publishes outcomes of all inspections for that period, broken down by school type. You can see the latest results here.
A DfE spokesperson said: "School inspection is a vital part of our accountability system and improving school standards.
"Ofsted's decision ensures inspectors looking at new schools will have more information on which to base their judgements and new sponsors have sufficient time to turnaround underperforming schools.
"Crucially, the Chief Inspector retains the right to inspect earlier where there are concerns or as requested by the Secretary of State, meaning swift action can be taken to ensure no child is left in an underperforming school."