Drop-out rates for new teachers in key EBacc subjects is "particularly high", a new analysis has claimed.
A National Foundation for Educational Research (NFER) study, published today, finds that teachers in maths, science and languages are most likely to leave the profession, particularly in their first five years.
Researchers claim the drop-out rate in key subjects could provide another stumbling block for the government's pledge to get 90 per cent of pupils entering the EBacc.
The government is yet to publish the findings of a consultation into the viability of the pledge, but concerns have also been raised about teacher recruitment to meet potential demand in EBacc subjects, particularly in modern foreign languages.
Teacher supply remains a significant challenge for schools
The NFER report also finds the amount of curriculum time for non-EBacc subjects has fallen since 2011, particularly in technology subjects.
Jack Worth, a senior economist at NFER, says there are "considerable differences in the proportion of teachers leaving the profession according to the subject they teach".
"Teacher supply remains a significant challenge for schools generally, and it seems evident that this is constraining schools' ability to increase teaching time of EBacc subjects, especially science and languages."
It is the latest analysis from NFER looking into teacher retention and turnover. A report last month revealed falling retention rates meant one in ten secondary headteachers now leave their role every year.
NFER's new analysis looked into retention rates by subject, based on school workforce census (SWC) data. Researchers compared eight subjects that had a large enough number of teachers to reliably analyse.
It found science had the largest turnover. The proportion of science teachers leaving the profession per year was 10.4 per cent, with another 8.3 moving school each year (see table below).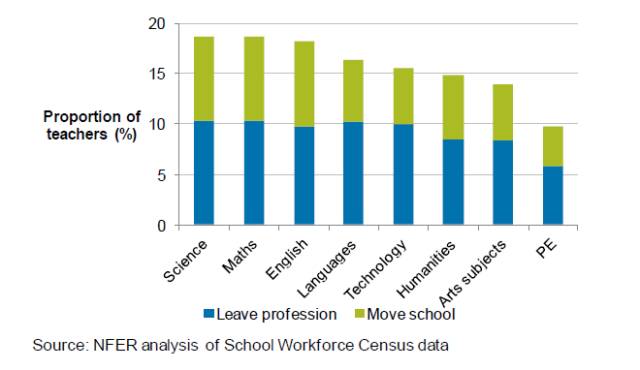 Maths came second, with 10.3 per cent of teachers leaving the profession per year, while languages was at 10.2 per cent.
That compares to just 5.9 per cent of PE teachers, and 8.4 per cent of teachers of arts subjects.
The report states that better employment prospects outside of teaching for those in STEM subjects (science, technology, engineering, and maths) could explain the higher turnover.
Researchers also say the higher rate of teachers in core subjects moving between schools shows it is a "seller's market", where teachers can "shop around" for a preferred school, pay rise or promotion.
The report also highlights the government has been "consistently" below teacher recruitment targets for the subjects with the highest turnover rates (science, maths and languages).
But it isn't exclusively EBacc subjects that are among the highest drop-out rates. The report finds that one in ten technology teachers, on average, leave the profession every year.
Researchers state this may be driven by schools' reduced demand for teachers, as well as teachers' own career decisions.
The analysis also looked into curriculum time per subject., finding that the non-EBacc subjects analysed (technology, arts, and PE) had a reduction in teaching hours since 2011 (table below).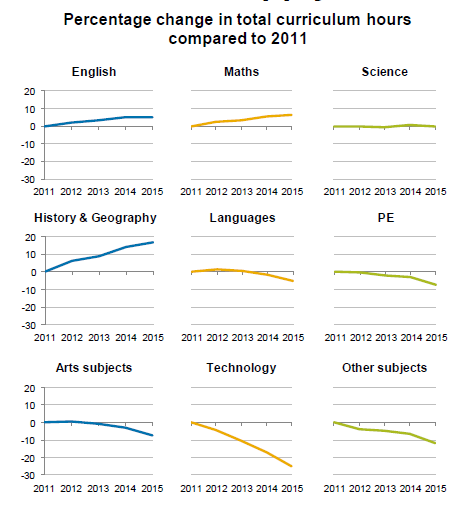 The Department for Education could not comment because of purdah restrictions. But a spokesperson has previously said that there are "more teachers entering our classrooms than those choosing to leave or retire".
"Teacher retention has been broadly stable for 20 years and the annual average salaries for teachers in the UK are also greater than the OECD average, and higher than many of Europe's high-performing education systems like Finland, Norway or Sweden."