A teacher has been banned from the classroom after he lied about his GCSE grades and past experience when he applied for an internal promotion.
Matthew Brown, 33, was banned after a hearing of the National College of Teaching and Leadership on October 30.
It is thought to be the third hearing this year involving teachers lying on job applications.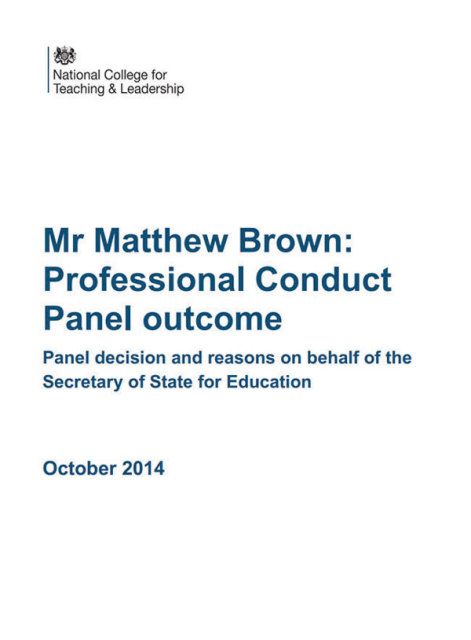 In July, a woman in Gateshead was discovered to have lied about her previous experience and a King's Lynn teacher was found not to have mentioned previous disciplinary matters when applying for jobs, as well as fraudulently claiming expenses.
Latest figures from the fraud prevention service CIFAS show that 324 people were prosecuted in 2013 for fraudulent job applications, including submitting false paperwork and withholding information, an increase from 205 in 2012.
Mr Brown, the former head of ICT at the independent girls' Notre Dame School in Cobham, Surrey, was found to have lied on his CV when he applied to become head of year at the school.
The panel heard he resigned on April 21 this year, having signed a confidential settlement agreement, after the school noticed discrepancies on his application for his original post, which he took up in 2011.
He inflated his GCSEs of 1997/98 by a total of 18 grades, claimed that he had GCSEs in two subjects that he did not and added a further GCSE.
He also falsely claimed that he was an advanced skills teacher at Claverham Community College in Battle, and claimed to be acting head of ICT between August 2006 and July 2007 while at Hillcrest Secondary School, Sussex, when he initially worked towards qualified teacher status and then as an NQT from that March.
The panel also found that he lied about his job at The British School in Warsaw. He said that he had been head of ICT for two years, when he had been a PE teacher for his first year.
Mr Brown admitted that he had been dishonest and misleading.
The panel said his false claim about Claverham, in which he changed a reference, was evidence of "deliberate, considered action, rather than a spur of the moment response" and was "designed to cover past dishonesty".
In its ruling, published on Monday, it said: "The panel has found that Mr Brown has acted dishonestly in providing a number  of pieces of false information when applying for a teaching role and has attempted to cover that dishonesty by a further act of dishonesty, by altering a reference without the permission of the referee. In light of this, the public confidence in the profession could be seriously weakened if such conduct were not treated with the utmost seriousness when regulating the conduct of the profession. Whilst Mr Brown's dishonesty had the clear potential to advantage him in securing him the teaching role he sought, it also had the clear potential to disadvantage other teachers applying for the same role."
He will be able to apply for the prohibition order to be set aside after two years.