Thirty-six teacher-training organisations have been approved to deliver apprenticeships after the Department for Education opened a secret application window just for them.
Seventeen academy trusts, 11 schools, three universities, three councils and two other organisations were given special treatment after a "disastrous" first attempt by the government to get teacher training providers registered, which saw only around a third pass the application process.
The list includes some big names from the academies community, including the Harris Federation, the Kemnal Academies Trust, White Horse Federation and Bright Futures Educational Trust.
South Farnham Educational Trust, headed up by government teacher training tsar Sir Andrew Carter, has also been approved to deliver apprenticeships as part of the latest tranche, approved outside the normal timetable so they can be ready to offer new teaching apprenticeships from September.
I can't see how apprenticeships are going to be successful as long as we are facing these kinds of unnecessary barriers
The new route into teaching, which will be a level six degree apprenticeship open only to existing graduates, has been several years in the making.
Other employers and training companies have been denied the opportunity to join the government's register of apprenticeship training providers since the third and most recent application window shut at the end of October, with results published in January.
However, the Education and Skills Funding Agency allowed for an "extenuating circumstance" and opened the register solely for initial teacher training organisations between February 28 and March 9.
A spokesperson for the ESFA claimed that the special window was opened to ensure there are enough accredited ITT providers in place to deliver the postgraduate teacher apprenticeship from September 2018.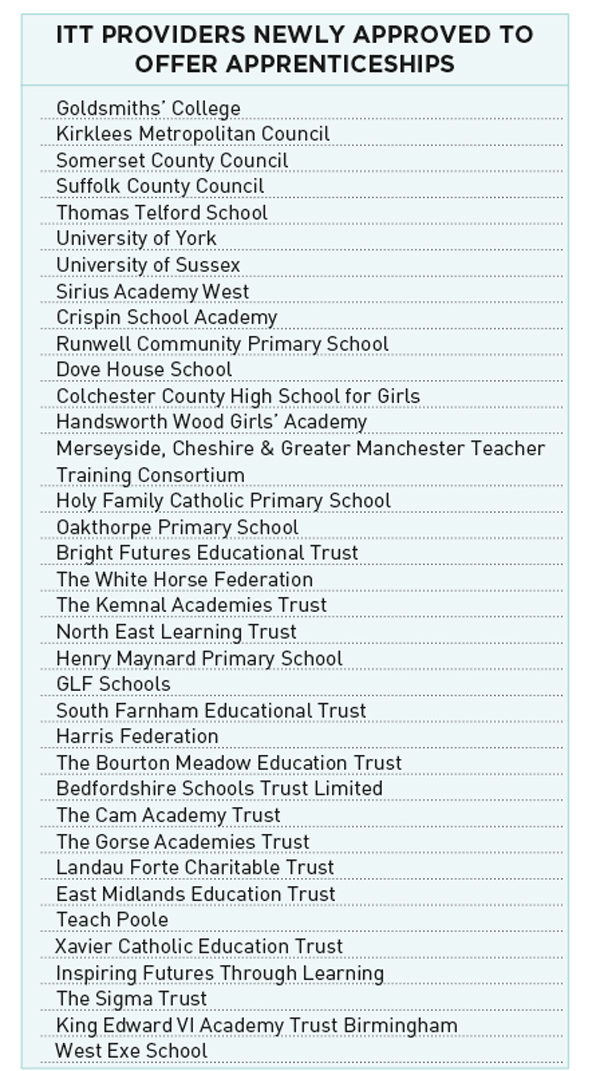 The postgraduate teacher apprenticeship was only approved for delivery in October, at which point the ESFA started encouraging ITTs, particularly school-centred initial teacher training providers (SCITTs), to get on the register so they can deliver the standard from its launch date this September.
Emma Hollis (pictured), the executive director of the National Association of School-Based Teacher Trainers, said the second application window was forced on the government because of a calamitous first attempt, during which it is understood around 60 ITTs applied but only 20 were approved.
In the build-up to this special round, the government offered webinars and training to ITTs on how to write their bids because the first time had been "such a train wreck".
But this second attempt didn't go as smoothly as hoped either, Hollis said. One unnamed SCITT, rated 'outstanding' by Ofsted, failed in its first attempt due to inadequate answers to two questions in its bid.
This provider worked with the Institute for Apprenticeships to improve, but failed at its second attempt as a result of its answer to a safeguarding question which it had passed in the first round and hadn't made any changes to.
"You can't make it up," Hollis said. "I can't see how apprenticeships are going to be successful as long as we are facing these kinds of unnecessary barriers."
"We hope that the apprenticeship route will complement our successful Schools Direct and SCITT programmes and enable us to support more entrants into teaching," said Heath Monk, the executive director of the Schools of King Edward VI in Birmingham, one of the organisations approved this week.